Faith and endurance in wartime Malta
Commemoration of the George Cross Award and the Santa Marija Convoy at the National War Museum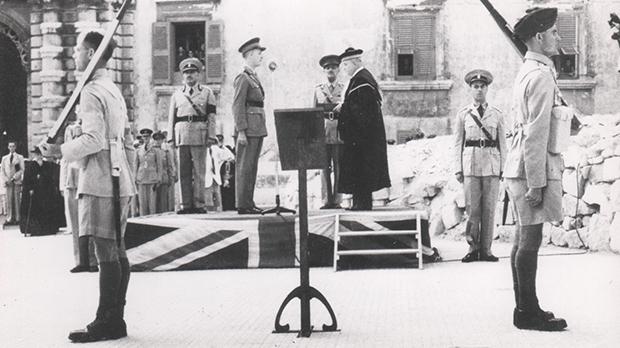 Heritage Malta is today commemorating the 75th anniversary of the awarding of the George Cross and the Santa Marija Convoy during an event at the National War Museum within Fort St Elmo in Valletta.
The two events are well explained at the museum since two halls are dedicated solely to World War II.
First Casualties of World War II monument.
The public award ceremony of the George Cross was held on September 13, 1942, at St George's Square in Valletta after the arrival of Operation Pedestal.
The George Cross was awarded to the Maltese people with a message from King George VI.
A replica of the king's message is exhibited at the museum along with the George Cross and reads: "To honour her brave people I award the George Cross to the Island Fortress of Malta to bear witness to a heroism and devotion that will long be famous in history."
In a hall next to the George Cross there is a description of Operation Pedestal. This convoy was launched in August 1942 as the island was on the brink of capitulation. The convoy was under constant attack from air and sea and only four merchant ships and the badly-damaged tanker, SS Ohio, entered the Grand Harbour.
As the arrival of the last ships of the convoy coincided with the feast of the Assumption, the convoy is also known as the Convoy of Santa Marija.
These two historical events acknowledge the bravery and tenacity of the Maltese people during the war.
In tonight's event, there will be guided tours of the World War II section of the National War Museum, including the upper section of the cavalier, which is not usually open to the public.
This part of the fort also offers breathtaking views over the Grand Harbour and the Marsamxett Harbour.
Archival documents and photographs related to the World War II period will also be on display.
Heritage Malta is inviting the public to come forward with stories, memories and images related to Malta during the war period.
The event will take place tonight from 6pm to 10pm and will be free of charge. Entrance will be from the main gate on the granaries. For more information on Heritage Malta and events organised by the agency, visit www.heritagemalta.org or the official Facebook page.
Comments powered by

Disqus