Debut solo show at new art bistro in Valletta
Marlon Chircop tells Lisa Gwen Baldacchino how textures and layers somehow always feature in his work, regardless of the theme.
There are a number of art spaces and galleries that have sprouted in the capital city over the past few years. St James Cavalier Centre for Creativity (now Spazju Kreattiv) and the National Museum of Fine Arts (rebranded as MUŻA) have comprised the fulcrum for temporary art exhibitions in Valletta.
But now, in the year in which Malta holds the title of European Capital of Culture, there is an ever-increasing offering of spaces promoting contemporary art and temporary exhibitions.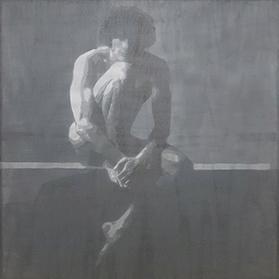 Suffice to say, that in the last 24 months alone, Malta Contemporary Art reopened its doors, Studio 87 and Iniala5 Galleries were inaugurated, adding to Blitz and the revamped upper galleries at the Malta Society of Arts in Palazzo de la Salle.
The latest space to open its doors is La Bottega Art Bistro, located along the busiest portion of Merchants Street. The intimate space (managed by Lily Agius Gallery), which doubles up as an eatery, will be launching with a solo exhibition by Marlon Chircop (Lonkirkop) tonight.
Having been introduced to Lonkirkop by a close friend, Lily Agius explains how his work impressed her immediately: "I strongly believe that his artistic career will excel very fast." Agius has, in the past, given opportunity to several young and upcoming artists, introducing and presenting them to the Maltese art scene, thereby showing how the role of the gallerist, as talent scout, can be instrumental in the career of a visual artist.
The new space in Valletta is an all-day concept café – a place where like-minded people can meet, share ideas and be inspired irrespective of their field of interest. "Galleries can be imposing, so I am hoping that the art gallery café will offer something more accessible, and to a wider audience," Agius explains. "Everything in the space has been custom-made by a master welder and we are pleased with the raw and natural ambience of the space too; the choice of art is also meant to reflect the distinct style and aesthetic we have chosen for the bistro."
A solo show is generally seen as an important milestone in an artist's career
Having previously exhibited in a couple of shows with another two visual artists, who are collectively known as The Peculiars, Lonkirkop describes how the process behind the work being presented in this exhibition was conceived during the experimentation phase for one such show, and how this body of work is a continuation and development of a previously explored theme. Believing strongly in the need for artists to collaborate with one another, he feels very fortunate "to have two talented artists like Serah Stringer and Hannah Galea with whom I can experiment, explore and discuss my work; their help and support really contribute to my artistic growth".
Lonkirkop hopes that his work will take the viewer on an emotional journey and will be impactful in a way that prompts conversations. Apart from the aesthetic appeal of this series of eight works, he explores subjects such as sexuality, identity and politics. From the work presented in past exhibitions, it is clear that Lonkirkop loves to experiment with different media and technique and does not shy away from size or dimension.
"Most of the time my aesthetic changes according to the subject and medium used. Aesthetically, this series I'm presenting in this exhibition is so different to what I have produced so far that it is hard to define. However, textures and layers somehow always feature in my work, regardless of the theme. It is not always intentional, but I have to admit that I am obsessed with the notion of layering and exploring different materials."
A solo show is generally seen as an important milestone in an artist's career, so how did he know that it was time to make his debut? "Having a solo show was always part of my plan, but I wanted to find the right time for it. After being contacted by Lily Agius, we started to discuss a potential collaboration and it immediately felt like this was meant to happen. We have worked together, actively, to present the best show possible".
Besides this solo show, Lonkirkop is working on his third exhibition with The Peculiars that will take place next year. He is also working on a second solo show with Lily Agius Gallery and on other collaborations with artists from different backgrounds.
The exhibition of paintings by Lonkirkop opens tonight at 6.30pm at La Bottega Art Bistro, 201 Merchants Street, Valletta. For more information contact info@lilyagiusgallery.com.
Comments powered by

Disqus