Zammit warns Żejtun must be more ruthless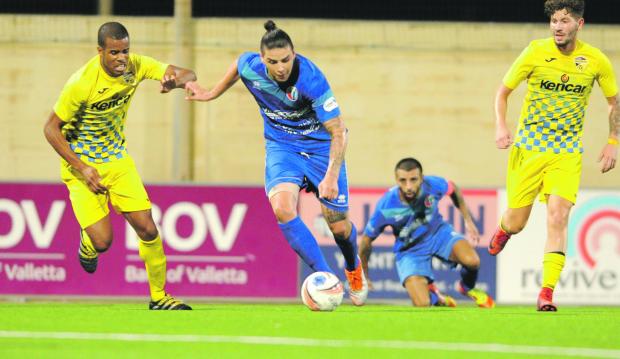 SAN ĠWANN 0

ŻEJTUN CORINTHIANS 1
Żejtun Corinthians goalkeeper Glenn Zammit could not hide his relief as his club bagged their first league win of the season after edging past bottom-placed San Ġwann last weekend.
However, the Żejtun no.1 has warned his team-mates they can't afford to miss scoring opportunities if they are to get back in contention for promotion.
"I'm relieved that we have finally won our first match," Zammit told the Times of Malta.
"It was a deserved victory as we showed great discipline throughout. But we should have put our minds at rest as we created enough chances to kill off our opponents but we simply couldn't put the ball into net.
"That left San Ġwann in the match and had we conceded a goal we would have dropped more precious points but luckily we managed to see out the match."
But San Ġwann's Jan Tanti had a completely different opinion.
"I think that a draw would have been a fairer result," Tanti said.
"We created good opportunities but we couldn't take them. But now we need to react, go back to the training grounds, pull up our socks and work harder to turn our season around."
Żejtun were more aggressive early on but it was San Ġwann who created the first chance after eight minutes but Tanti's drive was blocked by a defender.
The Corinthians responded on 27 minutes. Adrian Carabott picked Johnny Fernando Dias but his shot finished over.
Żejtun were unlucky six minutes from the break when Carabott's shot was somehow kept out by Cain Formosa with the aid of the post.
Nine minutes into the second half, Żejtun netted the all-important goal when Johann Castano headed home a Junki Sato cross.
Castano almost struck again six minutes later but his angled drive just missed the upright.
Castano and Sato combined again minutes later with the latter seeing his shot pushed away by Formosta before the Saints defence cleared.
San Ġwann came close to an equaliser on 78 minutes.
Rafael Ledesma found Kyle Gatt and his angled drive flew across the face of goal but found no takers as Żejtun held on for the win.
Zammit said that the high expectations put on by the media is having a negative effect on the team.
"I believe that the fact that we were put as firm favourites to win promotion by the media and pundits this season is having a negative effect on us," the former Sliema goalkeeper said.
"I think we've got a very strong squad to fight for promotion. But it is going to be difficult because all teams are well prepared. Nearly everyone picked up some points and all the games are very well balanced.
"But to win promotion we need to go on a run of results and remain consistent till the end."
On his part, Tanti said that although San Ġwann are still without a win he has no doubt that their team's fortunes will soon change for the good.
"It's true we played five games and have no points, but there are still 21 games left and 63 points to play for," Tanti said.
"We believe in our talent and we all know that even great teams have passed such a difficult path.
"We hope that Lady Luck will smile at us as things didn't go our way in the opening five matches.
"All sides are balanced and anything can still happen," Tanti concluded.
SAN ĠWANN: C. Formosa, K. Bailey, J. Bowman, R. Zammit, A. Cachia, N. Abouhaisa (C. Gauci), R. Ledesma (P. Kanzurov), J.P. Attard, K. Gatt, J. Tanti, N. Edoardo Melo Ferreira (G. Blessing).
ŻEJTUN: G. Zammit, C. Giordemaina, I. Azzopardi, E. Vella, A. Carabott (A. Smeir), J. Alberto Castano, D. Albanese, J. Fernando Dias (J. Sato), B. Farrugia, A. Farrugia (J. Galea), G. Azzopardi.
Referee: Malcolm Spiteri.
Best Player: Junki Sato (Żejtun Corinthians).
OTHER RESULTS
ŻEBBUĠ RANGERS 1
NAXXAR LIONS 1
ŻEBBUĠ RANGERS: J. Borg, R. Vella, C. Brincat, S. Schembri, D. Fava, A. Curmi, H. Vella, S. Buhagiar, R. Thiago Rocha (J. Farrugia), C. Ze Lucas (D. Pace), R. Micallef (L. Noureddine)
NAXXAR LIONS: S. Micallef, G. Cassar, R. Mercieca, M. Fenech, D. Belhadj, M. Mifsud, J. Ellul, M. Belhadj, J. Debono, S. Meilak, A. Azzopardi.
Referee: Slobodan Petrovic.
Scorers: Brincat (Ż) 40; M. Belhadj (N) 90.
Best Player: Clive Brincat (Żebbuġ Rangers).
PEMBROKE ATHLETA 3
LIJA ATHLETIC 3
PEMBROKE: A. Chetcuti, M. Focsa, J. P. Mifsud Triganza, T. Fenech, W. Moacir da Rosa (C. Psaila), D. Cachia, A. Hili, N. Grech, M. A. Borg, I. Misan, Y. Tonna (Z. Grech)
LIJA: L. Bonnici, C.J. Cassar (L. Muscat), P. Borg, D. Scerri, E. Beu, A. Sammut (R. Sammut), A. Borg, K. Koken, P. Luiz Soares, A. Galea, L. J. Schembri.
Referee: Daniel Casha.
Scorers: Schembri (L) 11; Fenech (P) 28; Mifsud Triganza (P) 34, 48; Soares Gusso (L) 62; Kuroki (L) 80.
Best Player: Jean Pierre Mifsud Triganza (Pembroke).
SIRENS 1
STA LUĊIJA 1
SIRENS: M. Montfort, K.P. Farrugia, R. Mandic, D. Sant, J. Nwoba, M. del Negro, M. Micallef, M. Antonio Morgon Filho (L. Mijic), M. Angel Bustos, L. Galea (G. Spiteri), A. Ige.
STA LUĊIJA: R. Caruana, M. Caruana, N. Spiteri, J. Usuga, K. Duvan Ante Rosero, J. Magri Overend, B. Diego Paiber, J. Patrick Teixeira Maia (I. Enrique de Rocha Souza), L. Galea, K. Camilleri, N. Borg (J. Suda).
Referee: Alan Mario Sant.
Scorers: Teixeira Maia (SL) 27; Ige (S) 66.
Best Player: Brandon Diego Paiber (Sta Luċija).
GUDJA UNITED 0
MARSA 0
GUDJA: F. Tabone, L. Martinelli (I. Montanaro), J. Bondin, M. Attard, J. Lima, G. Chircop, S. Diacono, J. Farrugia, S. Hili, A. Nagbe, A. Damian Ramos.
MARSA: A. Roppas, M. Busuttil, N. Moyck, L. Friggieri, M. Gauci, E. Bonello, E. Cutajar, W. Chircop (C. Cardona), N.A. Micallef, A. Agius, R. Gafa (O. Galea).
Referee: Mario Apap.
Best Player: Argyris Roppas (Marsa).
VITTORIOSA STARS 1
SWIEQI UNITED 0
VITTORIOSA STARS: C. Cassar, I. Abela, R. Previ, K. Degiorgio (G. Sultana), J. Ogonuppe, J Briffa, N. Ojuola, J.C. Galea (D. Zampa), M. de Souza Diaz, D. Tabone, T. Abela Wilson.
SWIEQI: J.C. Debattista, M. Attard, M. Vella (G. Bugeja), M. Laferla, K. Victor Olowoyo, M. Farrugia, T. Ayorinde, S. Bugeja, L. Scicluna (I.A. Margarit), N. Schembri (J. Scerri), D. Borg.
Referee: Paul Toledo.
Scorer: Ogonuppe (V) 75 pen.
Missed penalty: Ayorinde (S) 52.
Red card: Bugeja (S) 73.
Best Player: Jesmar Briffa (Vittoriosa Stars).
MQABBA 3
QRENDI 2
MQABBA: J. Debono, R. da Silva Gomes, L. Mallia (I. Curmi), D. Vukovic, G. Micallef (T. Augusto Leite), B. Grech, W. Borg (D. Aquilina), C. Vella, D. Azzopardi, F. Gusman, L. Suma.
QRENDI: J. Farrugia, B. Bondin, D. Zarb (M. Barbara), B. Sammut, L. Scorfna, N. Falzon, Z. Bowman, J. Spiteri, J. P. da Silva Vargas, C. Quaranta (M. Reid), J. Silveira da Silva.
Referee: Alex Johnson.
Scorers: Silveira Da Silva (Q) 16; Quaranta (Q) 21; Vella (M) 79; Suma (M) 84; Gusman (M) 86.
Missed penalty: Mallia (M) 51.
Best Player: Lamin Suma (Mqabba).
Comments powered by

Disqus