Phallic and tragic - Martin Scicluna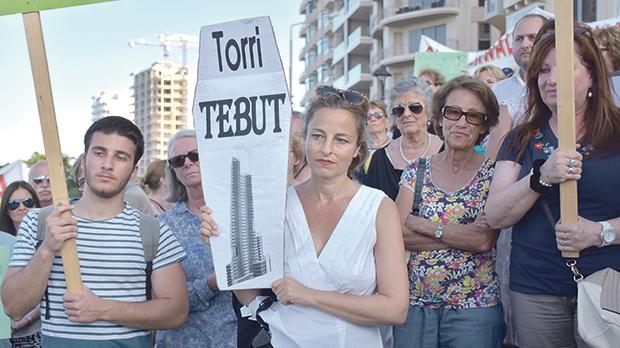 When I was privileged to be ap­poin­ted as executive president of Din l-Art Ħelwa in 2001, my first battle against a plan to erect a high-rise building was directed at Tigné Point, which we regarded as intruding too closely on the world heritage city of Valletta as well as violating the skyline of Sliema.
The battle was lost to the powerful financial and political forces big business ranged against us. That the development at Tigné Point was linked to the rapacious deal for the development of Manoel Island – now thankfully but belatedly brought under some sort of public control – and to restore Fort Manoel, did not help our cause.
The first 24-storey high-rise building in Malta – the Portomaso Tower in Paceville – preceded Tigné Point. It added nothing to the quality of the environment or the aesthetics of St Julian's.
The results of the lost battle over the high-rise carbuncles at Tigné Point, impinging as they do on the iconic skyline of Valletta less than 500 metres away, are to be seen vividly today. The Tigné peninsula is shortly to be home to the 40-storey Fort Cambridge hotel and, not 1,000 metres away, the multi-storey Townsquare project.
Their dominance over Sliema – which was once an elegant town of classic traditional architecture and one of the most desirable places to live – are an abomination. They wilfully violate the organic texture of Sliema – of which Tigné forms an intrinsic part – and create a grammarless architecture in which buildings are not made to fit with the town but are ranged in a ragged skyline against it.
I have since reluctantly accepted that, for those of us who care passionately about Malta's built landscape, the battle has been lost. But acceptance of defeat will not stop me from speaking my mind.
The Planning Authority, in an act of grotesque environmental destruction, has just agreed to the construction of more high-rise buildings in a country where they are alien, unnecessary and unwanted. It has announced that the planned construction of four inter-linked, fourteen- and nineteen-storey tower blocks – the so-called Quad Towers – in a cluster at Mrieħel has been extended to increase the total floor-space footprint by a fifth.
To compound the insult, one of the Planning Authority's case officers has at the same time – and in the face of the strongest objections from over 4,000 people living in the area – recommended approval of a grotesque-looking 38-storey tower and 18-storey hotel at St George's Bay. The dB Group's project is about to alter and disrupt irrevocably the lives and homes of some thousands of people in the areas of Pembroke, as well as Swieqi, St Julian's and Paceville.
These latest projects at Mrieħel and St George's Bay represent in the starkest manner all that is wrong with our built environment and the planning blight that is actively inflicted on this island. The Quad Towers at Mrieħel will undoubtedly intrude negatively on Malta's historical landscape and the commanding views from Mdina and Valletta. The overall impact will be gross.
Maltese construction developers represent the 'unacceptable face of capitalism'
As to the 38-storey St George's Bay tower, the visual effect on the town of Pembroke, and on Paceville, Swieqi and St Julian's – let alone the traffic pressures on the whole area – will be unconscionable. We are witnessing here another example of architecture which is artistically worthless – trashy, ugly, paying no respect to its context – and affecting the quality of life of thousands living close by. Our country is being defaced by puerile phallic towers created by so-called "star" architects who have made their careers serving wealth. Culture and our cultural heritage have become offensive terms in the eyes of Maltese developers and those driving rampant construction. High-handed architects and construction magnates, aided and abetted by government, are inflicting environmental and cultural heritage disaster on a massive scale.
They epitomise the catastrophe – catastrophe is not too strong a word – of late 20th and 21st century architecture in Malta, which has replaced traditional construction materials with industrialised prefabricated structures and abandoned our vernacular building stylein favour of a resolution to break entirely with architectural styles of the past, even when constructing new buildings in historic areas.
What we are getting with these monolithic, intrusive, high-density footprint buildings – far too massive in scale for their surroundings and imposing extraordinary strains on the existing inadequate road, water and drainage infrastructure – is an example of architecture that destroys its surroundings, rather than adapting its art to them.
In this tiny country, the monumental developments at St George's Bay, Mrieħel and Tigné inflict damage on the Maltese skyline as a whole – the Portomaso Tower excrescence is already visible virtually everywhere – and cause irreversible damage to Malta's heritage landscape hitherto unchanged for centuries. They undermine every consideration of visual harmony and are an affront to Malta's traditional architecture.
Politics is not the issue. Both parties are equally guilty. Financial greed and profit are the overriding motives and both have colluded with developers to enable them. Developers appear to have lost all sense of moral, corporate responsibility in their efforts to become even richer than they are already.
The voracious drive for greater financial gain is unrelenting. Maltese construction developers represent the "unacceptable face of capitalism". Not because profit is bad, but because they harm so many and so much in their unyielding pursuit of it.
At Din l-Art Ħelwa 12 years ago, we had introduced an annual award for the best in architectural heritage, which has become a highly prestigious and much sought-after prize. In Britain, there is an annual award known as the Carbuncle Cup for Britain's worst new building.
It is the one award that no architect wants to win. A large "leisure centre" and car park in Stockport, described by the jury as "a sad metaphor for our failing high streets" and "an absolute monstrosity" has just been presented with the 2018 Carbuncle Cup.
The planning officer who recommended the hotel and 38-storey tower at St George's Bay called it – presumably tongue-in-cheek – a "landmark building". Landmark building?
If we had the equivalent of the Carbuncle Cup in Malta, it would be extremely difficult to choose between the squat, high-rise Quad at Mrieħel and the 38-storey tower at Pembroke.
Both are phallic and tragic.
Comments powered by

Disqus