Watch: 'I was lucky... why shouldn't others get the same chance?'
A second, bigger Dar Bjorn is in the pipeline, with demand far outstripping supply
Fifty patients suffering from neurological conditions are currently on the waiting list for accommodation at Dar Bjorn. As everything gets set for Saturday's fundraising concert, current residents tell Ramona Depares how the facility offered them a new lease of life.
Manuel Agius would end up spending five days in hospital for nothing every time he suffered a fall.
When Manuel Agius was diagnosed with multiple sclerosis (MS) at the age of 24, he had no idea that by the time he turned 40, he would be unable to walk.
A potentially disabling disease that affects the spinal cord, MS caused Mr Agius' body to deteriorate gradually until, six years ago, he found himself physically unable to drive. It was at that point that he realised he would not be able to live independently at home for much longer.
Then, a year ago Mr Agius lost the use of his legs. Walking became impossible, and the necessity of finding more suitable living arrangements became more pressing.
"The problem was that there was nowhere specialised where patients suffering from neurological conditions could be housed.
"Every time I suffered a fall, which used to happen often, I would end up spending five days in hospital for nothing. There is no cure for the condition, so hospitalisation only served to give me and my family – who couldn't cope anymore – a respite from causing more damage," Mr Agius says.
Josephine Spiteri: Moving to the home relieved her husband of the physical and emotional toll of caring for her.
His words are echoed by those of Josephine Spiteri, a patient in her 60s who was diagnosed with ALS – also a degenerative disease affecting nerve cells in the brain and spinal cord – four years ago.
"My motor-skills were failing and I kept falling all the time. My husband could not take the physical toil of caring for me anymore. Moreover, he constantly worried about me when I was alone at home, and this was taking a mental and emotional toll on him, too," Ms Spiteri says.
Things came to a head when Ms Spiteri could no longer use her hands and her ability to walk was severely compromised.
While the next step was obvious, like Mr Agius she faced a dilemma – there was no specialised accommodation available to ALS sufferers.
"I needed to take a decision. I did not want to be institutionalised in a home that didn't cater for people with my condition.
"At first, I decided to stay at home, with all the suffering and the risks that this brought with it."
There is no other home that could have offered me this quality of life
Then, nine months ago, Dar Bjorn opened in Qormi, offering not only accommodation but also a new life to those with a neurological condition and peace of mind to their families. Spearheaded by Bjorn Formosa, who went public with his condition in order to raise €90,000 to turn his lifelong dream into reality, the home currently houses 13 patients and offers round-the-clock medical, emotional and nursing care in a semi-independent setting.
The annual running costs are covered by the government.
The campaign to open the facility also shone a light on a medical condition that was previously underestimated. Tellingly, Dar Bjorn was filled to capacity within three weeks of opening.
Now, Bjorn and his wife, Maria, who run ALS Malta and the home together, have embarked on the second leg of this dream – opening a new, bigger and better-equipped facility to offer care and accommodation to the 50 patients who are currently waiting for the opportunity to start a fresh life.
The new facility will be located in Żebbuġ, offering 27 rooms over eight floors. Medical facilities and therapeutic amenities will be improved, with private medical consultation rooms, a gym and a swimming pool on the list of new features.
To make this happen, ALS Malta needs to raise between €2 and €3 million. €1.5 million in donations have already been used to buy the land and rebuild from scratch.
"Demand for the services offered at Dar Bjorn exceeded our initial estimates. We had no idea that there were so many people in need of specialised accommodation, in Malta. There was a definite gap in our health system – there were no facilities for people with physical disabilities, although those with mental disabilities were more catered for. Dar Bjorn is slowly starting to fill this gap, with respect to neurological conditions," Mr Formosa says.
The idea, he adds, is to reduce the need for such patients to visit hospital as much as possible, thus effectively reducing the burden on Maltese hospital facilities while offering intensive care within a community.
ALS Malta organises regular fundraising events, but their biggest effort will take place this week with a massive concert in St George's Square, Valletta.
Versatile & Friends For ALS will see some of Malta's most well-known names in the music industry come together to raise funds for the new Dar Bjorn.
The event includes performances by Versatile Brass, Ivan Grech, Christabelle, Matthew James Borg, Amber, Glen Vella, Brooke, Pamela Bezzina, Christian Arding, Martina, Larissa, Cliff Zammit Stevens, the New Victorians and DJ Fusion by Sound Salon's Lex.
In the meanwhile, it's breakfast time around the communal table at the Qormi home. Some residents are chatting, others sit quietly lost in their own thoughts, and a smiling carer helps a young woman with her breakfast.
"I was diagnosed with MS 13 years ago, and my husband couldn't take care of my anymore," 35-year-old Claire Borg tells me. "Here, I feel at home. I couldn't have hoped for better carers; they are lovely people and they are also equipped to deal with our specific needs. I used to worry even about something simple like eating, but since I moved here, my quality of life took a leap forward," she tells me.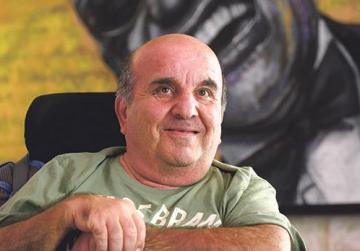 John Azzopardi has been living at the home since May: "Since moving to Dar Bjorn, I can take small and slow steps once again."
Her story is echoed by the other residents. Gozitan John Azzopardi, who has been living at the home since May, explains: "I know three people in Gozo who desperately need access to the specialised care that Dar Bjorn offers. Look at me – I had stopped walking completely but since moving to Dar Bjorn, I can take small and slow steps once again.
There is no cure for Mr Azzo-pardi's neurological condition, but having access to round-the-clock care and not having to worry about how you will face the next day does leave tangible benefits for your overall condition.
"I was lucky to make it with the first wave of patients here. But why shouldn't other people who suffer from the same condition also have access to the same high-level facilities?"
There was a definite gap in our health system
All the residents have the same story to share – of how they enjoyed a new lease of life after moving to the home.
Saviour Camilleri is the last patient I speak to. As soon as I mention the opening of a new facility, his reaction is immediate.
"Other patients deserve the same opportunity to reduce their suffering, same as I was given. There is no other home that could have offered me this quality of life. This is why we need another Dar Bjorn."
The Versatile & Friends for ALS fundraiser will take place on September 1 at 7pm at St George's Square, Valletta. Entrance to the concert is free, but donations to ALS Malta are kindly requested.
Dar Bjorn in Qormi offers round-the-clock medical, emotional and nursing care to 13 patients in a semi-independent setting.
The health facts
Motor neuron diseases fall into a group of degenerative conditions that cause the nerves in the spine and brain to lose function.
The conditions do not affect everyone with equal severity, and degeneration occurs at a different rate with different patients.
Although there is no cure, the right living conditions and medical and emotional support can improve quality of life significantly.
There was little to no awareness about ALS, one of the conditions that falls under this umbrella, until 2014's Ice Bucket Challenge pushed it into the limelight Locally, it was Bjorn Formosa, who was diagnosed with the condition some time later, who made it a household name.
A team of researchers at the University of Malta were responsible for a major breakthrough in ALS research when they discovered two genes that offer new hope for treatment.
Photos: Jonathan Borg
Comments powered by

Disqus