Multi-country exhibition for Beating Hearts
Artist and paediatric cardiologist Victor Grech has been painting for 13 years
Artist and paediatric cardiologist Victor Grech has put together a number of his paintings to raise funds for Beating Heart Malta (BHM), an independent non-profit organisation for adults and children born with heart problems including congenital hearts defects (CHD).
Prof. Grech's paintings are exhibited and for sale at the Hilton and Westin in St Julian's, and the Phoenicia Hotel in Valletta. Simultaneous exhibitions are being held in London, Brussels and Australia.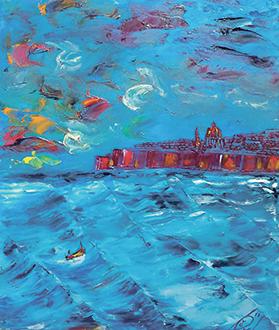 Boat under Valletta
An exhibition at the Mediterranean Conference Centre in Valletta will be launched in the run-up to Independence Day.
Prof. Grech has been painting for the past 13 years, and his preferred genre consists of landscapes and seascapes. The medium is oil on canvas with painting knife. Maltese impressionist artist John Borg Manduca is his inspiration and mentor.
Beating Hearts Malta was founded in December 2011 with a main objective to provide support and encouragement for all adults and children with CHD, their partners and families in Malta.
It also promotes awareness and educates social care professionals, employers, insurers and the public about the existence and the needs of people with CHD. Fundraising is fundamental to the association as most funds are raised to support Cardiac Lab at Mater Dei Hospital.
To date, BHM has helped to upgrade current equipment and purchase more specialised equipment for the benefit of both adults and children born with CHD.
Previous fundraising activities have helped in the purchase of a foetal echo probe to check the hearts of babies in the womb and an echocardiogram complete with probe. It also half-funded the first cardiopulmonary exercise testing machine for Mater Dei Hospital.
BHM's new target is to part-fund a genetic sequencing machine for the benefit of children and adults.
Booking of paintings is possible through Facebook page https://www.facebook.com/Malta-Impressions-Art-by-Victor-Grech-647422905641215/?modal=admin_todo_tour or on site during the exhibition period.
Boat under Qalet Marku
Health Minister Chris Fearne at the exhibition.
Victor Grech at the Hilton exhibition.
Comments powered by

Disqus