Today's front pages - August 12, 2018
What's making headlines in local newspapers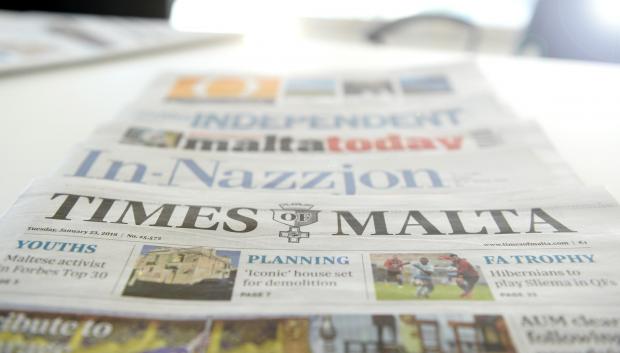 The Sunday Times of Malta quotes commercial lawyers as saying that a €274m direct order related to St Vincent de Paul appears to be in breach of both local and EU procurement laws.
In two other stories, the newspaper reports that small-scale ġbejna producers are to be finally brought in line with EU laws and that the government is looking into introducing electronic tags for suspects of serious crimes.
The Malta Independent on Sunday quotes police sources as saying that they have yet to come across tangible evidence of Russian meddling in the Egrant affair.
The newspaper also reports that Venezuelan president Nicolas Maduro has been implicated in a US investigation into €160m which were allegedly laundered through Malta. An unnamed Maltese private firm is also in the spotlight, having allegedly pocketed €20m for laundering €511m.
Malta Today writes that Pilatus Holdings is demanding that it be handed back control of its eponymous bank, which was placed into administration by the financial regulator earlier this year.
The newspaper also reports that revisions of electricity billing systems are now in their final stages.
It-Torċa leads with a photo of Opposition leader Adrian Delia's wife Nickie Vella de Fremeaux, in an article about bullying and how to react to it. The newspaper also quotes speaker Anġlu Farrugia as saing that the President has the power to decide whether the Opposition leader has the backing of a majority of Opposition MPs.
Il-Mument writes that the Attorney General "has his hands tied by Castille", with the newspaper noting that it has now been three weeks since Egrant inquiry conclusions were published.
Illum reports that a white paper concerning the rental market has been put on hold out of fear that it will lead to an "explosion" in rental prices.
Kullħadd also features Ms Vella de Fremeaux on its front page, with the newspaper saying some PN members have been using the example of Mary Fenech Adami to attack the current Opposition leader's wife for speaking out about bullying.
Comments powered by

Disqus