Off to a good start
64 Gun
113, St John's Street,
Valletta
Tel: 2106 5203
Food: 7/10
Service: 9/10
Ambience: 9/10
Value: 7/10
Overall: 8/10
I realised that I don't drink as much wine as I used to. This is no effort on my part to save grapes from their destiny or to minimise my intake of alcohol. I realised that as I grow, not grow up, my distaste for poorly made wines has become significantly more acute and my appreciation for the better bottles increased in the same proportion.
Essentially and tragically, my taste in wine has become more expensive and I refuse to drink wine casually. If I want a casual drink, I reach for one of the multitude of excellent beers that have made it to the market.
Food has, in some ways, followed a similar path. I tend to stray from overly-laboured food, fine-dining and pretentious or snobby eateries because they almost inevitably fail to deliver on their promises. Such is the theatre around some dining experiences that patrons prefer pageantry to palate, encouraging these travesties to continue.
This keeps my approach to assessing a dining experience consistently based on its ability to fulfil its promise. And to its ability to do so consistently. I return to the seasonal simplicity of Fins and Gills, to the eternally rewarding Kuya, to the shamelessly indulgent Fat Louie's and to other such eateries where I know that the promise will be exceeded rather than walk out of a poncey place with the bitter taste of an underwhelming, over-priced experience.
However, this is not to say that there aren't exceptionally rewarding fine-dining experiences. It is merely a confirmation of the old adage that it is tough at the top. The restaurants that have attained Michelin stars live in constant concern about spot visits by inspectors of fine foods, knowing that they must be consistent in their delivery if they are to retain those coveted, stellar accolades.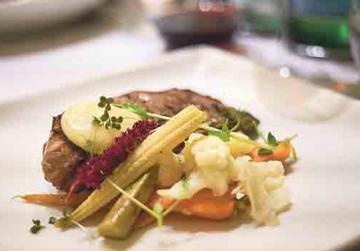 Last week I spent a day in Valletta on a frantic mission that took me and a couple of friends all over the city. When we were done, I had worked up quite an appetite. One of our paths led us past a rather snazzy restaurant that is quite unusually named '64 Gun'. I committed the location to memory, hoping we'd be done by dinner time. We managed it in the nick of time and I was faced with an uncomfortable choice. Should I drive home, make myself presentable and drive back in, or simply turn up and ask if they served people who looked like they had no fixed address?
Hunger got the better of me. I take my worst and best decisions on a furiously empty stomach and, as I asked the girl who met me at the door if they'd take two diners without a reservation, I still had no idea whether they'd do the right thing and turn me away.
She walked in and asked the person in charge. A smartly-dressed, effervescent young man came out to meet me and dismissed my hesitation about my costume. He said that the tables in the upstairs dining area were reserved but he had a table in the downstairs room that was usually used for private dining.
I eagerly followed him through the sumptuous interior and down the stairs, past a well-stocked bar, and into a comfortable room that's built into the cellar of this gorgeous building. As I waited for the better half to park in the city, he asked if I'd care for a drink. A gin and tonic, he half suggested, as he saw my hesitation.
One can't go wrong with the aptly nicknamed mother's ruin so I thanked him for the suggestion, asking whether they'd have any specific gins I could choose from. He relished the question and proudly said they had more than 40 gins at the bar. I asked for dry and he returned with a Silent Pool along with a sugar-free tonic to keep things as dry as possible. He'd added red and white peppercorns and some cardamom pods and as I sipped, all was suddenly right between my seat and the farthest reaches of the known universe.
We perused menus and realised that we would be spoiled for choice. The menu is just the right kind of restricted – rather than go nuts with options it takes a few dishes and seeks justice for each one.
The food shows solid technique
We made our food selection and added a middle-of-the-price-range bottle of barrel-aged Nebbiolo from Piemonte from a particularly well-curated list.
Our man returned to serve the wine, swapping our glasses for a pair of more appropriate ones, pouring a sip each, and proceeding to decant the wine. When service works, it really does the trick and turns dining into a magical experience.
Moments later he was back with an amuse bouche. This took the form of cured and smoked salmon with cream cheese and caviar made of balsamic vinegar. Dotted around the little plate were little drops of beetroot sauce as well as crumbs of orange powder. There's more to be said about the presentation and the accoutrements than there is to be said about the dish itself because, let's face it, it is a rather humdrum combination were it not for the context.
What was really splendid was the fresh bread and focaccia, with their own butter in a little bowl. The focaccia is sensational and more like a savoury cake than a bread – salted and crusty outside and soft and airy inside. Had they piled this up high on our table I would have easily gone through my weight in focaccia and butter.
On to our starters, the better half had ordered what they call a 'caprese salad revisited'. Deconstructed and reconstructed dishes are not new but they still manage to fire the imagination. This take is particularly pleasant. It's a hollowed-out tomato filled with burrata and finely chopped fresh basil with that balsamic caviar to seal off the red volcano. It looks like a tomato and tastes of a caprese, with the added benefit of a beautifully buttery burrata.
Unusually for me, I was having an acute case of starter envy. I'd ordered the scallops, an €18 dish that promised fresh king scallops with rice chips, mini vegetables, and mint foam. The presentation is lovely, with every scallop served on its little cracker and the space between punctuated with baby corn, cauliflower tops and baby carrots. I couldn't detect any mint in the foam and as scallop dishes go, this was pretty but also underwhelming.
It was time for a cutlery change after our starters. Tuna tataki got knife, fork, and chopsticks while the donkey steak I ordered got a fork and a proper steak knife. It's unusual to have details like chopsticks outside the confines of an Asian restaurant, but these details elevated the dining experience.
My donkey loin was served medium, as I'd asked for it. It takes faith in your meat supplier to serve donkey this way. Every time I've eaten donkey it was in some form of slow-cook, with a notable recent experience being a stracotto at a fantastic trattoria in the North of Italy. Donkey is richly textured. Think of the texture you get when biting into a sirloin as opposed to the insipid bite of a fillet steak. Dial the texture up from there for donkey so if you're not up for a positive bite pick elsewhere on the menu. It was served with baby corn, cauliflower, baby carrots on the side and a little blob of melted provola on top.
The tuna tataki is simply gorgeous. It is seared just on the outside and doused in a sauce that put me in ponzu territory. On top is a crust of poppy seed and hazelnut and there's a mild-mannered avocado wasabi to keep things interesting. The steamed veg, in the form of carrots, asparagus and broccoli that we'd ordered as sides as well as a bowl of roasted baby potatoes were also on the money.
Chef popped by to see that all had been fine and explained that he was still working his way into the menu and adding as he goes along. After his appearance, the man who handles the bar popped round to explain what he intended to do with his arena. I moaned a little bit about the hit-and-miss approach to cocktails I'd experienced of late, mentioning a sad Moscow Mule in particular. He vanished for a minute and then returned with the Moscow mule to end all Moscow mules, piled high with a ton of fresh ginger cut into strips and diced into tiny cubes, wedges of fresh lime and a copper mule cup.
We paid €65 each, a price that's fairly distributed between food and service. The food shows solid technique but at this end of the market I'd expect a little more variety – seeing the same veg and beetroot sauce on three of four dishes gets a little tiring. The chef said they'd just started though and I have to say they're off to a fine beginning. I can't wait to see what they'll come up with and, when I return for more, I intend to find out where the unusual name came from. I'm a sucker for a good story.
Comments powered by

Disqus