A family affair
Tal-Familja
Triq tal-Gardiel,
Marsascala
Food: 8/10
Service: 9/10
Ambience: 7/10
Value: 8/10
Overall: 8/10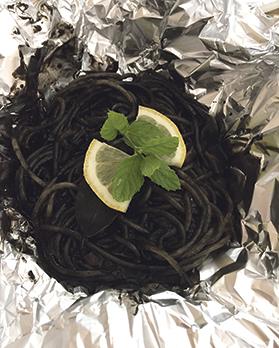 Steering a steady course is Tal-Familja restaurant in Marsascala, here since 1998. The aptly named establishment is a family-run affair; every member seems to live and breathe the restaurant, this is their livelihood and their life.
There is warm bread to begin with. Crunchy rolls arrive alongside bowls of butter beans in garlic, a deliciously creamy bigilla and a frothy butter seasoned with garlic and parsley that badly wants the cold confines of a fridge. The menu is especially traditional but we are not here for Maltese gbejniet moqlija, bebbux bit-tewm or fried rabbit. Tal-Familja is renowned for its seafood and that's precisely what we are here for.
Served piping hot, the pasta al sugo nero is indulgent with a concentrated, refined taste of the sea. This is the blackest dish of pasta you'll ever encounter, as loved in Venice as it is in Sicily. The jet black, glossy sauce of cuttlefish ink coats each strand of slippery spaghetti, catching every tendril of the tender squid; thick, buttery and salty, penetrating the pasta. With blackened smiles we inspect our inky forks, fingers and mouths. This delicacy is not a dish for the excessively polite, blushing diner but it is delectable.
The Spaghetti alle Vongole, an Italian classic, makes a virtue of simplicity. Fresh local clams, salty and chewy, are tossed in a light and flavourful sauce of garlic, chilli flakes, chopped parsley and white wine.
The prawn ravioli are divine - tightly packed, plump, oblong parcels of beautiful pasta filled with sweet, meaty prawn flesh. They sit, bedded in a creamy prawn bisque of intense savouriness. The thick sauce runs the risk of being overly buttery, but not quite. It is not, by any means, a delicately seasoned, typical French prawn bisque, but rather a full-flavoured seafood sauce that overflows with Southern Mediterranean soul.
Every member seems to live and breathe the restaurant – this is their livelihood and their life
The prawn has been reduced to its very essence and the sauce brims with sinful quantities of butter and cream; rich with tomatoes, onions and leeks. Robust and pungent, there are bursts of sharp saltiness from the capers that cut through, which prevent the whole affair from spilling over into the cloying. I am an avid lover of a traditional prawn bisque however, this one surprised me. I found it to be unbelievably flavourful.
The pagell is very well-cooked, grilled and filleted. The simple seasoning results in wonderful flavour. Capers and fresh herbs have been crushed in olive oil, making an agreeable garnish. The sides of vegetables demand attention. The Maltese style oven roasted potatoes are just lovely. Thickly sliced, they have been seasoned with salt and pepper, sprinkled with olive oil and fennel seeds and baked in a hot oven. The crispy homemade onion rings, cut ethereally thin, are addictively moreish with a slight crunch to them.
The dish of local giant prawns is another simple delight. The prawns are succulent and moist, dripping in seasoned oil, garlic and wine sauce they have been cooked in that just cries out for bread. Its pleas are answered. What remains of the crusty bread is dredged through the sauce and every mouthful is saturated with flavour.
At the end there is a Belgian chocolate cake that is salvaged by the quality of the bitter-sweet chocolate with which it is made, but is let down by the cake's stodgy texture. There is a decadent sherry trifle served well chilled. Luscious and rich, this quintessentially British dessert is deeply delightful.
Tal-Familja's trifle is served in a cup and its layered wares brazenly displayed through the glass. I experience a moment of immeasurable pleasure as I dig my spoon down through its layers of richness. The sherry is sweet and potent, but not used sparingly and the alcohol-soaked sponge is light and airy. There is a thick layer of creamy, homemade egg custard, set moderately firm, just as trifle custard should be. Jam and tinned fruit are all amalgamated into one gloriously sticky, sodden mess. The dessert is light and fresh topped with a little cloud of whipped cream - it required a far deeper layer of that.
Overall, it is a delightful little treat with a sound marriage of flavours. Into the folds of the trifle, the kitchen has also succeeded in squeezing in a layer of banana slices; a playful twist that is of course, to be permitted. A variety of light-hearted controversies exist as to what belongs in a trifle. Ultimately, as long as the basic ingredients of cake, custard, fruit, alcohol and cream are met, a trifle can be anything you want it to be - giving way to a practically limitless amount of inventive trifle incarnations.
The Maltese took this thought and ran with it, adopting the trifle, a legacy of the Crown Colony and making it their own. A cross between the English trifle and an Italian Zuppa Inglese, the Maltese trifle or soufflé is rather over the top; with its buxom flamboyance, doubtless a source of irritation, nay, offense to the trifle connoisseur. A Maltese trifle can be as maximalist as you fancy, with anything possible thrown at it - ricotta, nuts, brandy, chopped chocolate and candied peel. I am not a trifle snob. This home-grown version can make for a wonderful cold dessert, providing the flavours do not overwhelm each other.
Tal-Familja is not one of those restaurants afflicted by a lumbering joylessness where dull, irritated waiters natter away in quiet corners, trying their utmost to pretend you are not there. There is a real sense that this establishment and its charming, dated decor belongs to someone. In this case, a whole family. Hospitality is at the core of this restaurant, it is a place where you feel exceptionally looked after. Our maitre d' doesn't stand on ceremony. She is lively and alert and seems genuinely pleased to see us.
In a familial atmosphere one can enjoy Tal-Familja's solid, stoutly built plates of food. Throw caution to the wind, throw calorie and cholesterol consciousness out the window and experience a touch of the Maltese home.
Comments powered by

Disqus