An ocean of opportunities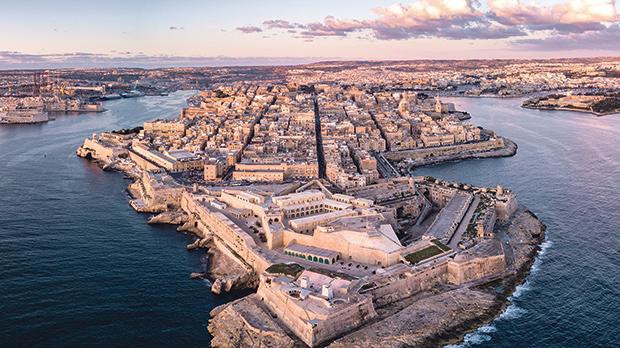 The Mediterranean maritime economy is enjoying an upward trend, with healthy prospects for the future, Aldo Drago says.
The Mediterranean maritime economy is enjoying an upward trend, with healthy prospects for the future, Aldo Drago says. Apart from the commerce and trade elements, what other sources of wealth does the Mediterranean hold for Malta?
Natural resources in the form of oil and minerals may be lacking, but the sea surrounding us is a largely underestimated patrimony.
Marine space on its own is an economic asset, and we have a lot of it, with a sea to land aerial ratio much higher than that of any other EU state. This constitutes a resource advantage for alternative energy, aquaculture, marine biotechnology, maritime transport and many other activities underpinning the maritime economy. The ocean-based economy encompasses marine-related industries, natural assets and marine ecosystem services.
Aldo Drago
All the traditional sectors of the Mediterranean maritime economy have an upward trend and are expected to continue to increase up to 2030. This is triggered by: the growth of trade between Europe and Asia, implying higher international maritime traffic; the development of a middle class and higher standards of living worldwide, bringing more tourists in particular to the Mediterranean Sea region, being the first tourist destination in the world; the increasing energy demands leading to an extremely fast development of offshore oil and gas exploration activities, and to the introduction of new multi-use offshore platforms for renewable energy; and the EU Blue Growth Strategy which is now being exported to all the Med riparian countries beyond the EU.
Innovative businesses based on marine bio-resources in the Mediterranean are also emerging, boosted by new technological developments and tools, bolstering new products and services.
To what degree would you say these sources have been tapped, to date?
We are living in exciting times. We cannot look back except to learn from experience and to prepare for the future. Investments are definitely needed to strengthen the research and innovation backbone in the Maltese Islands. Competitiveness and economic returns will highly depend on the extent to which our country is able to evolve, adapt and shape swiftly enough to match the demands, challenges and opportunities ahead.
In essence this will require: a substantial investment to build the skilled workforce that matches the challenges of a knowledge-based economy, and a sustained research and innovation infrastructure that provides the base for translating ideas into action, for exploiting technological development into smart and innovative applications, and for targeting added value to production and service provision that brings into action the cutting edge levels of achievement and leads to economic returns and competitiveness.
I believe that the University of Malta has a key role here, and not only as a provider of the professional and specialised human resource for the country. It should also be the key national provider for basic knowledge and data as well as for essential infrastructure which it should offer for free as a public good. The government must provide the resources for this to happen.
The big advantage is that the same infrastructure does not need to be duplicated elsewhere, and therefore reaping the benefit of multi-usage; same for data and knowledge which should be disseminated for use and re-use by multiple players, including the private sector, thus generating a multiplier effect and serving to boost growth at no additional cost.
Within this context, what is the role that the Physical Oceanography Research Group plays?
The Research Group that I lead (ex Physical Oceanography Unit) is this year celebrating its 25th anniversary. Through a long track record of numerous international collaborative projects, we have consolidated our infrastructure and built a solid reputation, attracting the attention of high level partners, including IFREMER (French Research Institute for Exploitation of the Sea) and CNRS (National Centre of Scientific Research) from France.
Our focus is on operational oceanography. This is a branch in oceanography where the sea is observed in a continuous and routine manner through the installation and maintenance of permanent real-time sea monitoring systems, and the publishing of meteo-marine forecasts.
Marine space on its own is an economic asset, and we have a lot of it
Local observations today include: atmospheric parameters, sea level, currents and waves in both delayed and operational mode; forecasts for the same parameters are issued daily on the services website www.capemalta.net for the Central Mediterranean area, the Malta shelf area and for marine areas closer to Malta, even as close as the coastal waters inside ports and in embayments.
The data is transmitted in real-time not only for research, but primarily to national stakeholders - such as Transport Malta, the Armed Forces of Malta, and the Civil Protection Department - responsible entities and the general public and private users with an interest to apply such data in their routine operations, and to generate added value through service provision and smart applications.
Education is critical. In what ways do you promote the importance of marine knowledge?
The University is already providing post-graduate courses with a focus on applied oceanography (www.um.edu.mt/science/geosciences/physicaloceanography/msc/operationaloceanography) and maritime engineering, as well as hosts research groups that are engaged in applicative projects promoting R&I in the marine sector. There is furthermore the opportunity to establish programmes of study and skill development jointly with educational structures within the southern Mediterranean countries.
Several capacity building activities have already been organised by the Physical Oceanography Research Group within this context, and provide a bearing for our role at this regional level - an activity being held in Malta this week is the summer course on 'Operational Oceanography for Blue Growth' that is being organised under the aegis of the H2020 JERICO-Next pan-European project (led by IFREMER), targeting participants from the Mediterranean Sea and Black Sea.
The University promotes existing European platforms such as EMODnet and COPERNICUS for greater uptake by the non-EU countries. The Physical Oceanography Research Group is a COPERNICUS Academy node for Malta and is promoting the downscaling of regional scale data fields from the COPERNICUS Marine Environment Monitoring Service (CMEMS) to generate higher resolution and local scale information with merging to local marine observations. CMEMS is led by Mercator Ocean (France) with whom we have collaborated as a champion partner to set up the CMEMS service as it is today.
You also collaborate with other Mediterranean countries, including France. What form does such collaboration take?
French research institutions have always been leaders in the Mediterranean, and our participation in regional projects has brought us consistently in direct contact with French colleagues and renowned scientists. The very first funded project to which the then called Physical Oceanography Unit had participated way back in 1992, through the AVICENNE initiative, was a joint project with IFREMER and a French SME.
In more recent times the ongoing H2020 pan-European project JERICO-Next is led by IFREMER, as well as SeaDataCloud which is the last of a sequel of EU funded projects, since 1996, with a strong French lead.
Oceanographic data is the common factor in all these projects which have led to the establishment of standards for marine data and information management, and forged the way to state-of-the-art marine observations in open sea and coastal areas. A bilateral project with the CNRS-INSU (Centre National de la Recherche Scientifique – Institut National des Sciences de l'Univers) sea glider facility has last year given us the opportunity to use a remotely controlled unmanned device to collect pristine data in the stretch of sea from south of Malta to the north African coast.
This week several French experts are supporting us in the delivery of the summer international course on 'Operational Oceanography for Blue Growth (http://marine.copernicus.eu/jerico-next-malta-summer-school-2018-july-9-14-operational-oceanography-blue-growth/) - the course targets oceanographic data exploration, elaboration and product creation for blue growth. It will empower 38 professional participants from 22 countries to source, interpret and merge marine data, and to acquire the key skills to transform data into knowledge and added value products.
Prof. Aldo Drago, is currently the co-ordinator of the Physical Oceanography Research Group (PO-Res. Grp., ex Physical Oceanography Unit, PO-Unit) within the Department of Geosciences.
The PO-Res.Grp undertakes oceanographic research, in a holistic perspective, including operational marine observations and forecasts, specialised data management analysis and participation in international cooperative research ventures. Under his direction, the PO-Res.Grp has strengthened its activities, knowhow and capability through the participation in several EU funded regional and pan-European scientific projects, INTERREG and MED Programme projects. Prof. Drago has been instrumental in consolidating the regional framework to promote and execute operational oceanography in the Mediterranean. From 1998 to 2013, he served as the Executive Secretary of MedGOOS (now MonGOOS), the Global Ocean Observing System for the Mediterranean, with office in Malta. He has coordinated and participated in a large number of international and local research projects, and leading the Italia-Malta Interreg V-A project CALYPSO South. He is also the national pivot in the BlueMed initiative for Blue Growth, and the vice-chair of the University Maritime Platform. Prof. Drago coordinates the M.Sc. in Applied Oceanography.
Comments powered by

Disqus