What's in a valley when you can have a parking lot? - Kristina Chetcuti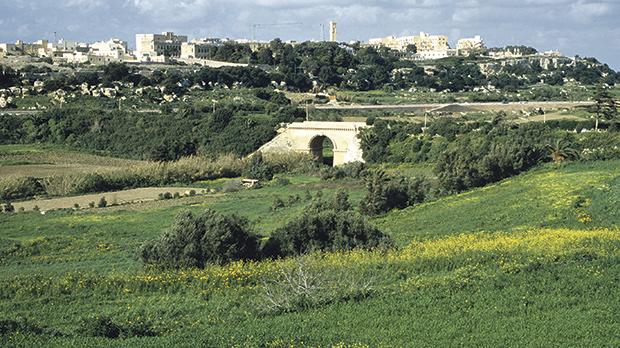 Every now and then, when I'm at my sister's in Rabat, we take Sophie, her dog, for a walk down the road, to the Għeriexem Valley.
I knew this valley from before my sister moved there – it's the one that goes down the road from the Roman Villa on the way to Nigret. Half a lifetime ago, when reading archaeology at the University of Malta, I had written my dissertation on the Roman Villa, which lies exactly at the top of this valley. Back in the first century before Christ, the Roman Villa's wealthy owners had been very selective in their choice of location for their villa.
"Lucia, do you likus this situs? Our guestus can watchus the sun settus over the vallus?"
"Carpe diem, Augustus, caro."
And indeed, guests seeking tranquillity and refuge from urban life would have been entertained till the early hours of the morning in the hortus, the back garden of the Roman Villa, with lush views of the pristine valley as they ate, and ate, and ate while perched on their recliners.
However, unless you live in Rabat or you're an archaeology buff, the chances are that you would only know Għeriexem as the road you drive up and down while looking for a parking slot in Rabat.
Next time you're there, get out of the car, and look down, or better still, park in Nigret, walk through the valley and enjoy the wonder of being at one with nature.
You'll notice that even though it's the peak of summer, it is not desert-dry like the rest of the Maltese countryside, and that's because of still existent fresh­water springs – you can even chance upon the water schooling down the rocks at times. This is what makes the land in Għeriexem fertile and a godsend to farmers, and it is why it is bountiful with vines and fruit trees. In fact, it homes some of Malta's largest fig trees – the ones that give us the Bajtar ta' San Ġwann – and which lucky for us, has survived the fig-tree borer pest.
There are some rare flora too, such as a special type of indigenous chickweed; and water cress, which only grows in areas where there are watercourses. But a farmer would point out many more unique plants on your walk.
We have till Friday the 13th to save Għeriexem Valley for ever
I am going to state the obvious here: this valley is, of course, Outside Development Zone. I'm stating the obvious, because soon it will be no more. The Ministry of Transport, Infrastructure, and Capital Projects has applied for a full development permit in a substantial part of Għeriexem Valley.
The ministry wants to widen the carriageway, so that cars can drive past more comfortably; build a promenade so people can go for a passiġġata on concrete and don't risk the possibility of a broken shoe heel; create parking spaces; and install street furniture – wrought iron benches looking at the grand view of… the new parking lot.
Why look at a valley when you can snoop at other people's cars?
But hang on, you must be saying to yourself. Don't we have national strategic policies to safeguard the status of valleys? Yes, of course we do. Only they don't apply for the Capital Projects Minister Ian Borg, especially since Rabat is his constituency and so he desperately needs to unveil a plaque and get people's votes for making their walk to a Rabat restaurant shorter by three minutes.
Of course, we could turn to the Environment Minister José Herrera; surely his job is to protect the environment? Err, no. I think he has an identity crisis, because only last week, while announcing that "we have reached our carrying capacity for cars", he told us that "uprooting trees to make way for new roads is necessary" or else there would be "negative consequences in terms of the economy and emissions".
Try and work that out. If studies tell you that our island can't possibly take more cars, then logic dictates that you try to think of alternative transport, not build more roads. If we're going to keep on thinking 'cars', then one day we're going to wake up to road workers shaving off parts of our houses to widen the road.
If the Environment Minister truly cared one iota about his portfolio, he would (a) get a pedelec, and (b) immediately cycle to his other minister pal and tell him to stop this nonsense of not only chopping off trees, but now even eating up valleys.
That won't happen. The only thing we can do for now is send an objection to the Planning Authority. The case number is PA/04647/18. Please do it, we have till Friday, July 13, to save Għeriexem Valley for ever.
https://www.pa.org.mt/en/make-an-objection-to-a-planning-application
krischetcuti@gmail.com
twitter: @krischetcuti
Comments powered by

Disqus