Fireworks factory blast in Salini leaves two badly injured
Afternoon explosion rocks factory on outskirts of Naxxar
Updated 6.50pm - Medical condition update
Explosions rocked a fireworks factory on the outskirts of Naxxar on Saturday afternoon, with the blasts leaving two people seriously injured.
Four others escaped with minor injuries and were treated by paramedics at the scene.
Emergency services were rushed to the factory site in Salini shortly at around 2.15pm, as a large plume of white smoke rose into the sky and a number of smaller explosions continued to pop within the factory.
The factory is run by San Ġwann's Għaqda Piroteknika 11 ta' Frar, a fireworks group colloquially known as Ta' Lourdes.

Screengrab: Facebook
In a statement, police said that a 36-year-old man from Mosta, who sources named as Colin Muscat, was seriously injured in the blast, with a 25-year-old man from Dingli also grievously injured.
Doctors at Mater Dei Hospital also tended to a 29-year-old woman from Mosta, who however only suffered minor injuries.
Fireworks enthusiast Colin Muscat was one of the victims. Photo: DV Photography/Facebook
At the scene of the blast, fireworks aficionados wearing Ta' Lourdes t-shirts were spotted milling around at a safe distance while paramedics tended to those with minor injuries.
Residents in Pembroke, Għargħur and St Paul's Bay all reported hearing the blasts, which blew the roof off at least one of the factory's rooms.
Home Affairs Minister Michael Farrugia made an appearance at around 4pm and was seen speaking to firefighters as they assessed the blast scene.
Magistrate Marse-Ann Farrugia is leading an inquiry into the case.
Emergency services at the scene. Video: Jonathan Borg
The room on the right of this photo had its roof blown off in the blast. Photo: Matthew Mirabelli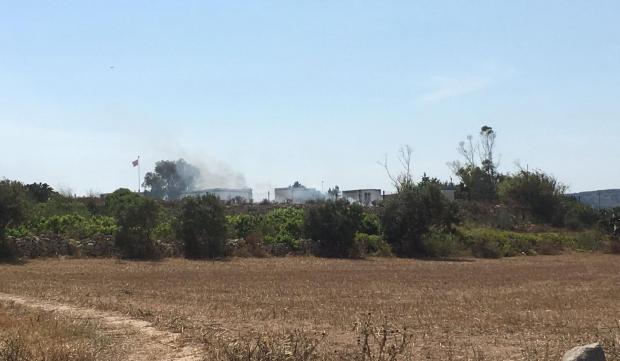 Part of the fireworks factory appears destroyed following the blast. Photo: Matthew Mirabelli
Two separate photos taken by Times of Malta readers.