Għargħur explosion believed to have been a bomb - police seek man who fled the scene
Man critically injured in powerful blast
Last updated 8.06 pm
A man was seriously injured when an explosion believed to have been caused by a bomb went off in a farm in Għargħur on Wednesday afternoon.
The blast, in Triq l-Isqof Gargallo, was heard over a wide area at 3.05pm
It brought down part of the roof of a room, trapping the injured man.
Informed sources said two other men had also been on the scene. One of them is being questioned by the police but the other one fled and is being sought.
The sources said the injured man, 42, was previously known to the police. He was operated on as soon as he arrived in hospital.
Rescuers from the Civil Protection Department and medical personnel were deployed to the scene and helped pull the man from the debris.
The sources said the bomb went off shortly after the garage door was opened.
The injured man's relatives rushed to the site but were told he was already on his way to hospital.
The injured man is given medical assistance.
Two cars which were parked nearby were damaged. One had a smashed windscreen. The owners were prevented from getting near them as the area was evacuated.
Army explosives experts were also called to the scene.
Some 45 minutes after the blast the police further extended the cordon around the area, asking reporters to move further back.
The road was still closed and bomb experts were still examining the site five hours later.
Magistrate Audrey Demicoli is holding an inquiry.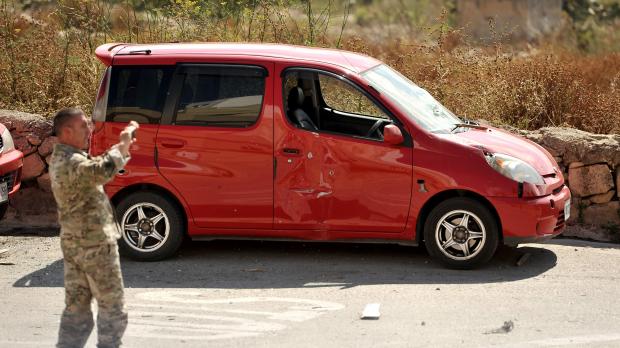 One of the cars damaged by the explosion.
Magistrate Audrey Demicoli (right) arrives on the scene to start an inquiry.
Video - Chris Sant Fournier
Picture - Sarah Carabott.
Comments powered by

Disqus