Fear as a political tool
A play written 65 years ago in the US, but which continues to be "relevant and sorely needed" in this new century, is being staged at the national theatre in Valletta.
The Manoel Theatre is presenting a new production of American playwright Arthur Miller's classic play The Crucible, which is regarded as a central work in the canon of American drama.
The play is a dramatised and partially fictionalised story of the Salem witch trials, which took place in the Massachusetts Bay Colony in the early 1690s.
The Crucible was also written as an allegory for 1950s McCarthyism, when America was prosecuting alleged communists. Miller wrote that these trials "paralysed a whole generation and in a short time dried up the habits of trust and toleration". Worried about being identified as a communist himself, Miller set the play in Salem during the witch trials of 1692-1693.
The Crucible is still relevant and needed because, regardless of the country staging it, it reflects society back on to its audience, according to a Manoel Theatre spokesman.
This is a play about cruelty, power and deceit, but also love. With the introduction of mass media, it is timelier and more resonant politically than ever since it takes place somewhere where fear is a political tool, where outside threats are invented to explain current woes, where scapegoats are identified, hunted down and judged, and where truth holds no currency, he added.
This production is directed by Sean Buhagiar, with set design by visual artist Austin Camilleri, costumes by fashion and textile designer Sef Farrugia, lights by Moritz Zavan Stoeckle and sound by composer, producer and sonic artist Yasmin Kuymizakis. The cast of 25 spans three generations of well-known veterans and leading names, as well as the best of the young talent making an entrance on the main stage.
The Crucible will be performed until Sunday at the Manoel Theatre, Valletta.
www.teatrumanoel.com.mt
Kenneth Spiteri takes on the lead role of John Proctor in The Crucible.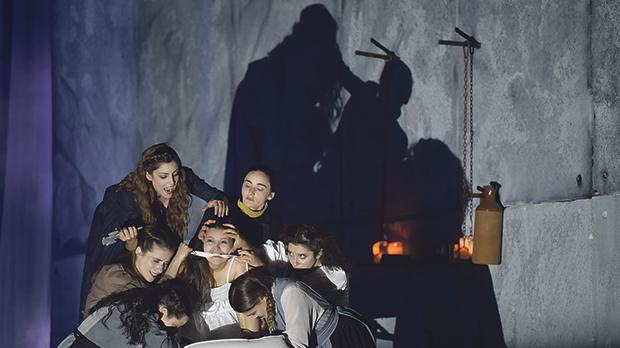 Some of the cast at the final dress rehearsal.
The production is directed by Sean Buhagiar, with set design by Austin Camilleri and costumes by Sef Farrugia.
Comments powered by

Disqus