The beer giant turns 90
De-crating beer bottles in the washer.
In the beginning, it was a flour mill and pasta-making factory in Ħamrun and now, 90 years later, it is the island's premium brewery.
Farsons launched its first beer, the Farsons Pale Ale, then popularly referred to as tal-Iġgant (the giant's), in April 1928.
Brewed at the Farrugia family's first brewery in Ħamrun, that first consignment of beer was carted down Canon Road to Qormi in cane baskets that contained six dozen bottles apiece, in time for the feast of St. George. This and other milestones in the history of Farsons are highlighted in an exhibition – 90 Years of Brewing in Malta – which was officially opened by Prime Minister Joseph Muscat yesterday at the company's new corporate offices at the Farsons Brewery in Mrieħel.
The original flour mill and pasta-making factory in Ħamrun had been burned down in the Sette Giugno riots of 1919 but the family did not throw in the towel, and a gas-producing facility was set up in 1926 called L. Farrugia and Sons Ltd.
"Notwithstanding the challenging times, my grandfather Luigi was among the first Maltese to realise that Malta had a future in the industry," said Farsons chairman Louis Farrugia.
The first advert featuring the brewery's Neptune branding – embodying adventure and strength.
L. Farrugia and Sons Ltd supplied various clients, among them the UK brewery H. & G. Simonds, which used to import beer in bulk to carbonate and bottle in Malta, selling it to the British forces stationed here.
Through this contact with the brewing industry, the Farrugia brothers, on the advice of Luigi's son Lewis V. Farrugia decided to venture into the industry and made a crucial decision to, rather than import the beer, brew it themselves. Their first brewery in Ħamrun was a first for Malta and a step that in the country's economic and industrial history proved to be a bold one.
The Farrugia family coined the brand name 'Farsons', incorporating the first syllable of their surname and the second part of the company's name. Over time, it became the name of the company itself.
The Farsons Pale Ale label featured Neptune as an emblem for the first time. Referred to by many as l-Iġgant (the giant), this mythic figure was reproduced from a watercolour by renowned artist Edward Caruana Dingli and chosen as it embodied a strong spirit of adventure and strength.
The first Farsons brewhouse
Chairman Harry Simonds de Brett (in sidecar) with founder and managing director Lewis V. Farrugia (pinion rider) being 'chauffeur-driven' in wartime.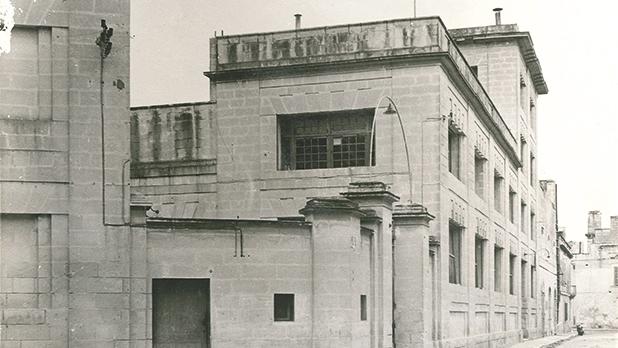 First Farsons Brewery, Ħamrun
Farsons second Brewery facade plan (detail) by Lewis V. Farrugia
Comments powered by

Disqus