Fantastic experiences out at sea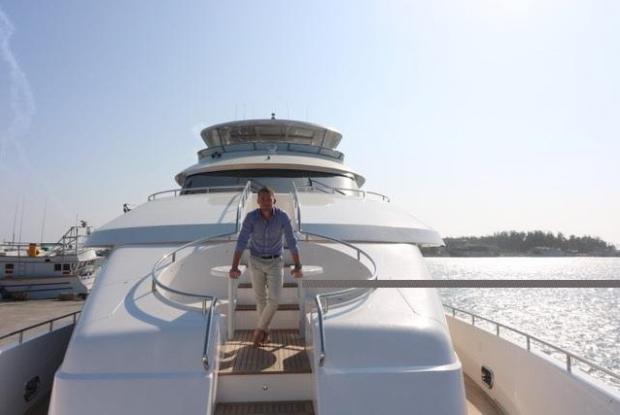 A long boating season, professionalism and return custom are fuelling the growth of the yacht charter industry in Malta, says OceanLine managing director Daniel Ashforth.
When was OceanLine's charter division set up and with what aims?OceanLine has been operating in yacht brokerage for just over two years. After witnessing the growth of the charter industry, we decided to move into the market and in 2017, we set up our charter division, with the aim of offering luxury yachts for charter, for both local and international clients. At the same time, we wanted to ensure the entire charter experience is an enjoyable one, from the first point of contact through to the time clients step off the boat after a fantastic experience out on the sea.
In what ways does Malta's standing as a favoured charter destination help your business?
The yacht charter industry has been gaining traction in Malta year on year. This does not mean that it is easy – rather, the business requires absolute professionalism from everyone, including boat owners who opt to list their boat with our charter division. With this approach – together with beautiful boats and the amazing bays and secluded anchorages that Malta offers – we can secure customer satisfaction and return custom.
How would you describe Malta's yacht charter market as a whole?
Overall, the market is not just good for us, but also for owners who, through chartering, can cover the running costs of owning a boat. Skippers and crew are also kept busy throughout the season, while other sectors – including catering and transport – enjoy spillover business.
Year on year, the charter numbers are increasing, as is the demand for top service. Customers are choosing Malta over other destinations like Italy and the south of France, and therefore expect the same level of service in Malta that they get in Saint Tropez and Portofino.
We also have a number of yachts available to charter in Sicily and, as our business grows, we plan to increase the number of yachts we have in different Mediterranean locations.
British rapper, singer and songwriter Tinie Tempah, with OceanLine managing director Daniel Ashforth.
After more than 10 years of operations in yacht brokerage and now charters, what is your take on the growth of the local maritime sector?
The charter industry is enjoying a steady growth, also thanks to the opening of new marinas in Valletta – this provides more berthing space and, consequently, the opportunity for greater custom, both in brokerage and chartering.
Does the longer duration of the local boating season give added value to yacht ownership?
We are lucky to have one of the longest boating seasons in the Mediterranean. This encourages foreign boat owners from cooler climates to choose Malta as their preferred yachting destination. The good weather also enables us to offer end-of-year chartering – last season, we even had business at the end of October, which is almost unheard of in the south of France.
What interesting offers does your inventory currently hold?
We have two charter boats that we class as 'hot deals' which really performed well last year. Our luxury motor yachts – a Sunseeker Manhattan 50 (Gracey) together with our Sunseeker Predator 62 (Magica) – have seen over 30 charters in one season and generate a lot of loyal custom.
For more information visit OceanLine's Malta Yacht Charter section.
This is a sponsored article.
Comments powered by

Disqus