All-inclusive concept for a plain-sailing cruise
Orange Travel Group has launched special pre-sale prices which include the ultra all-inclusive concept that covers just about everything – all meals, drinks, tipping, five excursions, spa and onboard entertainment on TUI Cruises' Mein Schiff fleet of cruise ships.
The Mein Schiff brand
Since 2009, TUI Cruises has offered sea voyages for the German-speaking market under the Mein Schiff brand. Appreciation and individuality are the most important factors on board the Mein Schiff fleet. Top-class cuisine and hospitality are part of this philosophy, as well as high-quality seated service and individual open spaces.
The Mein Schiff fleet is equipped for relaxation and a sense of well-being from fore to aft. With the concept of a floating holiday resort, the well-being ships focus primarily on guests whose priorties are freedom, space, quality and personal service.
The premium all-inclusive concept offers large spa areas, numerous service restaurants, as well as a diverse and generous entertainment programme that are already included in the paid travel price.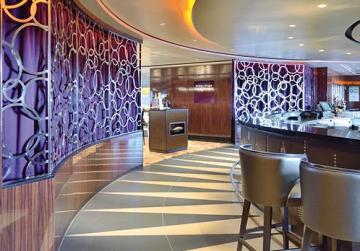 The fleet
The Mein Schiff fleet offers its guests many destinations in the Mediterranean, the Canaries, the Caribbean, the Arabian Gulf, Asia and central America. Moreover, cultural and scenic highlights also include Nordland, as well as Norway, Iceland, Spitzbergen, Great Britain and the Baltic Sea. Having started in summer 2017, Mein Shiff 6 will also cruise in North America, Canada and the Bahamas.
The TUI Cruises well-being fleet has almost 141,000 beds to date. The well-being feeling is reflected in the ships' generous deck areas and numerous cabins with balconies or verandahs up to 47 square metres in size.
Top-quality cuisine
The gastronomic concept at TUI Cruises focuses on individuality and service. A variety of restaurants and bistros are available: Mein Schiff 1 and Mein Schiff 2 each offer eight; Mein Schiff 3 and Mein Schiff 4 each have 11; and Mein Schiff 5 and Mein Schiff 6 each offer 12. In most of the restaurants guests enjoy attentive table service – also in the Atlantik main restaurant, which is featured on all six well-being ships.
TUI Cruises is the first German cruise provider to offer the premium Alles lnklusive (all-inclusive) concept on board its well-­being ships. Almost all drinks and food in most restaurants, bars and bistros are included in the travel package – from Italian delicacies in the Bistro La Vela (Mein Schiff 1, 2), Osteria Pizza e Pasta (Mein Schiff 5, 6) or the Atlantik Mediterran (Mein Schiff 3-6) and specialties in Fischhaus GOSCH Sylt to cocktails in the TUI Bar.
This way, the travel budget on board is a minor issue and guests are free to enjoy their holiday. Excluded from the premium all-inclusive concept are Surf & Turf Steakhouse (Mein Schiff 1-6), Richards Feines Essen (Mein Schiff 1-4), Schmankerl Entspannt genieBen (Mein Schiff 5, 6), Blaue Welt Bar Sushi (Mein Schiff 1, 2), Hanami Japanische Kuche (Mein Schiff 3, 4), Hanami by Tim Raue (Mein Schiff 5, 6), Cafe Lounge (Mein Schiff 3, 4), Cafe Bar (Mein Schiff 5, 6), Champagner Treff and Diamant Bar (both Mein Schiff 3-6). Land excursions, offers by the shops on board and spa applications are not included in the travel package.
A new lease of life with the holistic Spa & Sport concept
Far away from the stresses of everyday life it's easier to unwind, relax body and mind and recharge one's batteries. The generous indoor SPA & Meer well-being zone, plus an outdoor sports area, is the ideal place to chill. The use of many of the facilities is already included in the price as part of the premium Alles lnklusive concept.
Guests can enjoy Finnish saunas with a panoramic view over the sea. Active workshops, personal training and nutrition coaching can also be booked on board for an additional charge. A varied selection of cosmetic and spa treatments – which may vary depending on the route – have been developed with exclusive partners Dr. Babor, Hyapur and La mer.
The TUI Cruises well-being fleet has almost 141,000 beds to date
Almost all restaurants offer meals in accordance with the Mein Schiff Ganz Schon Gesund (beautiful-healthy) principle. The excellent meals offered at the buffet or on the a la carte menu are prepared using high-quality oils, fresh herbs and natural flavours. The expert chefs also take special care in their preparation to ensure that the dishes are well liked. So guests on the well-being ship can enjoy their meals, always knowing that they are doing something good for their bodies.
Premium entertainment on board
International, highly qualified and versatile, the Mein Schiff fleet boasts an ensemble of professional singers, dancers, actors, artistes and musicians. The shows, theatre plays and solo programmes for the Mein Schiff fleet are rehearsed at the TUI Cruises location in Berlin before being performed on board.
Every evening an opulent show, a variety performance or sharp-witted cabaret is staged in the spacious theatre.
TUI Cruises offers guests additional highlights in the form of event and themed cruises. On themed cruises, guests can experience unique events from the fields of music, show, culinary delights, sport, art and culture. The brand always aims to offer a wide range of different-themed cruises.
Two new event cruises – the World Club Cruise, the first electronic dance cruise, and the Rainbow Cruise for the LGBT community – recently started. These were enthusiastically received by the guests.
Mein Schiff 6
The Mein Schiff 6 was also built at the Finnish shipyard Meyer Turku Oy. The youngest member of the TUI Cruises fleet combines all the well-known benefits of its sister ships.
With the new shop concept of Neuer Wall and the newly-roofed Arena with lounge area, Mein Schiff 6 introduces extended well-being areas, as well as new trends in the entertainment scene.
Mein Schiff 6 was named by the Elbphilharmonie, represented by titular organist lveta Apkalna, in Hamburg on June 1, 2017 and is the first well-being ship to cruise North America.
Orange Travel Group Ltd is a leading travel business in Malta, with offices in Turkey, Tunisia and Cyprus.
More information about Mein Schiff cruises can be obtained from Orange's preferred partner, SMSMondial, located in Valletta, Birkirkara, Ħamrun, Paola, Sliema and Gozo, or from leading travel agencies.
(Content provided by Orange Travel Group Ltd)
Comments powered by

Disqus