Stop notice issued on demolished Victoria building
Development permit was mainly for internal alterations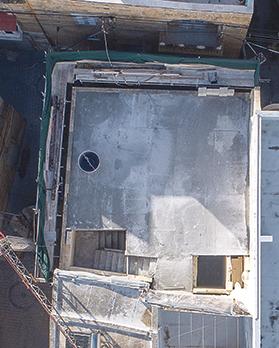 This photo shows that the ceiling has been altered.
The Planning Authority stopped works on a building close to St George's Basilica in Victoria after it was demolished in breach of the development permit.
The approved application was for internal and minor external alterations and the construction of a room at roof level on a residence in Triq il-Karità.
The case officer's report recommended refusal, as the proposed height of development ran counter to urban objectives that promote the protection of the traditional urban skyline.
The proposal also ran counter to policies that require building heights to be based on a streetscape analysis, to avoid creating an unacceptable visual impact, and that roof structures may only be considered if there are existing abutting commitments on at least one side.
The proposed development was approved in 2016. However, readers informed this newspaper that though permission was granted for internal and minor external alterations, the building was demolished.
The scaffolding around the building makes it difficult to know the extent of the works, but photos show the ceiling was changed.
The Planning Authority has stopped works on a building on Triq il-Karità in Victoria.
When contacted, the Planning Authority told the Times of Malta a stop notice had been issued.
"All works on site have been stopped. The authority has received a submission to sanction works. Further action will be taken if the authority notes that any works continue on site," a spokesman said.
The planning enforcement breach has been listed as "demolition of building in breach of planning permission".
Earlier this year, NGO Wirt Għawdex said it had written to the PA and Superintendence of Cultural Heritage to express "grave concern" about the "uncontrolled spree" of development in the centre of Victoria.
In its statement, it insisted it was never against development as long as it was carried out in a "controlled manner and in total respect" of the area.
There are scores of pending development applications, at least three for the demolition of old buildings in the core of Victoria, which if granted would continue to destroy the original fabric of the old city centre.
In a few years it would no longer have anything 'historic'. Instead there would be three-storey buildings lining narrow, winding streets, the NGO said.
Comments powered by

Disqus