Fine. We're dining.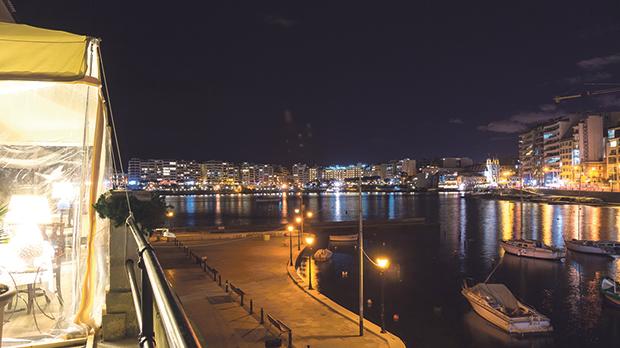 L'Orso
94, Spinola Road,
St Julians
Tel: 7705 9417
Food: 8/10
Service: 7/10
Ambience: 8/10
Value: 6/10
Overall: 7/10
One of the funniest moments in a decade of writing about eating happened a few years ago at a restaurant that labelled itself as 'the only fine dining experience in Malta'. They've since toned down the claim. Strangely, it wasn't the sequence of service and kitchen errors that fell straight out of the Monty Python canon that remains seared in my memory. I've had too many of those for one to stand out.
What really surprised me is that our main courses had gone to the table adjacent to us. I suspected this was the case and politely waited for the couple to let the waiter know that they hadn't been served what they'd ordered. Instead, they dug in at an alarming pace. When Manuel turned up (he wasn't called Manuel but I picked a suitable nickname) and explained to them that what Sir was eating wasn't a ribeye steak but, in fact, a duck breast and what Madam was eating wasn't the fillet of sea bass but a duo of pork belly and pork cheek I was dumbfounded.
Labelling an eatery with a pretentious moniker like 'fine dining', even going on to insist that you're alone in the category, is a huge part of the issue. You've started by mildly intimidating your own patrons into accepting whatever codswallop you decide constitutes fine dining and blame any misunderstanding on them. If the fish I ordered tastes like pork, I could possibly be humble enough to think that my understanding of the ingredient has thus far not included the fine dining version of it and that this is part of my culinary education.
I recently came across a restaurant in St Julian's that described its offering as 'fine Italian cuisine'. Intrigued, I looked them up, and found out that it is the second restaurant of the same name. The first is, by their description, a successful one in Messina. They've now replicated their success in St Julian's.
I visited on a quiet night. It was cold and windy and the kind of evening that initially whispers 'movie, take-out, and turn up the heating' quietly into your ear. As you prepare to head out, the wind takes things up a notch, going from a suggestive whisper to a warning howl. I just don't listen.
This meant that there were only two tables occupied, ours and another one, so we had half the kitchen and service to ourselves. The restaurant is accessible from both Spinola road and the Spinola seafront. Most of the dining area, however, is on the outside terrace.
Surely idyllic in summer, during the winter the terrace is protected from the elements with large marquees and that glossy plastic sheeting that would like to be glass if only it had the rigidity of character. White, starched, cotton tablecloths and napkins, pretty ice bucket stands, velvet upholstered benches around the marquee structures, and soft jazz background music work in concert to help you forget you're in a tent.
We walked in and I immediately pointed to the table in the far corner, overlooking the bay. The man who greeted us smiled and asked if we could wait a couple of minutes. Out of a terrace-full of tables I'd picked the one that previous guests had just vacated and he had to go through the bother of preparing it for us.
He was done in a jiffy and we sat, observing the inky bay through undulating plastic sheeting and glad it was between us and the weather. A minute later he was back, smiling politely and speaking to us in English, offering drinks and delivering menus. I appreciate the effort to speak English. While those as ancient as I am and older can speak Italian, many cannot.
The wine menus are reasonably thorough and offer a selection of lovely liquids from across Italy and France, dipping in variety when it comes to the New World. The food menus are just as interesting. I read through a couple of times, tempted by many more dishes than I could possibly consume. I finally decided that, considering the weather, I'd start with a starter based on seafood and move to a meaty main course. The better half did as she does and reversed this.
Minutes after we'd placed our orders, our man was back, proudly presenting the amuse bouche. We had three little dishes each, containing bruschetta with nduja, thinly sliced guanciale and a tiny arancino. I like this course to gently tempt my palate and nduja, the spicy, spreadable salami from the south, is perhaps too much of an assult. But I do have an unhealthy love for the stuff and thoroughly enjoyed it, even if I dutifully left it for last. I started with the tiny arancino that was beautifully crunchy and mild-mannered and followed this with the thin slices of cured pork cheek. If this was anything to go by, we were in for a treat.
I'm not sure what constitutes fine dining, and I look forward to spending a lifetime working on my own definition
Our starters were also served quite quickly. I'd picked the slightly unusual cassatina di ricotta with lemon and red shrimp. It looks the part, with an elaborately pretty presentation, the ricotta covered in crushed pistachio and poised on top of the red shrimp. I hadn't expected the shrimp to be cooked but tucked in and found the combination to be very pleasing. The ricotta is excellent, enjoying the delicate creaminess that only sheep's milk can impart. The lemon is restrained, giving just enough acidity to prop up the dish with a fragile structure.
The parmigiana was all the way on the other end of the spectrum. It tasted hearty and rich and more like home cooking than food you'd get at a restaurant. With such a traditional dish, this is the approach I inevitably prefer.
The man serving us had, by this time, become quite chummy. He is very well-intended and, learning a few of the finer points of fine dining will help finish off quite the complete package. He'd brought our main courses out before he realised we hadn't any cutlery to eat it with – an oversight he rectified in seconds. Bar the occasional slip, he was a pleasure to have around.
The fritto misto is presented on a very large, rectangular plate that practically spans the table. Only the portion of fish is restricted to a tiny spot in the centre. Fried fish, squid, and red prawn formed the trifecta and they were treated to a very slight, crisp batter. As fried fish goes, this is the real deal.
My tagliata, on the other hand, was huge. It had been grilled rare as I'd requested it and was an excellent cut, properly seared on hot metal on the outside and just above room temperature inside. We both had a bowl of unremarkable roast potatoes on the side and mine remained where they were.
To finish off we both ordered the cannolo, lovingly described by our host. It was an excellent decision. Served like it had fallen from a great height, this deconstructed cannolo is made with an unbelievably crisp shell and with more of the sheep milk ricotta, only this time quite enthusiastically sweetened. Even with the huge tagliata in my stomach, I couldn't stop until I'd cleaned the plate.
Perhaps unusually, I returned a couple of days later, hungry and wanting to see nothing but a plate of pasta. We were treated to the same amuse bouche but with a small maki roll replacing the guanciale. I preferred the guanciale.
This turned up on the better half's plate, an unlikely concoction of fish ravioli with guanciale and squid on top of a carbonara cream. I like all the ingredients but they wouldn't be my combination of choice. I find the seasoned cheese in the carbonara cream to be too powerful with a fish raviolo but the execution was deft and this is what matters. My pasta was much simpler and, to my olfactory, significantly more enjoyable. Spaghetti with sea urchins and clams was the written description and this is exactly what I got. There is little else going on so I could taste both, the pasta and liquid sauce base receding into the background where they belong. We have a lot to learn from this restraint.
I'm not sure what constitutes fine dining, and I look forward to spending a lifetime working on my own definition. In the meantime, I'll stick to what I have to work with. The first time we visited we spent €50 each for three courses and a bottle of wine. The second time it was €20 each for just the pasta. L'Orso isn't priced like a fine dining restaurant, but it isn't inexpensive either.
The service is pretty decent, what I'd consider neither formal nor flawless. The location is pretty, they've made the best of a terrace, and the food is mostly inspired and all properly executed. Above all, it's unpretentious. And that's what will keep me going back for more.
Comments powered by

Disqus