Tree Your Town scheme launched on Arbor Day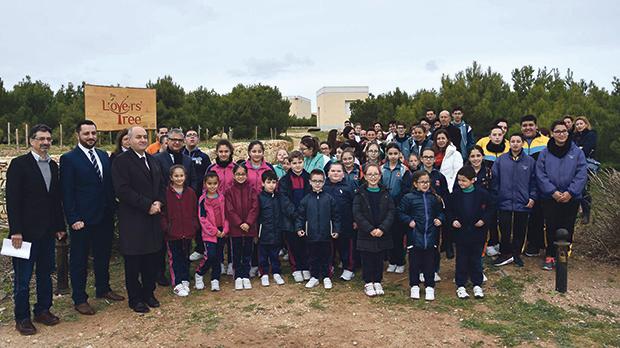 A number of indigenous trees were recently planted at Xrobb l-Għaġin Nature Park and Sustainable Development Centre, l/o Marsaxlokk, as part of activities held on Arbor Day to launch Tree Your Town, a new school-community link project grant scheme.
Pupils from 14 schools involved in Nature Trust-FEE Malta's Learning about Forests (Leaf) programme will benefit from the scheme during the current scholastic year.
The scheme aims to start and ­support collaborative relationships between the participating schools, the local councils of their locality and other stakeholders in the school community. With the help of experts, the respective parties will work together to devise and implement water-efficient soft landscaping projects derelict sites identified in their respective localities.
A book by Dr Eman Calleja entitled Trees and Shrubs of the Maltese Islands was launched during the event by Nature Trust – FEE Malta in collaboration with the Environment and Resources Authority and BOV. A copy of book was presented to representatives of each participating school as a reference guide for their Tree Your Town scheme projects.
Charles Azzopardi, PR and marketing executive at Bank of Valletta, said: "This publication has a critical role to play in cultivating the public's environmental consciousness, and is therefore an important contribution both from an educational as well as environmental perspective."
During the event a ramp built by the Parks Directorate to facilitate mobility impaired people's access the park's picnic area was also inaugurated by Environment Minister Jose Herrera.
Experts and officials from the Environment Ministry, the Plant Health Directorate, the Parks Directorate, the Environment and Resources Authority, Mcast Agribusiness Institute, Marsa­xlokk local council, Bank of Valletta and the Grow 10 Trees project also attended the event.
Environment Minister Jose Herrera inaugurating the ramp at the park.
Comments powered by

Disqus