Caruana Galizia evidence may help crack previous car bomb cases
'We hope this could be a watershed moment for us'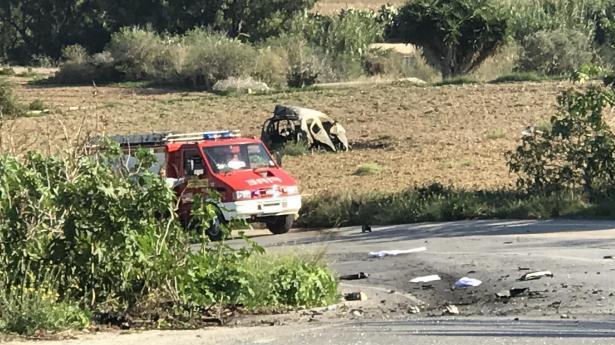 Police believe evidence gathered during the investigation into the murder of Daphne Caruana Galizia could help crack previous car bombing cases, the Times of Malta has learnt.
Investigators who led the inquiry into the murder said the raids in Marsa, Żebbuġ and Buġibba carried out on Monday had yielded mobile phones and SIM cards, among other items of evidence, that they believe could be linked to previous car bombings.
"We are going to use the same methods and technology to work backwards and see if this evidence leads us back to other serious crimes. We are confident this could be the case and hope this could be a watershed moment for us in these investigations," the sources said.
The island has seen a string of five car bombs, aside from the one which killed Ms Caruana Galizia, in just over two years, with none being solved so far.
Investigators previously lamented the complex nature of such crimes, saying they were designed not to be solved. However, they yesterday seemed confident, saying they suspected a number of previous incidents to also be linked to the same gang.
Other sources said that the three men charged with Ms Caruana Galizia's murder, brothers Alfred (known as il-Fulu) and George (iċ-Ċiniz) Degiorgio, as well as Vince Muscat (known as il-Koħħu), had not said a word during the nearly 40 hours of interrogation.
"These are hardened criminals who do not flinch under interrogation. The only thing that is clear is that they can't comprehend the evidence we have amassed," sources said.
The sources added that the three men, who allegedly form part of an organised crime gang, "seemed angry" during their interrogation – because they would normally have been tipped off about increased police interest in their activities.
They seemed angry, because they would normally have been tipped off about the police interest
"They would be told, likely by other criminals, that questions were being asked about them. This was not the case this time," the sources said.
They added it appeared Malta's top criminal lawyers had decided to keep their distance from the men.
"No one wanted to touch these guys. One lawyer they attempted to contact even turned off the phone."
The three men were all represented in a late night court sitting on Tuesday by a legal aid lawyer who was appointed to their case by roster.
They will appear in court before Magistrate Donatella Frendo Dimech next week, when the compilation of evidence against them gets under way.
Meanwhile investigators have impounded a vessel in Marsa from which they believe the SMS that triggered the Bidnija car bomb was sent.
Sources yesterday told the Times of Malta the car bomb that killed Ms Caruana Galizia was triggered by an SMS sent from a cabin cruiser out at sea.
Investigators said one of the accused was believed to have sent the fatal SMS from on board the vessel registered in his name.
He sent the fatal text after allegedly being given the go-ahead from someone who was staking out the Caruana Galizia residence in Bidnija.
The third man charged in the murder is believed to have been a lookout from another vantage point.
"This boat was all part of their plan, which they planned out for some time, to throw any investigators off the scent. Luckily they did not manage, and we are very confident in the case we have against them," the sources said.
The police hope to pull DNA and GPS evidence from the boat to help them.
Comments powered by

Disqus