Demise of Maltese language - Steve Pace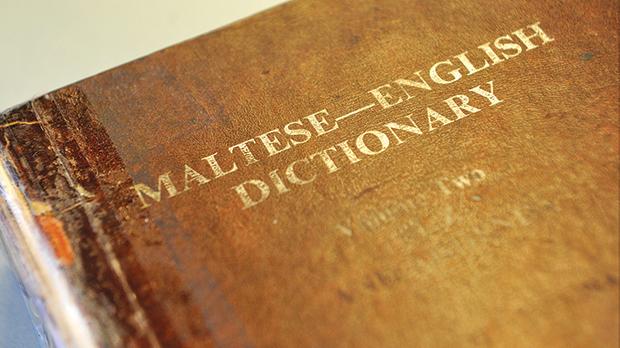 In an article published in this newspaper (November 17) titled 'From "brejk" to "kompjuter": final chance to comment on English-to-Maltese loanwords: You've got until the end of the year to speak up', it was claimed that we will be given a last chance to voice our opinion on the use of foreign words on loan in the Maltese language.
I feel that going back in history may help us understand why now it seems that the situation has literally gone out of hand and an ad-hoc council feels the need to put a lid on it.
From many years, earlier than my school days back in the late 1970s and early 1980s, the Maltese language was considered a second-class citizen's choice of language. We were brought up considering Maltese as a low-level form of communication. English was the main language to be used.
Many families spoke English. Our Church schools taught practically every subject in English. Notes, books, essays, competitions, school events and all other activities were presented in English. The Maltese language had no place in our curriculum. It only had a minor placement in the school timetable, limited to a couple of lessons a week.
We never really felt the need to use our own language. Maltese seemed practically useless and had no value whatsoever in our daily lives or professional careers and served no purpose outside our shores.
Many aspects of our culture seem to have been affected by politics or religion for a long time and I believe our mother language was in many ways another victim of such prevailing forces. In the era when the British set sail back to their motherland, local politics created a division between those who favoured the British rule to those who vehemently opposed it and loathed each and every English syllable.
This eternal damning division saw a substantial portion of our culture and heritage being systemically obliterated by both fronts. The mercenaries marching through our roads, had no mercy. They wanted to reach their goals, at all costs. The Maltese language was also in the way of reaching these goals.
It was therefore granted no mercy and its destruction was institutionalised. Our colonial mentality gave us the feeling of being inferior. Our mother language was one key feature making us recognisable as Maltese or possibly Arabs. This was not acceptable for many of us and we sought refuge in the English language which offered us some degree of comfort.
It gave us a sense of not feeling alone, not feeling isolated from the remainder of the world. Then there were those opposing the British fronts, who also had a job to do. They made sure that all the patrimony of historical heritage built by the British Empire were left rotting, vandalised, destroyed, ridiculed and mocked.
Society develops its linguistic skills from media and this has never been so true as it is since the advent of social media and internet
They enforced Arabic into our schools and removed French as an obligatory subject. English remained, possibly as a compromise not to irk too much the mass-controlling institutions. Very little effort was done to assist the moribund mother language to life. It seemed that the opposing forces were more interested in meeting their agendas rather than claim what was Maltese.
The decadence of the language pursued and not only persisted but infiltrated every professional career and unfortunately reached media and its journalists. The professionals adopted foreign words and used a despicable method of introducing them as local words by replacing their foreign spelling into the equivalent phonetic Maltese spelling.
From an extract of a document taken from the Akademja tal-Malti dated 1984, it is stated that: "Words of foreign origin, take their value as Maltese words when they are accepted and used by society. From then on, these words should be considered to be part of the Maltese language and in order to write them there is no necessity to refer to their origins. There is also no need to comprehend a foreign language. You only have to know how the word is pronounced and said in Maltese. This is achieved by using phonetics, ergo how the word sounds, as that is the way the people have adopted it."
In my personal opinion, throughout all this the academy of Maltese and other organisations allowed this charade to progress and grow. They were the ones who let the language deteriorate so much. Their responsibility was to ensure that the Maltese language developed in a methodical and academic manner. Above all, their duty was to protect the language from extinction.
They claimed and still do, that a language is "alive" and therefore needs to consider the sociological changes and integrate those changes within itself. If only things were so simple. Society develops its linguistic skills from media and this has never been so true as it is since the advent of social media and internet.
This, however, should not mean that any adopted word is legitimate and should be considered a Maltese word, simply because people use it. As time passes, the language on social media is becoming very cryptic and a lot of abbreviations are being used. To mention a few examples, lol, BRB, GM, u2, and so many others.
Should these be considered as being Maltese? Should the academically non-qualified linguist journalists who wake up and decide to adopt a foreign word using simplistic phonetics as they please, be the ones who are deciding what goes in our language? Should they not be the ones to do research and rather than rush to press, look for alternative Maltese words?
The responsibility of breathing life in the Maltese language lies on those who are seeking to destroy it. Unfortunately this is the case with most of our local issues. We have the wrong people in the wrong places. The decision makers are those who still suffer the side effects of the engrained, defeatist mentality. They feel the burden of being Maltese and are simply not proud of their home. They are not proud to be Maltese. They are the ones delivering the final blows to our Maltese language.
Steve Pace is a company director and ICT consultant.
Comments powered by

Disqus