Italy in World Cup do-or-die today
Italy must overcome a one goal deficit at the San Siro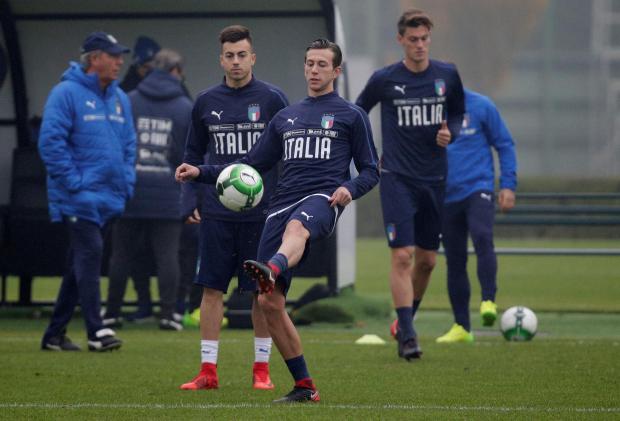 Italy face Sweden at the San Siro today in crunch second leg of their World Cup qualifying play-off, which could see the hosts fail to feature in the top tournament since 1958.
Friday's first leg in Stockholm saw the Swedes win 1-0.
The following are some of the talking points ahead of the return match.
Italy on the brink of a new low
Things have not gone well for Italy at World Cups since they won the competition for the fourth time in 2006, with them making group-stage exits in both 2010 and 2014.
But it really will be something if they fail to even get to Russia 2018 - the last World Cup finals they did not feature at was in 1958. Should that occur, it seems certain it will spell the end for the tenure of boss Gian Piero Ventura, who has come under increasing pressure as the qualifying campaign has gone on.
Buffon's final bow?
Failure today could also mean a disappointing conclusion to the remarkable international career of Italy's captain Gianluigi Buffon. The 39-year-old goalkeeper has 174 caps, was part of the 2006 triumph and hopes to play at a record sixth World Cup finals next summer. He has been keen in the build-up to Monday's game to try to keep the focus on the team as a whole, stressing with regard to the prospect of his retirement that that situation "doesn't matter at all" at the moment.
Another feisty encounter?
It will be interesting to see how much physical edge there is to today's contest given the extent of it on Friday.
It was certainly notable on the Swedish side, from the moment in the opening seconds when Ola Toivonen's elbow caught Leonardo Bonucci in the face - although a yellow card for Marcus Berg was the only booking for the hosts in the match, while Italy's Marco Verratti picked up a caution that rules him out of the second leg. Bonucci, who sustained a broken nose, was later quoted as saying the Swedes "grappled with us throughout". Meanwhile, of the Italians, Sweden defender Ludwig Augustinsson said: "They fell over a lot, they were doing their usual tricks. If any team played dirtier than the other, it was Italy.''
Sweden on a roll
Reaching a first World Cup finals since 2006 would cap what has been some year so far for Sweden. The first-leg result made it seven wins from 11 games for Janne Andersson's side in 2017, which has also included victories against Portugal and France and thrashings of Slovakia (6-0), Belarus (two 4-0 wins), and Luxembourg (8-0).
Ventura wants Italy to qualify by "playing football"
Beleaguered Italy coach Gian Piero Ventura said his team would try to qualify for the World Cup by "playing football".
The 69-year-old Ventura - the oldest-ever coach in Italy's history -- said it would take him months to listen to all the advice he had received as he bids to overturn Friday's 1-0 first leg defeat in Stockholm.
"We are Italy and, if we qualify, I would like to be able to say that we did it by playing football," Ventura told reporters. "I don't know what sort of game it will be but I hope it will be played in the correct spirit."
"It's an important match for us and our history.- Buffon
Ventura's tactics and team selection have been the subject of heated debate.
He ditched his preferred 4-2-4 formation for a 3-5-2 in Friday's match and Italians are eager to see what he will come up with today and who will replace suspended midfielder Marco Verratti.
Goalkeeper Gianluigi Buffon said the team were in a state of "high tension".
"It's an important match for us and our history," said the 39-year-old. "It's important for football in our country that we qualify for the World Cup."
"I am approaching this like the eve of any important event. I'm tense, but it's the right amount of tension."
"Humble" Sweden taking nothing for granted against Italy
Sweden say they are taking nothing for granted as they head to Milan.
"It's not a normal qualifier where, when the game is over, you can celebrate the three points. We're only halfway through this double-header," midfielder Sebastian Larsson said.
"We're fully aware of the task ahead of us, going to Italy with a slender 1-0 lead. To keep a clean sheet was obviously something we really wanted and we're pleased with that. We re-focus and go again."
Larsson and his team mates put in an enormous defensive effort to snuff out Italy's attack, and the midfielder was limping at the end. He says, however, there is no risk of him missing the return.
Larsson, who has played 95 times for his country, but never appeared at a World Cup finals, believes staying grounded will be crucial to Sweden reaching the tournament finals in Russia next year.
"We're going to stay humble and do everything we can to progress," he said.
We're going to stay humble and do everything we can to progress.- Larsson
Sweden captain Andreas Granqvist says the Italians will have to be careful about how they approach today's decisive game.
"I don't think Italy are a team that are just going to attack, because then they know that we will create chances and maybe score a goal in Italy, and then they need to score three," he told Reuters.
"But of course, they play at home and they will have to be a little bit more attacking."
Granqvist, who spent two years at Italian club Genoa, laughed when asked about Italy's complaints over the physical nature of Friday's clash.
"It's fantastic," he said. "As a defender, you have to be really tough, but in a good way. I think the referee kept it good -- of course there were some situations they were angry about, but this is football."
Comments powered by

Disqus