Unrefundable and Thoury Le King win class Premier semifinals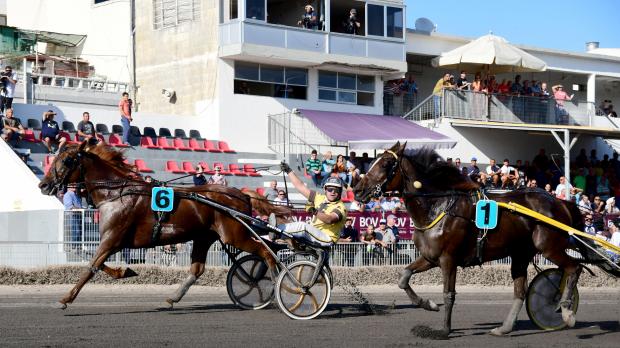 The two most important races during the 41st meeting of the season which was held yesterday afternoon at the Marsa Racetrack were semifinals from the President's Cup championship for class Premier races on a short distance of 2,140m.
Sunday's card consisted of nine races all for trotters with the two major races being won by Unrefundable and Thoury Le King. Cliferty Calleja ended the best driver with three wins.
From the two class Premier semifinals, twelve horses qualified for the final stage. In the first semifinal, Uhal Berven (Rodney Gatt) was the fastest trotter at first, opening a small lead in the first metres from Spirit Des Logos (Julian Farrugia) and favourite Service Secret (Andrew Farrugia).
However with 300m to go Uhal Berven started to slow down and eventually this trotter was overtaken by Power To Be (Charles Camilleri).
Unfortunately, Camilleri's trotter changed its pace 50m from the end and was disqualified.
It was Unrefundable (Anton Cassar) which past the finishing post first to seal its second consecutive win from Rififi Nonantais (Noel Baldacchino) and Spirit Des Logos. Temps Perdu (Herman McKay), Royal De Vaiges (David Ellul) and Service Secret also made it for the final stage.
In the second semifinal from the same category, the early leader, Urido d'Alban (Mario Fenech) ran out of steam around 300m from the finishing line.
Eventually in the final straight Urido d'Alban was overtaken by Thoury Le King (Clint Vassallo) which cruised to its first win in Malta from Tipol De Nappes (Michael Ghigo) and favourite Tip Top Nelliere (Michael Ellul). Saphir Du Perche (Anton Cassar), Urido d'Alban and Turnover (Frencu Cassar) also obtained a good place.
The other races during yesterday's meeting were open for class Silver, Bronze and Copper trotters.
In the first class Silver race, Midnight Passion (Clifferty Calleja) dashed strongly from the outside during the last 500m and managed to secure its fourth win of the year by a length from Peanut Butter (Noel Baldacchino).
New Style (Giovanni La Rosa) and Scarface Ringeat (Charles Camilleri) ended respectively in third and fourth place.
Victorios Phedo (Cliferty Calleja) was in front almost during all the 2140m distance of the second class Silver race.
This French eight year old trotter obtained its first win of the season from Ticket Gagnant (Silvio Schembri) and Unique De Chanjac (Anton Cassar). Joe Mama (Charles Camilleri) followed home in that order.
There was a keen tussle between Global Offspring (Noel Baldacchino) and Ulysse Royal (Eman Attard) in the final straight of the third and last Silver race.
It was the former which registered its third win of the season with Ublack De Kat (Michael Ellul) and Udea d'Alci (Michael Mifsud) ending respectively in third and fourth place.
Another meeting at the Marsa Racetrack will be held on Friday. The first race should start at 7pm.
Sunday's winners
Race 1. Class Copper. Dist – 2140m. 1. Cherie Des Noyelles (Cliferty Calleja) – 1.17.6"
Race 2. Class Silver. Dist – 2140m. 1. Midnight Passion (Cliferty Calleja) – 1.16.7"
Race 3. Class Bronze. Dist – 2140m. 1. Galaxy Arriba (Rodney Gatt) – 1.17.2"
Race 4. Class Bronze. Dist – 2140m. 1. Absolutelymeadow (Kurt Saliba) – 1.17.1"
Race 5. Class Silver. Dist – 2140m. 1. Victorios Phedo (Cliferty Calleja) – 1.17.5"
Race 6. President's Cup Championship Semifinal. Class Premier. Dist – 2140m. 1. Unrefundable (Anton Cassar) – 1.15"
Race 7. Class Bronze. Dist – 2140m. 1. Celebre Sublignais (Andrew Farrugia) – 1.17.7"
Race 8. President's Cup Championship Semifinal. Class Premier. Dist – 2140m. 1. Thoury Le King (Clint Vassallo) – 1.15.3"
Race 9. Class Silver. Dist – 2140m. 1. Global Offspring (Noel Baldacchino) – 1.17.2"
Comments powered by

Disqus