Four sons went to war, only one returned. How Malta saved my family…
100 years later, family letters and documents inspire a trip to Malta
Lieutenant A.E. 'Bobbie' Johnson, 1/5th Manchester Regiment
My wife Sarah and I had spent time reading through piles of family letters that had been stored away since World War I.
Letters from four sons who went to fight in the war had been lovingly kept in bundles by their mother Florence Rosalie. Florence was a widow and a mother who demonstrated great resilience, devotion and sacrifice during the Great War… qualities epitomised by the people of Malta.
Bobbie, who was to be my grandfather, was shot in the chest while fighting with the 5th Manchester Regiment in Gallipoli and sustained serious injuries. He was taken by hospital ship to Malta. By reading letters and telegrams sent to Bobbie's mother, we were able to establish that he was first of all taken to Cottonera Hospital, now St Edward's College, where he was operated on. Bobbie's mother had been notified of his injury and on June 30, 1915, was written to by the then Governor of Malta, Lord Methuen:
"I visit your son about four times a week and am very sorry to say that I have no good news to give you. The wound is a very serious one and he has been operated on by one of the best London surgeons, Balance, ofSt Thomas'… A more perfect hospital, high up on a hill, tended by the Blue Sisters, who are loved by all in Malta and backed by one of the kindest of our Army Sisters, you can rest assured of your son's comfort. We mean to pull him through if we can."
A fascinating story, a great lady in the Great War
On July 12, 1915, Florence received a telegram from Malta: "Delay in progress. Think your presence necessary. Doctor."
Within six days, Bobbie's mother had been issued with a passport and travelled by rail through war-torn France and sea from Marseille to Malta to be with her son. She arrived by steamship on July 18, 1915. By this stage Bobbie was convalescing at the Blue Sisters' hospital.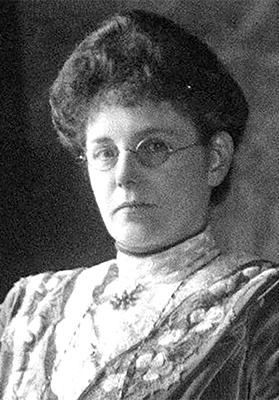 Florence Rosalie Johnson
Due to the wonderful people of Malta and the great talents of doctors and surgeons like Balance, Bobbie pulled through. Florence remained in Malta until August 24, 1915; Bobbie was taken back to England and completed his recovery in hospital at home but he wasn't well enough to return to active service.
Sadly, Bobbie's three brothers lost their lives and were laid to rest on the Western Front in 1916 and 1917.
Sarah and I enjoyed a very interesting visit to what was Cottonera Hospital, hosted by professor John Portelli, chairman of the Board of Governors of St Edward's College. We also visited the Blue Sisters' Casa Leone Hospital, which is now an old people's home in St Julian's. For a family with current military connections, this was a professionally enlightening visit to a wonderful island as well as a personal pilgrimage. A fascinating story, a great lady, in the Great War; my great granny.
Colonel Graham Johnson currently serves in the British Army's Medical Service.
Comments powered by

Disqus