Kirdi eyes elite spot for Lions
The arrival of Yahya Kirdi as president of Naxxar Lions was greeted by enthusiasm among the club fans as the Syrian businessman has done just enough during the past two weeks to instil the belief that there could be some exciting times ahead for the newly-promoted club.
Upon his arrival at Naxxar, Kirdi found a team low in confidence after suffering damaging defeats to Balzan (2-0) and Sliema Wanderers (5-1) and doubts were raised whether the Lions could compete in the top-flight.
But the new Naxxar supremo immediately stamped his authority at the club as after installing Englishman Stuart Watkiss as first team coach and brought in Austrian goalkeeper Christopher Nicht, international defenders Ouzin Ndoye, of Senegal, and Adrian Cascaval, of Moldova, and attacking players Scott Fenwick, of England, and Argentine Mateo Bustos.
The new arrivals breathed new life as the Lions looked a transformed side after holding more-quoted Valletta to a goalless draw and then hold out for a point against Lija Athletic despite finishing the match with ten men.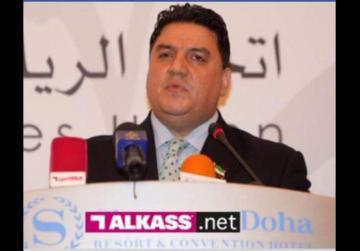 Yahya Kirdi, new supremo of Naxxar Lions.
"I'm pleased with the transformation the team has gone through during the last two weeks," Kirdi told Times of Malta yesterday.
"When I came here the club lacked all the basic needs but in just over ten days we have managed to put the club on a more sound footing.
"Coming in at the end of the transfer window we had little time to bring in reinforcements but thanks to my foreign contacts we managed to bring in good additions that have strengthened the team in very limited time."
Kirdi said that he expects the team to show vast improvement in the coming weeks and made no secret of his intention of give the first-team a more professional outlook.
"My long-term goal is to make Naxxar Lions operate on a professional basis," he said.
"To reach this aim in December I will be holding talks with our Maltese players with a view offering the chance to turn professionals. This will entail them to leave their current employment, signed improved contracts that will see them focus all their time to their football career.
"Plans are also in place for the team to spend the next international break in Milan for a short training camp and during the Christmas holidays the players will be travelling to Dubai for a similar which will hopefully help them prepare for the second part of the season."
Kirdi, who was in talks to buy Liverpool a few years back, has a lot of ambitious in plan for Naxxar Lions with the construction of a new stadium on top of his agenda.
"We have an agreement in place with the government to build our new stadium on the outskirts of Naxxar," Kirdi said.
"On October 15 my architect will arrive in Malta to have a look at the site and start planning on a new stadium that will have a capacity of between 9,000 and 12,000.
"The new stadium will be the club's new home and will host not only our first team but also our academy players who represent the future of our club.
"I have also instructed our first-team coach to bring in our U-19 players to train with our senior team and we have already identified a few youngsters who we believe have the potential to become key players for the club."
The Naxxar supremo confirmed that he is currently in talks with Barnsley with a view of finalizing a collaboration agreement with the English side and he is holding similar talks with another club in Canada and the UAE.
As we approached the end of the interview, Kirdi said that his goal for this season is to see his team attain a mid-table position… but he has far more ambitious goals for next year.
"This year, I will be happy if we had to finish in a mid-table position but as from next season we have to challenge for a top-four finish and a place in European football," he said.
"Given all the investment I will be putting in the club, playing in the UEFA club competitions has to be our minimal target.
"I'm already working to bring in top-quality players who boast appearances in a World Cup to the club during the January transfer window.
"I want to make it clear that my commitment towards the club is long term and I'm ready to bide my time to ensure Naxxar establishes himself among the top teams in Malta."
Comments powered by

Disqus