Spain probes ICBC's European unit over money laundering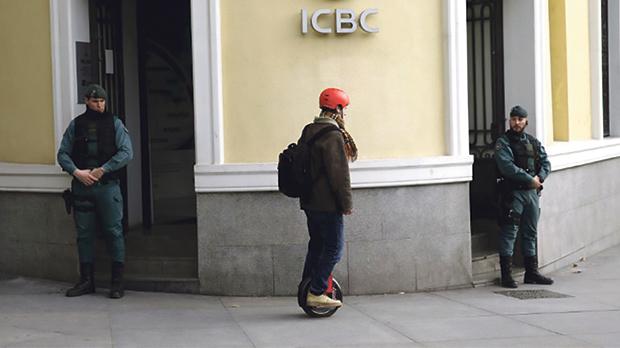 Spain has launched an investigation into the European management of the Industrial and Commercial Bank of China (ICBC) in Luxembourg as part of a widening probe into the alleged laundering of hundreds of millions of euros through the Chinese banking giant's Madrid branch.
A Reuters investigation in July revealed Spanish prosecutors were poised to explore the role of ICBC Luxembourg in the alleged money laundering scheme following the arrest of seven ICBC executives in Madrid in February last year, including branch manager Liu Wei and the general manager of the bank's European division, Liu Gang.
The Spanish High Court said on Monday it had approved a request from the anti-corruption prosecutor's office to investigate ICBC's European headquarters for the alleged crime of money laundering.
High Court judge Ismael Moreno ruled that ICBC's Europe board must name a representative and a lawyer to be summoned to appear before the court.
"ICBC Luxembourg was aware at the time of the way ICBC Spain was operating and the Luxembourg headquarters provided it with internal audit services," the ruling said.
The Luxembourg unit of ICBC holds the lender's EU bank licence and is responsible for supervising the Madrid branch.
According to the court ruling, ICBC Europe could face a fine, asset seizures or dissolution if found guilty.
Chinese Foreign Ministry spokesman Geng Shuang told a regular press briefing that ICBC had played a positive role in promoting financing cooperation between China and Spain.
"China always requires Chinese banks overseas to operate according to law. We hope Spain can appropriately and fairly handle the relevant issue according to law, and earnestly guarantee the relevant Chinese financial institution's lawful rights," he said.
The Reuters investigation drew on thousands of pages of confidential case submissions and interviews with investigators and ex- ICBC employees to show how a long-running investigation into alleged Chinese organised crime networks eventually led Spanish police to mount an early morning raid on ICBC's Madrid branch on February 17 last year.
At the core of the ICBC case is the relationship between the bank and a group of clients from Spain's thriving Chinese business community. These Chinese clients are alleged to have accumulated mountains of cash, much of it from avoiding duty and tax on the sale of consumer goods imported from China.
Spanish judicial officials told Reuters that between 2011 and 2013, ICBC's Madrid branch transferred about €225 million to China, most of it for suspected criminal networks.
In response to the Reuters investigation, a spokesman for ICBC in Europe said in July the bank was a "law-abiding company" and had cooperated with Spanish authorities. The case file, he said, was sealed by the court so the bank could not comment.
Comments powered by

Disqus