Valletta statues dressed in life jackets as part of guerilla protest
Youth activists outraged at inaction over migrant deaths
Eight Valletta statues woke up wearing life jackets this morning as part of a protest against EU inaction to end migrant deaths in the Mediterranean sea.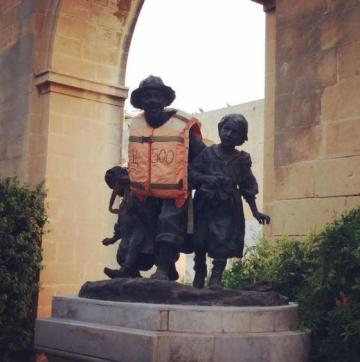 Sciortino's Les Gavroches. Photo: Instagram/May J Seal
Statues of Jean de Valette, Queen Victoria, a Sette Giugno monument and Antonio Sciortino's Les Gavroches are among the iconic memorials sporting the bright orange vests, which all have the number '14500' written on them.
14,500 is the number of people believed to have drowned while trying to cross the central Mediterranean since 2014. The International Organization for Migration estimates that half that number - 7,495 - drowned last year alone.
Aside from the eight statues, young activists behind the protest have also placed life jackets on two Valletta memorials.
"We call on the Maltese government to stop the dying," said 26-year-old University of Malta student Jessie Seal. "We cannot stop the movement of people by allowing their deaths."
Ms Seal, an education policy student and avid sailor who has taken part in various Mediterranean rescue missions, expressed outrage at the way in which many migrant deaths were swept under the carpet.
Queen Victoria holds her life jacket. Photo: Instagram/May J Seal
"Why is it that we remember the names of 12 European men drowned in Tunis Bay in 1864, but none of those who drown today?" she asked.
The symbolic gesture is the opening act of a European-wide guerilla protest which will see orange life jackets appear across European capitals tomorrow. That broader protest will be led by German NGO Jugend Rettet [Youth Action], which runs the rescue ship Iuventa.
Iuventa ran into trouble last month after Italian authorities seized the ship after Jugend Rettet refused to sign a controversial code of conduct for migrant rescue vessels. Prosecutors in Trapani said they suspected crew members of aiding people smugglers in Libya.
"Malta is the closest country to the tragedy, in geographical terms," Ms Seal told Times of Malta, "so it made sense to kick-start the protest here."
Working with a group of Maltese students who asked not to be named - "Malta is a small place," one of them explained - Ms Seal identified statues and memorials across Valletta with symbolic meaning.
"Take Queen Victoria," she said, referring to the statue in Republic Square. "We picked her statue because she is a symbol of colonialism, which played a big part in creating today's migrant crisis."
The young roaming orphans depicted in Sciortino's Upper Barrakka Gardens statue Les Gavroches, by contrast, struck Ms Seal and her team as symbols of helplessness.
"Children along the Libyan coast wait for safe passage and they die in the sea when they can wait no longer," Ms Seal said.
The group say they hope the life jackets will pique commuters' curiosity as they walk into Valletta, and encourage people to reflect on what it must take for somebody to put their life at risk by crossing the Mediterranean sea.
"I've met boys with bullets in their feet from the Libyan camps," Ms Seal recalled. "Libya is not a safe place to keep people and I will not allow our governments to do dodgy deals to fund mafias and militias in Northern Africa."
The Sette Giugno Monument was similarly adorned. Photo: Instagram/May J Seal
Comments powered by

Disqus