Tomorrow's film, design and media stars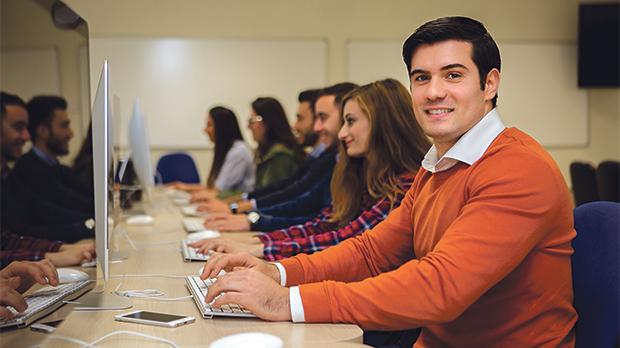 It's the incubator for tomorrow's film, design and journalism stars and, now, it just got a major overhaul into the 21st century. Media and Communications head of department Ġorġ Mallia tells The Sunday Times of Malta how the new undergraduate course has been transformed into a hands-on experience that will find students prepared to take on the world of work.
Mallia starts off by saying that we live in a world that is dominated by the media. Nowadays, the media is everywhere around us and influences our decision-making processes. To this, add the fact that society is built on our ability to communicate. Good communications underpin success, while bad communications create problems in just about every area of life.
When communications start­ed being taught and researched at the University of Malta just over 25 years ago, it was specifically with the intention to prepare media and communications professionals who would lead the way in all the different areas in the discipline.
Prof. Saviour Chircop, the founding dean of the Faculty of Media and Knowledge Sciences, started the first programmes in communications years ago, when the area was still considered a relatively minor one within University studies. Under his guidance, it went on to develop into something that bene­fited hundreds of students. These are at the core of most media-driven agencies today, with many of them becoming leaders in fields as far-ranging as journalism, film and design.
However, the greatest asset of Communication Studies is also its greatest difficulty – 'communications' is an umbrella title that incorporates several different areas within it. In fact, students who study communications carry out in-depth analyses of areas such as film and video, journalism, marketing communications, internet communications, graphic design and audio production. They also learn core skills that prepare them to understand better, carry out research in, be analytical of, as well as be informed players in the media's role in society.
But why the change?
"We felt the need to update the course to be more in line with the demands of the second decade of the 21st century," Mallia answers. "We felt that students needed to be kept abreast of, for example, the massive and impossibly fast changes that electronic media are instigating. But at the same time, it was very important that students have training in hands-on skills that will also help them create media content, of course based on the theory that must infuse any intelligent creation."
We felt that students needed to be kept abreast of, for example, the massive and impossibly fast changes that electronic media are instigating
The department carried out research among past and present students, stakeholders that were primarily those who employ media and communications graduates, lecturers and others who had some sort of connection with the course. An in-depth analysis of feedback provided by students on all the courses offered by the department was also carried out.
There were a number of clear-cut recommendations that many agreed about – for example, the need for students to have placements so they could practise in real-world situations what they learnt in the lecture hall.
Many insisted there should be a mixture of theory and practice from the start of the course. This was difficult in the past, due to lack of resources, but easier now that the Faculty of Media and Knowledge Sciences is based in a state-of-the-art building with many amenities that were missing in the past.
"Of course, we are a long way away from having enough equipment to cover all needs, but we are working on it.
"One of the recurrent emphases that came out of our research was on the need for students to have a modi­cum of specialisation by the end of their course, given the multi-faceted aspect of their studies.
"When we designed the new course, we took all of these suggestions on board. On top of that we decided to follow what is becoming the norm at the University of Malta, and which is also recommended by the Bo­logna process. This is that an honours degree is best served by three years of full-time study, as opposed to the four years of previous Communications courses," Mallia adds.
Besides lasting three years, the new Bachelor of Communications (Honours) degree is also a one-subject course, split into two parts.
Part one comprises the first and second years, which Mallia describes as "the core years", in which students become acquainted with all the areas that pertain to Media and Communications.
"For this reason, students will need to take all courses in the core areas of Media and Communications, along with specially created support courses in philosophy, psychology, sociology and English or Maltese.
"Students will also have the opportunity to choose a few optional courses from other subject areas that interest them. But the main thrust will be the study of communications."
The first year will encompass a bit of everything, with human communications, journalism, film studies, visual communications and graphic design, research methodologies, marketing communications, media studies, internet communications, presentation techniques, and many other topics that are being introduced. These are taken at a deeper level during the second year, by the end of which students are expected to have a solid grounding in all areas.
In the third year, students can select from a large number of optional study units in order to focus on one of the topics they will have explored in the first two years. They will have a placement related to that topic, and do individual research in the form of a dissertation, along with a tutorial session run by a specialist in that area.
This is not, strictly speaking, specialisation, since this is not entirely possible in an undergraduate course of this type, but students will be able to focus on the area in which they plan to find employment or specialise in later.
If they want to specialise, they can go on to do a two-year master's (taught or by research) following their undergraduate degree.
Final exams have also been eliminated, since students will already have been assessed on each of their study units.
The new Bachelor of Communications (Honours) degree accepts its first students in October. More information is available online.
http://www.um.edu.mt/maks/mediacomm/courses/bachelorofcommunicationshons
Comments powered by

Disqus