Just seven women MPs as Malta remains in gender equality doldrums
New legislature, same old female representation concerns
Malta's next legislature is likely to fall short of its already dismal gender equality track record.
Although eight female candidates have been elected so far, Nationalist Party MEP Therese Comodini Cachia's suprise announcement that she will not be assuming her seat brings that number down to seven.
And though by-elections might add one or possibly two other women to that list, the figures show that Malta remains a laggard in female political participation terms.
The 2013-2017 legislature included nine women among its 69 parliamentarians, leaving Malta a miserable 143rd in an Inter-Parliamentary Union ranking of countries' share of women MPs.
A tally of seven women among 65 - or even 67 - MPs would drag Malta some 10 places further down the list, putting the country at a par with Djibouti and Ivory Coast.
Rwanda, Bolivia and Cuba top the international list. Iceland is the first-ranked European country (4th), followed by Sweden (6th) and Finland (9th).
Justyne Caruana (PL) and Claudette Buttigieg (PN) were both reelected.
Dr Comodini Cachia's forfeiture means the Labour Party's Julia Farrugia is now set to be Malta's sole debut female MP. The former journalist beat Stefan Zrinzo Azzopardi to the PL's third seat in the 5th District, despite having announced her candidature late in the day.
READ: Nine new faces in parliament
Ms Farrugia will join Justyne Caruana and Helena Dalli on the PL side of the House, with the two political veterans having secured a return to parliament. Dr Dalli repeated her 2008 electoral slam dunk by being elected in both districts she contested.
Kristy Debono, Marthese Portelli, Claudette Buttigieg and Marlene Farrugia will serve as MPs for the Opposition, with the three PN candidates and PD leader all being returned to parliament.
Kristy Debono and Marthese Portelli (both PN) were a hit among 9th district voters.
Ms Debono and Ms Portelli proved especially popular with voters. Ms Portelli joined her PL rival Dr Dalli by being elected in two districts - the 9th and 11th - while economist Ms Debono was immediately assured a place in parliament after being elected on the first count, becoming only the second woman in the PN's history to do so.
WATCH: Marlene Farrugia elected, ensuring PD will feature in parliament
The first was Gozo's Giovanna Debono, who called time on a 30-year political career at the end of the previous legislature. PN stalwart Ms Debono served as an independent MP from 2015 following her resignation from the PN after her husband was charged with fraud.
While the former Gozo minister quit politics of her own volition, Deborah Schembri and Paula Mifsud Bonnici have been locked out of parliament by the electorate.
Missing out: Paula Mifsud Bonnici (PN) and Deborah Schembri (PL) failed to make the cut.
Former parliamentary secretary Ms Schembri and former PN social policy spokeswoman Ms Mifsud Bonnici both missed out on a seat this time round and must now hope to be parachuted into parliament through a by-election if they are to feature in Malta's 13th legislature.
Both major parties have repeatedly pledged to increase the number of women among their ranks, with outgoing PN leader Simon Busuttil having ensured his shadow cabinet was split evenly between men and women.
A quarter of all candidates fielded by the PN-PD coalition were women, which was still below the 30 per cent minimum recommended by the Equality Commission.
The PL fared even worse, with just 16 per cent of its 70 candidates being women, despite Joseph Muscat's 2012 pledge to lead "the most feminist government in Maltese history."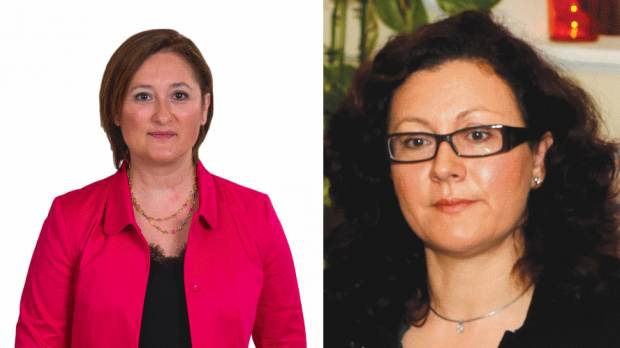 Therese Comodini Cachia (left) was elected, but has opted to give up her seat, while Marlene Farrugia returns to parliament as the leader of the Democratic Party.
Comments powered by

Disqus