Escape artists Crotone hope to spoil Juve party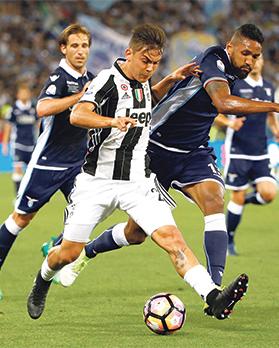 Juventus striker Paolo Dybala (centre) in action during the Coppa Italia final against Lazio, on Wednesday.
Treble-chasing Juventus will try for the second time to wrap up the Serie A title at the weekend, this time against a Crotone team attempting to pull off one of the greatest escapes in the competition's recent history.
Playing in the top flight for the first time, the team from the southern region of Calabria looked odds on to go straight back down in mid-March when they found themselves eight points adrift of safety.
However, run of five wins and two draws in their last seven games have left Crotone just one point behind Empoli and two behind Genoa, the two teams immediately above them in the relegation zone.
Their penultimate fixture takes them to Juventus, who had won 33 home league games in a row until their 2-2 with Torino two weeks ago.
Crotone coach Davide Nicola is under no illusions about the size of his task.
"Juventus are Juventus; they are a world class team," he said after Crotone's win over Udinese last Sunday. "We are working really hard and not thinking so much about our next opponents. We know it will be very, very difficult.
"But we keep believing and we try with every game to get a little bit better."
Juventus, who beat Lazio 2-0 on Wednesday night to claim the Coppa Italia, wasted their first chance to wrap up a sixth successive Serie A title when they lost 3-1 at Roma last Sunday, when one point would have done the trick.
Crotone's managing director Raffaele Vrenna said his team also wanted to play the role of party-poopers.
"Unfortunately, at the start of the season, the team paid for their bit of inexperience and also suffered at the hands of some poor refereeing decisions," he said.
"I still believe in our survival... we hope to stop the Scudetto party." Juventus need three points tomorrow to be certain of the title; although they could be celebrating today if Roma lose at Chievo and Napoli fail to win at home to Fiorentina.
Juventus, who face Real Madrid in the Champions League final on June 3, have stuttered in the league recently, taking only two points from their last three games as their treble chase takes its toll.
Coach Massimiliano Allegri said he did not want to leave it until the final game, at Bologna the following week.
"We need one more win and we must make sure we get it against Crotone," he said. "We have to win the league tomorrow."
"It will be hard against Crotone because they've picked up 17 points in their last seven games and they're scrapping for their Serie A survival. We're going to have to produce a top performance."
Serie A
Today
Chievo vs Roma - 18.00
Napoli vs Fiorentina - 20.45
Tomorrow – 15.00
Empoli vs Atalanta
Genoa vs Torino
Juventus vs Crotone
Lazio vs Inter - 20.45
Milan vs Bologna
Sassuolo vs Cagliari
Udinese vs Sampdoria
Monday
Pescara vs Palermo - 20.45
Standings: Juventus 85; Roma 81; Napoli 80; Lazio 70; Atalanta 66; Milan 60; Fiorentina 59; Inter 56; Torino 50; Sampdoria 47; Udinese, Cagliari 44; Chievo, Sassuolo 43; Bologna 41; Genoa 33; Empoli 32; Crotone 31; Palermo 23; Pescara 14.
Comments powered by

Disqus