Times Square car suspect told police he wanted to 'kill them all'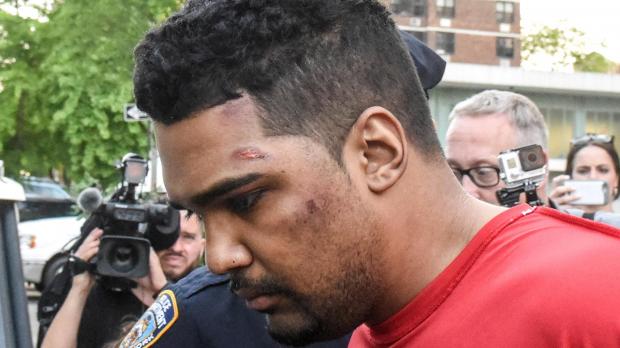 Updated
A man accused of mowing down a crowd of pedestrians with his car in Times Square has made his first appearance in court charged with murder and attempted murder.
Manhattan prosecutors said in court that Richard Rojas told police after his arrest that he wanted to "kill them all", and that officers should have shot him.
Rojas's lawyer and weeping supporters had no comment.
Police say Rojas, 26, from the Bronx, drove his car for three blocks into the Manhattan square at midday Thursday, hitting nearly two dozen people before steel security barriers finally stopped him.
An 18-year-old tourist from Michigan was killed, and her 13-year-old sister was among the 22 injured.
Watch: Car leaves path of destruction in Times Square
Rojas appeared subdued during a brief court appearance where prosecutors detailed a felony murder charge.
He told police he had smoked marijuana laced with PCP, according to a criminal complaint.
He did not enter a plea, and is due back in court next week.
Eighteen-year-old tourist Alyssa Elsman, of Portage, Michigan, was killed in the crash.
Rojas enlisted in the Navy in 2011 and was an electrician's mate fireman apprentice. In 2012, he served aboard the USS Carney, a destroyer.
Navy records show that in 2013 he spent two months at a naval prison in Charleston, South Carolina, but do not indicate why.
He spent his final months in the Navy at the Naval Air Station in Jacksonville, Florida, before being discharged in 2014 as the result of a special court martial, a Navy official said.
Comments powered by

Disqus