Overtaker By Sib wins Tazza l-Kbira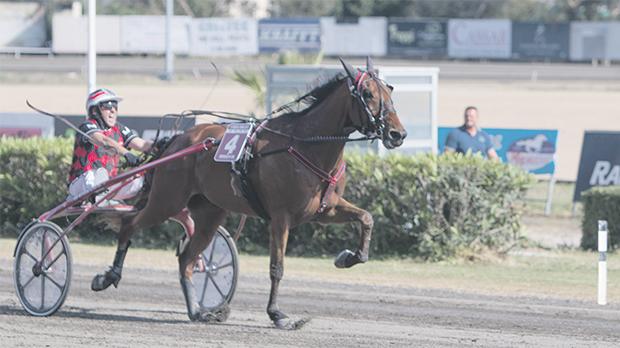 Overtaker By Sib won the 2017 Tazza l-Kbira final at the Marsa Racetrack, yesterday. This final, for class Premier Trotters, was the highlight of the 16th meeting of the season that was made up of eight races all for trotters.
It was Jaguar Broline (Noel Baldacchino) the fastest horse in the opening stages of the Tazza l-Kbira final, opening a small lead from Service Secret (Andrew Farrugia) and Careful Victory (Michael Ellul).
However with a lap to go Italian Overtaker By Sib (Marco Refalo) raced to the front of the pack and increased its speed during the last 500 metres to register its third win of the year.
Service Secret placed second, half a length behind, with Tonio Du Vivier (Charles Camilleri) placing third ahead of Tanguy De Nappes (Ronald Cassar).
The winner clocked an average time of 1.15.6" per kilometre.
At the end of the final, Chris Agius, the Parliamentary Secretary for Sport, presented the trophy to owner George Fenech and driver Marco Refalo in the presence of MRC chairman Edwin Borg and Deo Scerri and Charles Azzopardi, on behalf of Bank of Valletta.
Another meeting at the Marsa Racetrack will be held this afternoon and will feature the final of the Tazza San Frangisk, First race is scheduled for 1.45pm.
Yesterday's winners
Race 1. Class Copper – Baptiste Menuet (Mark Desira) – 1.19.9"
Race 2. Class Bronze – Roc Magister (Kirsten Axisa) – 1.18.6"
Race 3. Class Silver – Global Offspring (Noel Baldacchino) – 1.17.4"
Race 4. Class Silver – Sambuca Knick (Noel Baldacchino) – 1.17.2"
Race 5. San Franġisk Championship semi-final, Class Copper – Cullinan Diamond (Noel Baldacchino) – 1.18.1"
Race 6. BOV Tazza l-Kbira Championship final, Class Premier – Overtaker By Sib (Marco Refalo) – 1.15.6"
Race 7. San Franġisk Championship Semifinal, Class Copper – Belina De Fresney (Charles Farrugia) – 1.17.1"
Race 8. Class Gold – Temple Du Chatelet (Marco Debono) – 1.16.7"
Comments powered by

Disqus