Dubai: leaving no stone unturned
Fashion and travel blogger Grazielle Camilleri is fascinated by her first ever visit to Dubai, a country that offers practically anything you want to do under the sun.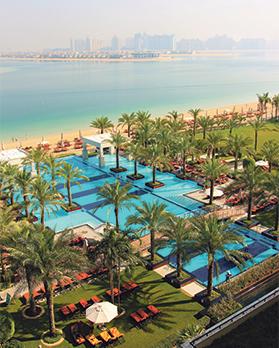 Spectacular views from the Jumeirah Zabeel Sarey hotel.
Dubai has been on my personal travel bucket list for a long time. I was also eager to visit somewhere sunny during our long, cold winter this year. So off I went, with my husband. With some help from ROCS Travel, we booked our holiday and enjoyed a blissful week together. We flew Emirates Airlines on a direct seven-hour flight.
Staying at the five-star Jumeirah Zabeel Sarey on Palm Islands, we were booked on a bed and breakfast basis in a deluxe King Palm room, which offered 46 square metres of Ottoman-inspired luxury with private balcony enjoying views of the Palm Jumeirah.
Our room had a beautiful bathroom with an enormous bath tub and a balcony overlooking the beach side and The Atlantis at a distance. Excellent in-room facilities, a complimentary Nespresso machine, an amazing tea selection, chic toiletries, good beds, fresh fruit bowls, chocolates and water bottles were included.
Dubai, a truly splendid city, has an alluring combination of ancient charm and modern sophistication, making it an ideal destination for all. The city boasts extensive beaches, a desert and towering modern mega structures. Aptly nicknamed the shopping capital of the world, people usually visit to enjoy the luxurious hotels and to buy everything under the sun, from gold, to electronics, to designer clothes.
Skyscrapers can be seen everywhere, together with endless attractions for tourists and locals alike, shopping malls for shopaholics, amazing hotels for holiday and luxury properties for investment. You name it, Dubai has built it – and if something is not there yet, I am sure it is on a list of things to materialise in the next decade. I will need another half a dozen holidays here to discover all the attractions and the latest hip places.
However, if you are a first-time visitor to Dubai, I suggest you visit the Burj Khalifa. At 828 metres, the Burj Khalifa is the tallest building and the tallest structure in the world. The first thing to do in Dubai is to go to the very top for a panoramic view of the city.
You can also go on a falcon experience or on a hot air balloon flight
The 148th floor – the observation deck – is an excellent backdrop for photography enthusiasts. Grab your cameras and tripods to capture exceptional views of the city underneath you. This deck also has telescopes that offer a virtual time travel experience. Try to buy your tickets online in advance to avoid long queues or go to the At.Mosphere restaurant on the 122nd floor and sip a few cocktails instead of paying an entrance fee to the observation deck.
The Dubai Fountain is a another must-see. This is a record-breaking, musical fountain show located on the man-made Burj Khalifa Lake. Water is shot up in the air to an altitude of over 500ft, accompanied by classical and contemporary music. The fountain opened in 2009 but in 2010 its length was increased to 275m. We went here after four hours of shopping in the Dubai Mall. It was truly memorable.
The Dubai Marina, a man-made canal city built to encourage luxurious lifestyles through exclusive waterfront constructions along the Persian Gulf shoreline, offers swanky hotels, aristocratic residential palaces and extravagant shopping and entertainment centres. It is a lovely place to visit any time of the day, where you can enjoy lunch or dinner in one of the cafes or restaurants.
The Burj Khalifa
An overnight safari for an ultimate, glamorous camping experience in the heart of pristine dunes at the Dubai Desert Conservation Reserve is another option. You can take tours through the deserts and drive dune buggies on the sand, followed by barbecues and parties. We did not manage to fit this in our busy schedule, but I'm really looking forward to experiencing it on our next trip later this year.
My husband's love for video games took us to Hub Zero, an exciting indoor gaming destination at City Walk Dubai, which offers the most innovative games and rides imaginable, including virtual reality and motion-sensored technology. More than 70 per cent of the attractions found here are not offered anywhere else in the world.
You can also go on a falcon experience or a hot air ballon flight. If you love nature and birds and wish to gain a better understanding of the traditional and noble art of falconry, with a chance of a close encounter with hunting falcons, you can do this at various campsites that offer spectacular shows of the latest falcon training methods.
If falcons are not your thing, perhaps you wish to glide up and escape in a hot air balloon over the Dubai Desert Conservation Reserve. Take to the morning skies and, as the sun starts to rise over the Hajar Mountains, you can watch the falcons fly up to 4,000 feet high in a trained demonstration. After an hour in the air, you can return to the ground to celebrate the flight with a gourmet breakfast before returning to Dubai. Yes, Dubai seems to leave no stone unturned.
When it comes to food, Dubai is so exotic. A heaven for foodies, there are restaurants serving virtually every national cuisine from around the world, including many specialising in Dubai's own Arabic delights.
Dubai does not have its own Michelin Guide, but instead it imports chefs or restaurant chains that have previously been recognised elsewhere to keep its standards at top notch levels. Each restaurant featured here is not simply somewhere to eat but a destination for spectacular decor, amazing views and memorable culinary experiences.
La Cantine du Faubourg
Trendy places for foodies
La Cantine Du Faubourg: Famous for the fashionistas who swing by, this is a popular Parisian import with groovy graffiti lining its walls. Its killer cocktail list and contemporary French menu make its tables some of the most coveted in Dubai.
Zuma
Mayta Dubai: Founded in Lima in 2009, world-renowned chef Jaime Pasque is known for using contemporary techniques to bring a new dimension to each of his dishes. Don't miss its funky bar that showcases over 100 varieties of cocktails.
Catch Dubai: A trendy seafood joint that hails from the legendary meat-packing district of New York City, this is an uber-cool restaurant and lounge concept that offers the perfect mix of great food and great vibes.
Zuma: A two-level, contemporary Japanese restaurant, this sports a mezzanine level dedicated to a trendy sake bar and a dining room immersed in elegance. Based on the izakaya style of dining, the venue offers a small plate menu designed for sharing; seasonal menus boast exquisite sushi and sashimi, along with succulent grills.
Fashion photography
This Dubai trip was also the inspiration for a series of wonderful fashion photoshoots with a number of clothing and eyewear brands – including Plein Sud, Guy La Roche, Michael Kors and Versace – for leading outlets in Malta including Rebelli, Luxury Outlet, River Island and Vision Opticians.
We held a number of photoshoots at our resort – the Jumeirah Zabeel Sarey – as well as other locations where it was permitted to take photographs around Dubai City.
With help from make-up artist Jean Paul Zammit and photographer Mirjana Zigic Khairallah, we captured some amazing pictures to be used for my fashion and travel blog, as well as a selective number of lifestyle and travel magazines.
www.graziellecamilleri.com
www.facebook.com/BlogByGrazielle
Comments powered by

Disqus