Caruana Galizia, Keith Schembri, Konrad Mizzi in fresh claims and denials
Chief of staff, minister say they will take fresh court action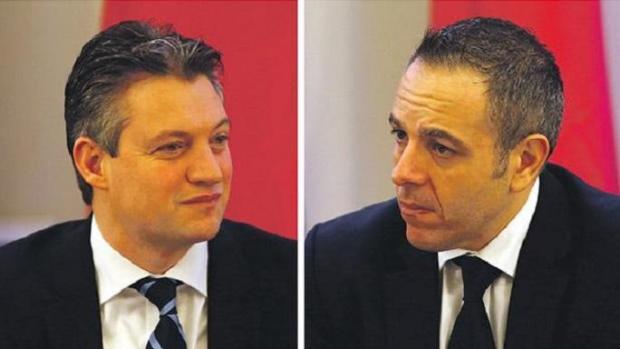 The Prime Minister's Chief of Staff insisted this evening that he and his companies never received, dealt with, or otherwise had any form of commercial relation with any Azerbaijani interests, amid fresh claims made by Daphne Caruana Galizia.
Keith Schembri insisted there was no relation with Al Sahra FZCO, Leyla Aliyeva, any member of Ilham Aliyev's family, or any other Azerbaijani national or person with interests in Azerbaijan.
In a blog post, Ms Caruana Galizia claimed that a company owned by Leyla Aliyeva, one of the two daughters of Ilham Aliyev, ruler of Azerbaijan, transferred very large sums of money, described as "loan payments" last year to Hearnville Inc, Tillgate Inc and Egrant Inc, the three companies named in the Panama Papers.
Ms Caruana Galizia said the company, which is incorporated in Dubai's free zone, is called Al Sahra FZCO, and Ms Aliyeva is the ultimate beneficial owner.
The payments, she said, were made through Al Sahra FZCO's account at Pilatus Bank.
Mr Schembri said Tillgate Inc has never had a bank account anywhere in the world, never traded or ever received any funds or entered into any commercial relationship. The company has been audited extensively and all the above has been confirmed by the international auditors.
He said he will be instituting fresh libel proceedings and be requesting that the case be heard with urgency.
"For the umpteenth time, Daphne Caruana Galizia has resorted to lies and fabrications," he said in a statement.
Ms Caruana Galizia said she will be publishing more details.
READ: How the Panama Papers were unwrapped - Matthew Caruana Galizia and Frederik Obermaier explain
Minister Konrad Mizzi also denied the claims, pointing out he had already instituted libel action when Ms Caruana Galizia when she alleged that funds from Azerbaijan had changed hands.
He also denied the existence of any bank account, saying this was confirmed by an audit by Crowe Horwath.
Dr Mizzi denied he had started to liquidate his company with urgency because of the blogger's claims. He recalled that he had said at the beginning of the year that he had started the process to liquidate the company.
Earlier, Opposition leader Simon Busuttil said that anyone coming forward with information about "the network of criminality at Castille" would be guaranteed full protection under a Nationalist administration.
Comments powered by

Disqus