Lija beat Senglea to join Lions at the top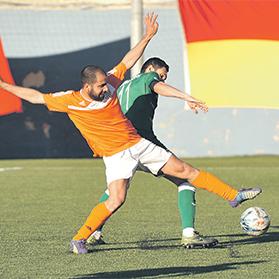 Lija Athletic scored a goal in each half to beat promotion rivals Senglea. Photo: Chris Sant Fournier
Senglea Athletics 0
Lija Athletic 2
Lija Athletic joined Naxxar Lions at the top of the Division One standings after beating Senglea with a goal in each half.
This was a deserved victory for Lija as they were the more aggressive side and apart from scoring twice they also had a penalty saved by the Senglea custodian.
Senglea came close in the 11th minute when a Marcelo de Sousa Dias free-kick finished just over while four minutes later Peter Sammut just missed the upright.
The Cottonera side continued to dictate matters and mid-way through the first half a Cabral free-kick was pushed away by Luke Bonnici.
However, it was Lija who forged ahead on 27 minutes.
Lee Joe Schembri found Abubaker Bello-Osagie who beat Timmy Aquilina with a fierce drive.
Five minutes later Lija could have made it 2-0 when Erjon Beu was brought down in the area by Pablo Doffo, with the referee pointing to the spot. But from 11-metres the Albanian had his effort turned away by Aquilina.
Senglea tried to react and came close through Juninho who had his effort fisted away by Bonnici.
Two minutes into the second half Lija almost added a second when Schembri released Beu, who went past a defender but his effort was kept out by Aquilina.
Midway through the half, Senglea started to step up their game but it was Lija who grabbed a second goal on 74 minutes.
Bello-Osagie put Beu clear and the Albanian schemer rounded Aquilina and deposited the ball into an empty net.
Senglea mounted a late rally to try and get back into the match but the closest they came was at the death when Austin Obaje-Smith saw his effort coming off the bar.
Senglea: T. Aquilina, K. Farrugia, K. Tanti, R. Tanti, M. Borg, B. Muscat, P. Doffo (A. Obaje-Smith), R. Dalli (M. del Negro), M. de Sousa Dias, P. Sammut, Juninho.
Lija: L. Bonnici, C. Cassar, P. Borg, L. Muscat, D. Scerri, E. Beu, L.J. Schembri, M. Clinch, E. da Silva Santos (P. Babic), A. Bello-Osagie (J. Garcia Vidal), A. Borg.
Referee: Glen Tonna.
Best player: Erjon Beu (Lija Athletic).
Għargħur 1
Qormi 1
Għarghur: Z. Valletta, K. Fedele, M. Sota, K. Conti, C. Gie (G. Saliba), M. Fagbeja, L. Vella, D. Camilleri, L. Galea, L. Busuttil, J. Azzopardi.
Qormi: J. Azzopardi, C. Farrugia, O. Sidibe, A. Abela, Q. Bregman, T. Guzman, B. Grech (N. Ojuola), M. Barbara, L. Chiedozie, S. Zammit (M. Camilleri), D. Vukovic (D. Micallef).
Referee: Matthew Degabriele.
Scorers: Galea (GĦ) 70, Ojuola (Q) 79.
Best player: Muda Fagbeja (Għargħur).
Pietà Hotspurs 4
Żebbuġ Rangers 1
Pietà: M. Montfort, C. Degabriele (N. Pisani), N. Pace Cocks (J. Busuttil), D. Agius, M. Mifsud, D. Cisse Mademba, S. Bartolo (G. Micallef), G. Mensah, C. Grech, I. Jalo, J. Suda.
Żebbuġ: J. Azzopardi, K. Zammit (R. Bajada), S. Borg (J. P. Formosa), D. Tabone, A. Micallef, T. Trebovac, R. Da Silva Gomes, C. Gauci, C. Psaila, S. Schembri, D. Toure (M. Britto).
Referee: Alex Johnson.
Scorers: Mensah (P) 2, Trebovac (Ż) 32, Degabriele (P) 44, Mademba (P) 47, Grech (P) 85 pen.
Best player: Gabriel Mensah (Pietà).
Vittoriosa Stars 1
Melita 3
Vittoriosa: K. Magri, L. Grech (G. Sultana), J. Ogunuppe, A. Farrugia, O. Obiefule, A. Galea, L. Gauci, C. Cassar (O.L. Agbeobina), D. Fava, C. Spiteri (J. Pace), D. Pisani
Melita: N. Grima, J. Abela, A. Mizzi, R. Parrado, D. Farrugia (S. Schranz), N. Bradshaw, D. Cutajar, J.P. Attard, A. Borg Olivier, T. Singleton (K. Rizzo), L. Micallef (A. Xuereb).
Referee: Ishmael Barbara.
Scorers: Gauci (V) 5, Singleton (M) 32, Xuereb (M) 74, Borg Olivier (M) 85.
Best player: Alan Borg Olivier (Melita).
Comments powered by

Disqus