A microcosm of curiosities
18th-century Maltese lady holding a snuff box.
Fondazzjoni Patrimonju Malti (FPM) has over the years proven that it is particularly adept at putting on a visually pleasing and informative exhibition, be it on a large or small scale.
The ongoing exhibition at Palazzo Falson is the sixth such small temporary yearly exhibition dedicated to selected trinkets that served a purpose and which were also often artistically embellished. It follows the success of exhibitions that focussed on whistles, smoking pipes, scent bottles, Edward Lear's watercolours and antique watches.
FPM has now turned its attention to another functional portable and decorative objet d'art: snuff boxes, the recipient of ground dried tobacco that is here described as "an essential item of costume", which indeed it was.
Snuff boxes were selected for this exhibition since several survive in Olof Frederick Gollcher's own collection that he had himself gathered over the years.
18th-century lady holding a cartouche-shaped snuff box from the Casa Rocca Piccola Trust Collection.
FPM has managed to transform the little ground floor room in Palazzo Falson into a microcosm that allows you to delve into another world through the curiosities they chose to research, document and showcase in this exhibition.
In the 18th and 19th centuries, snuff boxes were popular among the wealthier citizens, even in Malta, and were also diplomatic gifts. They gained in popularity in the 17th century despite the knowledge of how harmful this substance was and its taxation.
The history of the use and creation of snuff boxes is dealt with in great detail by the curator Francesca Balzan and published in the printed exhibition catalogue. The essay goes back to the discovery of tobacco smoking by Christopher Columbus in 1492. It also delves into the history of snuff boxes and snuff-taking in Malta. This is well-researched and informative, and easy to read.
As usual, FPM tapped into private and public collections to showcase a variety of snuff boxes extant on the Maltese islands. Hundreds of specimens were examined, but the final selection fell on 200 examples (all of which are listed in the catalogue). These are either pocket or table snuff boxes.
The materials snuff boxes were made of are varied as their decorations – from papier-mâché to ceramic, mother-of-pearl to wood and such
The former boxes served for a daily supply and were small enough to fit in pockets, while the latter contained larger quantities and were also known as 'snuff mulls'.
Portable snuff boxes could come in various shapes, including bottles that came with a tiny spoon incorporated into the stopper in order to scoop out the tobacco.
18th-century Maltese lady holding an ornate painted snuff box.
Visiting the exhibition is rewarding not only because you are enriched on the art of snuff box decoration, but also because of the trivia relating to snuff taking and the like you are presented with. The exhibition is not only enhanced by literature visible throughout the exhibition, amidst the displays that are beautifully curated and arranged, but also through a handy booklet that accompanies the exhibits.
The snuff boxes on display vary in importance, artistry and detail. Some were even produced in Malta (such as a rare silver snuff bottle) or known to have been used locally. Local portraits also betray the widespread use of snuff boxes among the well-to-do.
Moreover, landscapes and mythological themes, also feature among the selected snuff boxes, which could, however, also be ornamented with decorative motifs or just plainly executed.
Among the more remarkable snuff boxes (which are many) are two silver exemplar portraying views of Venice's eminent Doge's Palace and St Mark's Square dating to the 19th and 20th centuries. These, along with another in gold and enamel showing the Vesuvius and the Bay of Naples, may very well have been souvenirs purchased during the Grand Tour, ideal because they were very portable yet prestigious.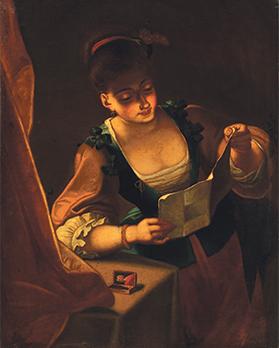 Woman reading a love letter, Oil on canvas, Anonymous, Late 18th century., 96 x 72, Casa Rocca Piccola Trust Collection.
As for themes on snuff boxes found in Maltese collections, the exhibition has concluded that there is a preponderance of religious symbolism or ecclesiastical connections.
The materials snuff boxes were made of are as varied as their decorations – from papier-mâché to ceramic, mother-of-pearl to wood and such. Such a variety made them affordable to a broad audience. Moreover, snuff boxes also come in different shapes.
One leaves the exhibition feeling enriched by the thorough manner in which these curious items were employed in everyday life. To this end, local 18th and 19th century portraits including snuff boxes were weaved into in the display, providing the viewer with a visual to accompany the presented text.
The exhibition experience was also further enhanced by the presentation of three public gallery talks.
FPM delivers consistently refined exhibitions accompanied by beautiful and tasteful displays and carefully selected items, never a typo in sight or such mistakes. A dignified product through and through.
FPM does not shy away from projects. Even small exhibitions such as the current one at Palazzo Falson takes months of preparation and research. Well done FPM. Certainly another feather in your ever-growing cap.
The exhibition, titled 'Snuff boxes: from accessories to objets d'art', is open until today at Palazzo Falson, Mdina.
Box mounted with a miniature of two putti bearing iconographic symbols of victory and peace after war made of gold, enamel and mounted with a porcelain plaque from the Casa Bernard Collection.
Snuff box, Enamel, Gold, Probably French, 18th century, 2 x 8.5 x 6.2, National Museum of Fine Arts,Valletta – Heritage Malta.
Snuff box with Nativity Scene, Mother-of-pearl with painted detail, gilt metal, Jerusalem craftsmanship mounted en cage in France, 19th century, 3.1 x 5.2 x 7.8, Estate of Joseph Galea Naudi.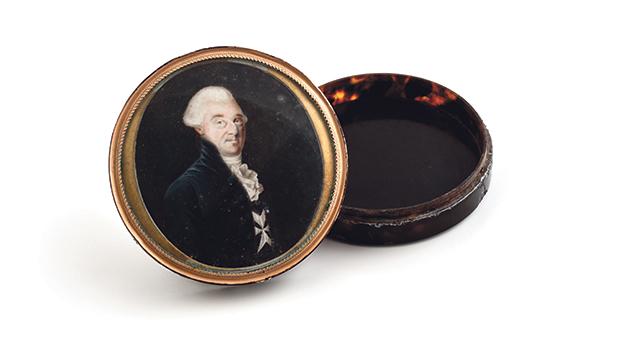 Box with portrait miniature of a Knight of Malta, Miniature, Metal gilt, Tortoiseshell, Late 18th century, 2.5 x 8.5 (dia), National Museum of Fine Arts,Valletta – Heritage Malta.
Silver snuff boxes with Maltese connections dating from the 18th to the early 20th centuries.
Comments powered by

Disqus