Watch: UK to quit EU single market
Theresa May outlines Brexit vision on long-awaited speech
Brexit 'cannot mean membership of the single market'
Final deal will be put to a vote in both houses of parliament
May says Brexit must mean controls on migration into the UK
UK will pursue 'comprehensive free trade agreement' with EU
May warns against attempts to punish UK by offering a 'punitive deal'
Britain will not pursue membership of the EU single market as part of Brexit negotiations and UK parliamentarians will get a vote on the final deal, UK Prime Minister Theresa May said today.
In a long-awaited speech outlining her government's Brexit plans, Mrs May said that the country would instead seek a 'comprehensive free trade agreement' with the EU as well as a customs agreement that would allow Britain to have tariff-free access to EU markets.
Mrs May argued that remaining within the EU single market would mean binding the country to EU laws, as well as judgments of the European Court of Justice. She noted that both opposing sides of the Brexit referendum debate had made it clear that leaving the EU meant leaving the single market.
"I want to be clear: What I am proposing cannot mean membership of the single market," May told her audience at Lancaster House in London.
Her pledge to put the final deal to a parliamentary vote brought the Sterling surging on currency markets, rising to a day high during Mrs May's speech.
Asked later whether a parliamentary vote against the deal would mean the end of Brexit, Mrs May expressed confidence that MPs would respect the referendum vote.
Mrs May called for a transitional deal, with different aspects of it lasting varying amounts of time. A phased process of implementation was in both sides' interest, she said.
The British Prime Minister argued that record levels of immigration into Britain had led to downward pressure on wages, and that the Brexit deal would also involve introducing controls on the number of people coming into the UK.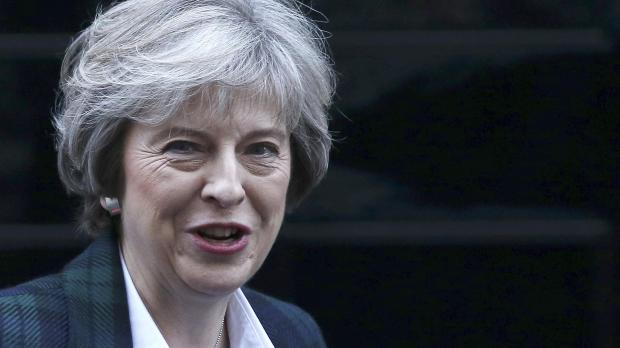 British Prime Minister Theresa May leaves 10 Downing Street earlier today. Photo: Reuters/Neil Hall
Mrs May said that she wanted to guarantee the rights of EU nationals living in the UK, and British people living in EU member states, as soon as possible.
The UK and EU would continue to work together on issues relating to foreign affairs, crime and terrorism, she said.
"We want the EU to be a success," the British prime minister said, arguing that a strong EU and strong UK would be mutually beneficial.
She warned European leaders against seeking a punitive deal, saying that would be "an act of calamitous self-harm."
"Britain wants to be a good friend and neighbour in every way," she said. "But no deal for Britain would be better than a bad deal for Britain."
A bad deal, Mrs May said, would drive the UK to consider "revising its economic model", in a veiled threat to cut taxes in an attempt to poach business away from the EU.
The Prime Minister ended her speech by calling for Remain and Brexit campaigners to put their differences aside.
"The victors have the responsibility to act magnanimously," she said. "The losers have the responsibility to respect the legitimacy of the result."
Comments powered by

Disqus