Educate to eradicate Aids
On World Aids Day, students highlight efforts to raise awareness and reduce stigma surrounding sexual health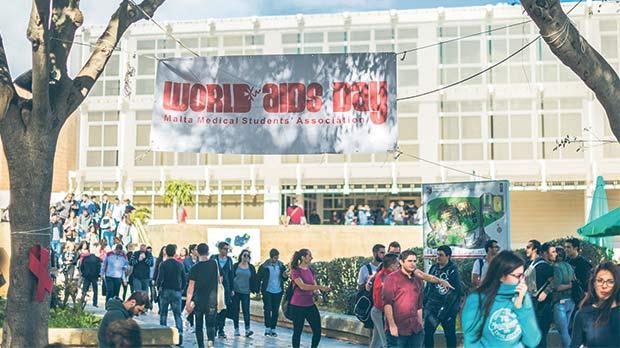 On the first day of every December, since 1988, the world has observed World Aids Day. This global health day is an opportunity for people worldwide to unite and show their support for people living with HIV and to comme­­morate people who have died of Aids.
The record surge in local HIV transmissions over the past five years inspired the Malta Medical Students' Association (MMSA) to raise the bar for this year's annual World Aids Day (WAD) events.
It is important to note that WAD's awareness-raising scope has become a more consistent effort throughout the whole year and this may be one of the reasons why this day appears to have declined in importance. Nonetheless, MMSA felt the need to up the ante over the previous year's efforts.
An open debate was held on November 23.
This year's events started on November 23, when the MMSA held an open debate for WAD involving a panel composed of representatives from the Health Promotion and Disease Prevention Directorate (HPDPD), the Genitourinary (GU) Clinic at Mater Dei, the Malta Gay Rights Movement, the Infectious Disease and Prevention Control Unit (IDPCU), a voluntary worker from the Missionaries of Charity of Mother Theresa, and a sizeable audience at the University Quadrangle.
A number of interesting points emerged.
Education and entertainment were merged in the Campus Games and Speed Dating activity on November 25. Events of this type are frequently deemed more accessible than a debate or talk and may thus convey the MMSA's message to a larger segment of the student population.
By infusing a competitive edge with our educational exercises, participants were able to simultaneously test and enrich their knowledge on all things related to Aids.
Their willingness to learn was rewarded with gifts and prizes to ensure that a lasting impact was left on them. Our aim was to instil confidence and empower them to in turn educate others.
On November 26, a buscade and candle vigil event was held in collaboration with the HPDPD. A double- decker bus, decked out with numerous WAD red ribbons and promotional posters, transported 30 medical students to Buġibba Square, Marsaxlokk Open Market and Valletta Waterfront.
At each of these places the students performed a flash mob to capture the public's attention and then distributed educational leaflets on the subjects of HIV, Aids and general sexual health.
Research teams worldwide continue unabated in their struggle to find a cure for HIV, Aids
This event was held to raise awareness, advance the public's knowledge on issues pertaining to Aids and sexual health in general, and to combat the stigma and taboo surrounding public discourse on sexual health whichis still somewhat prevalent within our society.
A candle vigil was held at the Valletta Waterfront in remembrance of those that have lost their lives suffering from Aids. It also served to remind us of the efforts of research teams worldwide who continue unabated in their struggle to find a cure for HIV and Aids.
The MMSA has also embarked on a pilot project in collaboration with the GU clinic and HPDPD in which student organisations' executive members were invited to get tested at the clinic and appear in a short impersonal video featuring University students collectively testifying to having been tested for STIs.
A number of these executive members also posted about their participation on Facebook. This campaign aims to promote regular testing at the GU clinic by helping the public, and youth in particular, understand that getting tested is a privilege yet vital to the wellbeing of sexually active persons and thus should not be a source of shame, embarrassment or fear.
Finally, the MMSA has also produced a four-minute long How to Get Tested video explaining the process of getting tested for STIs at the Mater Dei GU clinic. No patients are shown to emphasise the confidentiality and anonymity that patients can expect from the clinic.
The video should serve to raise awareness on the importance of getting tested, to educate and inform the public on the procedure, to rectify any misconceptions that they might have with regards to sexual health and to eradicate, or rather combat, the taboo surrounding sexual health issues.
This could empower viewers from all strata of Maltese society to properly look after a very important but often overlooked aspect of their personal health – sexual health.
The video is being launched from the official MMSA Facebook page today and will eventually be featured on the sexualhealth.gov.mt website.
Through such culture and gender- sensitive health advocacy, the MMSA strives to effectively contribute towards the potential decrease of health-related social problems, in particular those associated with unsafe sex practices, and taking proactive measures to prevent the alarming increasing HIV rates in Malta from degenerating into an epidemic.
Games and a speed dating activity were held on November 25.
Facts and figures about HIV and Aids
■ HIV is transmitted via exchange of bodily fluids, namely semen, rectal fluids, vaginal fluids, breast milk and blood, hence the risk to intravenous drug users and patients exposed to infected blood transfusions; it cannot be acquired via tears, sweat, saliva, mosquitoes, public toilets and air or water.
■ Some HIV+ patients may take up to a decade before experiencing any noticeable symptoms. In the advanced stages of the disease many patients may experience pins and needles and run a higher risk of acquiring infections and developing cancers.
■ Locally, in 1986, 28 haemophilia patients were infected via an infected blood transfusion with HIV and Hepatitis C, two highly fatal diseases at the time. 21 of these patients succumbed to the diseases.
■ Nowadays, the National Blood Bank follows a very rigid protocol of testing for all blood transmissible diseases with the use of strict screening proteins and in-depth interviews with blood donors to ensure that no blood transfusions are infected.
■ High-risk individuals are barred from donating blood. These include highly promiscuous persons, migrants from countries affected by the Zika virus, UK expatriates who lived there during the Bovine Spongiform Encephalopathy epidemic and men who have sex with men (MSM), among others. The lifetime ban on blood donation by MSM is currently being discussed by a government-appointed technical committee and thus this decision could be relaxed to a 12-month deferral.
■ 58 new cases of HIV were reported this year in Malta, 38 of which were MSM. The steady rise in HIV transmissions over the past five years may be attributed to higher frequencies of casual unprotected sex facilitated by hook-up apps such as Tinder and Grindr, abuse of alcohol and other drugs, and an overall laissez-faire attitude adopted by many towards the risks of acquiring an STI.
■ In Malta, there are about 350 people reported to be HIV+. Of these, 265 are receiving treatment. In Europe one in seven remains undiagnosed, therefore, there is a significant percentage who unbeknown to themselves are suffering from HIV and potentially infecting others.
■ Being faithful and using condoms (with a water-based lubricant) every time one engages in any sexual activity are two basic preventative measures one can take to protect themselves from STIs.
■ Anyone, regardless of age or nationality, can book a free confidential and anonymous appointment at the GU Clinic at Mater Dei on 2122 7981 for counselling, testing, diagnosis and treatments of STIs including HIV.
■ HIV's progression can now be controlled with antiretroviral therapy (ART). In Malta, triple therapy is still in use where up to 14 drugs a day are administered to patients. The new daily single dose/tablet variant is not yet available in Malta. Thanks to ART, HIV+ patients may now expect a near-average life expectancy and a decent quality of life.
■ By law, a doctor is obliged to notify the IDPCU of an HIV diagnosis.
■ Failing to disclose one's own HIV+ status to sexual partners and subsequently infecting them is a crime punishable by law.
■ Limited human resources are putting the GU clinic staff under pressure to cope with the escalating demand for testing.
Andrew Cuschieri is the Malta Medical Students' Association coordinator of World Aids Day.
Comments powered by

Disqus