Migration centre opens regional office in Malta
The International Centre for Migration Policy Development, a key player in the migration field, has opened a regional office in Malta to coordinate migration efforts in the Mediterranean.
Foreign minister George Vella and ICMPD director general Michael Spindelegger officially launched the new centre at a press conference in Valletta this morning.
The focus of the ICMPD's work will be various migration dialogues and technical assistance, as well as the relationship between countries in the Mediterranean.
Dr Vella said the opening of the office highlighted Malta's international credentials on migration and would build on the agreements reached during the Valletta Summit late last year.
He also highlighted the importance of this development in the light of fears that migration flows may be shifting back from the Balkans to the central Mediterranean route.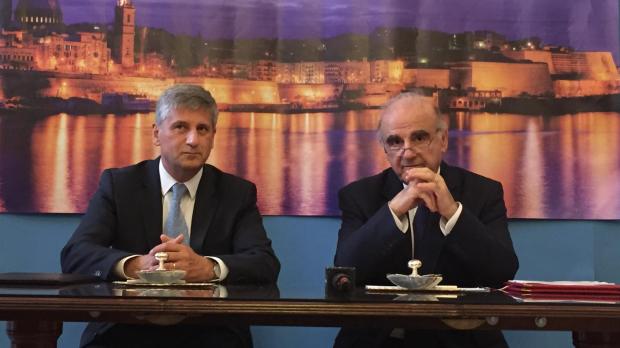 Photo: Darrin Zammit Lupi
"The reasons for migration from Africa are different to those in the Middle East," Dr Vella said. "Issues like climate change, poverty and water scarcity, as well as stability in Libya, must all be dealt with for the problem to be addressed."
Mr Spindelegger, a former Austrian foreign minister, said the new centre would benefit from the experience and contacts Malta had built up over years at the forefront of the migration crisis.
"The opening of the regional office highlights our concerns regarding the migration issues in the Mediterranean," he said. "Together with local and international partners we will bring a valuable contribution to finding and advancing new policies in the migration field in Europe and beyond."