'Random guy' jamming viewed 70 million times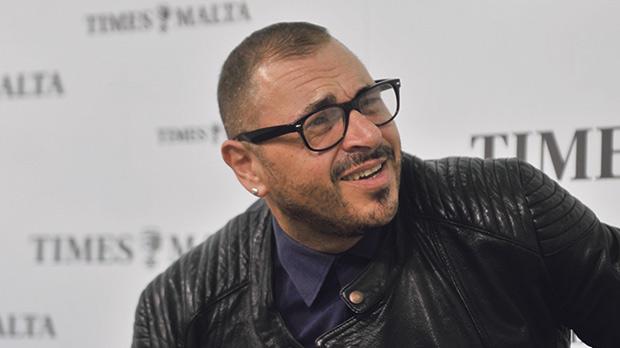 Ozzy Lino usually gets a few thousand views for his videos, so he could not believe it when he was told that 12,000 people had watched a clip of him singing on a Frankfurt train.
More than 70 million views later, the local artist has been shot into the international limelight, and the video of his random performance on a Frankfurt subway, on Facebook and Youtube, has drawn the attention of agents abroad.
"It's the biggest thing that ever happened to me, and it started from nothing. I was on my way back to the hotel from a trade fair, and I joined in with two musicians whom I initially thought were buskers. I didn't know them and they didn't know me.
"Random jamming is something I do quite often, I cannot help it. So I didn't think much about it. After, I went back to the hotel and flew home the following day," Ozzy said.
Four days later, while he was on a plane to Hungary with some friends, a video of the jam session was uploaded online.
Ozzy was acknowledged as "some random guy" who "killed it" (which in this case means he sang really well) and the clip garnered four million views.
Three days later, a street art company based in London, Graffiti Kings, shared the video, adding: "Wow. Wait for the random passenger to bomb the session."
Graffiti Kings' video received more than 70 million views.
Random jamming is something I do quite often, I cannot help it. So I didn't think much about it
The clip starts off with singers Kiddo Kat and Heidi Joubert casually performing the classic song Kiss by Prince, just two weeks before the superstar died at his Minnesota home. The two were on board the train on their way back from the Pro Light and Sound trade fair called Messe Frankfurt.
Ozzy, himself a director of a laser engineering company, had been to the same trade fair and was on the same train. He joined in with his unique voice, finishing off the song before continuing with some of his own lyrics, which he wrote 25 years ago.
Ozzy on the Frankfurt subway. Photo: Facebook
Fast forward three weeks. The video has been featured in the Belgian and German print media. Ozzy has been inundated with messages of support. The best part is the messages he receives from people all over the globe – from US baseball stars to the guy whoat midnight sent him a clip of a drumming session.
Scrolling through his inbox messages, Ozzy says he replied with an accompaniment piece on his guitar.
Another message reads: "Time to change the English dictionaries. 'Random guy' will be 'impossibly talented and established guy who jumps in on your jam'."
"It's really cool to be appreciated by people who don't know you. I don't know how to explain it… It's nice," Ozzy said, struggling for words when asked how it felt to gain international fame overnight.
"I'm going to take it everywhere. Now that I got some attention, I'm going to ride it wherever I can. Hopefully it will also help push the local scene."
Born in Malta and raised in Australia before returning to the island, Ozzy Lino has years of experience as a musician.
He started singing professionally at age nine when he joined the group Green Valley Young Peoples Choir.
He returned to Malta in 2001 and recorded his first album, Am I Ever Gonna See Your Face Again, in 2003. His second al-bum, Taking it Easy, was released in mid-2007.
His next project is a national jam session similar to the Rockin 1000 event, which he hopes he can organise in aid of charity.
Comments powered by

Disqus