No Monti move before the new year
Businesses threaten to use courts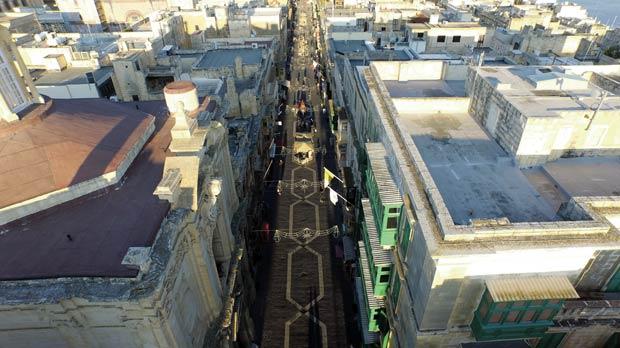 A decision on whether to place Monti stalls along the upper part of Merchants Street in Valletta will not be taken until after the festive season is over, the Times of Malta has learnt.
There had been speculation that the open market would make the move from the lower end of the street on Monday.
But a government source yesterday said consultation with all stakeholders would last until after the Christmas shopping frenzy. This was necessary as several different entities needed to be consulted, he said.
The plan to relocate the hawkers' stalls along the top part of Merchants' Street, second only to Republic Street for shopping in the city, sparked outrage from outlet owners who fear their business will be badly hit.
The Merchants Street Business Community Association yesterday filed a judicial protest complaining about the plan and saying it would cause "serious harm" to the businesses there.
Association president Tonio Camilleri told this newspaper he would even call on the courts to block the move if the government went ahead with the plan.
The relocation plan is the latest twist in the Monti saga. Last year they were meant to move to the area outside the new Parliament building on a Labour pre-electoral pledge, but the plan was withdrawn following heavy public pressure.
The Chamber of Commerce and the Chamber for Small and Medium Enterprises joined the association's corner this week, raising concerns about the impact the move could have on the Valletta business community.
Addressing a press conference yesterday, Chamber president Anton Borg said international franchises had set up shop along the street and an open market on their front doorstep could jeopardise this investment.
Despite this concern, the relocation appeared to have been slated for Monday. GRTU president Paul Abela said hawkers had spoken of it as if it were a fact.
"I even spoke about it with Economy Minister Chris Cardona. He did not deny it and his body language said a lot," he said.
An Economy Ministry spokeswoman had yesterday denied the move would take place next week and said talks were still under way.
"The ministry can confirm that it received a petition from Valletta Monti hawkers pledging that they will fully cooperate with the government's conditions if they are relocated further up in Merchants Street," she said.
The spokeswoman said it was a sensitive issue involving the interests of various economic players and the ministry would act with caution so as to safeguard the interests of all the parties involved.
Comments powered by

Disqus