Ex-banker back as head of $67bn fund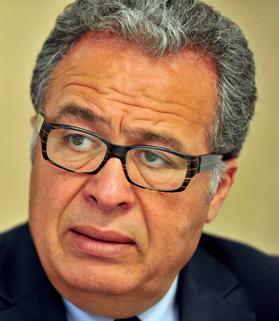 Abdulmagid Breish was reinstated by Libya's high court. Photo: Jason Borg
Abdulmagid Breish has returned to head the Libyan Investment Authority amid confusion over who runs the $65 billion sovereign wealth fund.
Mr Breish, 64, told The Sunday Times of Malta a decision by the Tobruk administration to replace LIA's board members last October was illegal. The dispute has also reached Maltese courts.
Mr Breish was removed from his post as LIA chair in July under Libya's Political Isolation Law, which stops people close to the Gaddafi regime from assuming high office.
An international banker for 39 years, Mr Breish had contested the suspension in court and was reinstated to the post a few weeks ago after Libya's high court found in his favour.
But he returns at a time when rival Libyan governments are fighting for power, after the administration split last summer amid continuous turmoil between rival groups. The rivalry between the internationally-recognised Tobruk government and the self-declared Islamist Tripoli administration also led to changes at LIA that have left many questioning who effectively runs the sovereign wealth fund.
Last October the Tobruk government replaced Abdulrahman Benyezza as chairman of the fund and appointed Hassan Ahmed Bouhadi. Mr Benyezza had been filling the role temporarily until Mr Breish's court case ended.
But Mr Breish yesterday insisted he was still in charge. He said the newly appointed fund administrators had not fulfilled legal and company obligations to formally take over LIA at its Tripoli offices.
LAIP owns several Maltese assets, including indirect investments in hotels and industrial manufacturing companies
"Some of the people representing the rogue Tobruk organisation are technically still members of my board but they did not come to Tripoli to fulfil legal formalities and take over the administration of LIA, so they are acting illegally," Mr Breish said.
He added that the Tobruk-based LIA had appropriated company logos, letterheads and seals against Libyan law and company rules.
He insisted LIA, like other major Libyan companies such as the National Oil Company, was above politics.
"We have not taken sides and we will not because our job is to ring fence, secure and protect the assets, which belong to the Libyan people.
"We are working in a complicated situation and we are trying to maintain neutrality and independence."
LIA's assets are mostly frozen because of UN sanctions imposed in 2011 when the Gaddafi regime was in its death throes.
Mr Breish insisted the rival organisation set up in Tobruk had complicated matters in two court cases LIA has in London against Goldman Sachs and Société Générale. The litigation, for more than $1 billion, was initiated after Mr Breish was appointed to head LIA in June 2013.
The Tobruk-based LIA is claiming recognition as the sole representative of Libya's sovereign wealth fund and the dispute has ended up in the Maltese courts.
The legal wrangle concerns the Libya Africa Investment Portfolio (LAIP), a subsidiary of LIA.
LAIP owns several Maltese assets, including indirect investments in hotels and industrial manufacturing companies.
But rival appointees have set up office in Malta, with Mr Breish insisting he did not know from where and how much funds these individuals were using to run the show.
kurt.sansone@timesofmalta.com
Comments powered by

Disqus