Grey water recycling system, green roof project at Mcast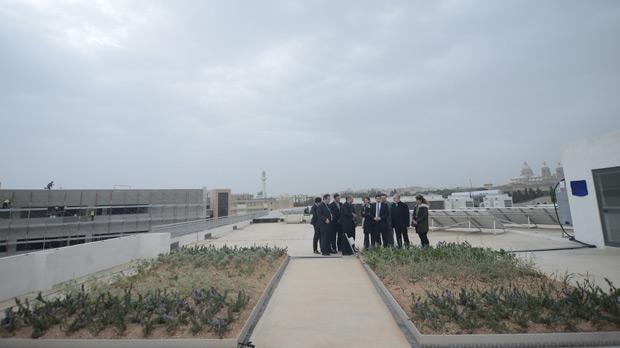 A grey water recycling system and a green roof have been installed at the Institute of Applied Science of the Malta College of Arts, Science and Technology, Paola.
Grey water collected from the washhand basins of the institute's five-story building's bathrooms is initially stored in a reservoir in the basement. It is then pumped through a polyethy­lene pipe to the three tanks on the building's roof, where it is treated and stored to irrigate the building's green roof. The latter consists of plant trays with species adapted to the local climate, irrigated with treated greywater through a controlled irrigation system.
This is the first time that a green roof in Malta is being irrigated using recycled grey water. This pilot application that will help assess the grey water recycling potential for green roof irrigation.
The planning and installation took place in collaboration with the Mcast institute.
Students and scientific staff were involved in a technical study which included calculating the greywater recycling potential and the system's design.
The grey water recycling system will serve both operational and educational purposes
With approximately 1,000 students hosted at the institute, mostly involved in environmental studies and water technologies, the greywater recycling system will serve both operational and educational purposes.
Prior to the system's inauguration a workshop on grey water recycling systems was held for students on the potential of greywater recycling as an alternative water resource, and the technical details of the system.
Manuel Sapiano, chief technical officer on water at the Sustainable Energy and Water Conservation unit of the Ministry for Energy and Health spoke about the NCWR's role in the new water management plan currently being developed for the Maltese islands. Institute director Alex Rizzo spoke on the lessons learned from the grey water recycling experience at Mcast.
The grey water recycling system and a green roof project were implemented within the framework of the Non Conventional Water Resources (NCWR) programme in Malta, or Alter Aqua, a multi-stakeholder initiative promoting NCWR utilisation as a sustainable way to enhance water availability and climate change adaptation in Malta.
The recycling system and green roof were inaugurated by Chris Agius, parliamentary secretary for research, innovation, youth and sport, and Michael Scoullos, chairman of the Global Water Partnership – Mediterranean (GWP-Med).
Comments powered by

Disqus