Centenary commemoration marks Manwel Dimech's exile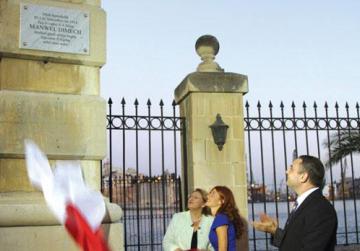 Ms Coleiro Preca with the author and Justice and Culture Minister Owen Bonnici unveiling the poet's commemorative plaque.
President Marie-Louise Coleiro Preca unveiled a commemorative plaque and threw a flower wreath into the sea to mark the centenary of Maltese poet Manwel Dimech's exile to Egypt.
Dimech's banishment began in 1914 and ended with his death six- and-a-half years later in Egypt.
The event was organised by Sensiela Kotba Soċjalisti, which published an anthology of poems for the occasion, entitled Dimech poeta: Mill-ħabs għall-eżilju (Dimech the poet: from prison to exile), by author Jessica Micallef.
"Dimech's dream did not die and never will, " the President said.
The author presenting a copy of her new book to the President.
"The terrible price he paid through his exile left behind a large family, a free nation and people capable of saying thank you," she added.
The President threw the wreath from a traditional dgħajsa, part of a small fleet run by the Koperattiva tal-Barklori of Senglea.
At the commemoration, held on the same day, time and place of Dimech's exile, TV personality Charles Abela Mizzi read poems by Dimech and Fr Mark Montebello gave a commemorative speech.
The event ended with a cortege to the centre of Grand Harbour and the laying of flowers.
Dimech poeta: Mill-ħabs għall-eżilju is on sale at €10 from leading bookshops.
Comments powered by

Disqus