Long rides, getting lost and beautiful bridges
The GPS was directing us off the well-lit main road onto a dark side road, disappearing into the distance. There were a few scattered houses but it seemed a most unlikely place for a town sports centre. The road weaved left and right and eventually the GPS bleeped triumphantly: "End point!"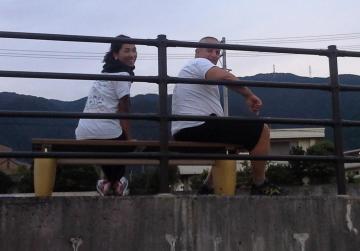 The driver stopped, punch drunk with fatigue and hunger. The only thing visible in the gloom were trees. And then we saw a flashing light about 100m ahead.
It was of the kitchen team waving a torch! We were home at last, the sports centre hidden behind the trees. There to greet us were half a dozen staff members, pointing excitedly to the "Merhba Lifecycle!" sign they had put up.
The first group of cyclists had already arrived, eaten, showered and gone to bed, exchanging horror stories about aches and pains. But the staff had stayed on to feed the last stragglers: never had known udon noodles tasted so good.
As they sprinkled them with chopped spring onions, soy sauce and lime juice, more cyclists and back up team turned up.
It was almost 11pm by the time they all arrived. They had been cycling since 6am... We knew it was going to be a long day. The route was 258km but most had done 15-20 more as almost all of them got lost at some time or other.
We had always known that it would be very hard to keep on track without the 250 or so signs that we normally put up for the cyclists but even they would not have helped us yesterday.
The problem is that we crossed seven bridges linking six islands, and while the back-up vans could use the expressway and main bridge lanes, the cyclists had to stick to long, slow winding roads, and either smaller bridges, special lanes or different layers running under the thoroughfare.
Finding each other after each one was hilarious. There was one point where we were heading down a hill and the cyclists pulled out of a side road and crossed in front of us, utterly oblivious to our presence, a scene straight out of a movie.
Maltese SIM cards stubbornly refuse to connect and the Japanese data cards we bought keep freezing so to communicate we end up lurking in the car parks of convenience stores logging onto their free wifi to use anything from Facebook and Whatsapp to an online walkie talkie.
Most of the cyclists eventually found the check points and tucked gratefully into tuna and beans but two did not.
There was an immediate reshuffle of responsibilities with two vans assigned to finding them, while the other two sped off, one to set up the next check point 60km away and the other to shadow the cyclists in case they needed water or spares.
But, unbelievably, it took almost three hours to reunite with the lost sheep, who had no idea where they were, let alone where they were supposed to be. It was all turning into a nightmare.
And yet no one complained. This was in no small part due to the fact that we were in one of the most beautiful places most of us had ever seen. The islands are very hilly and covered with dense forest, studded with pristine beaches.
If it were not for the fact that you do not see a single sailing boat you would easily think you were off the Ionian islands or Croatian coast. There are mountains marching off into the purple distance, and the bridges themselves...
Oh the bridges! They are a sight to behold, stretching for kilometres, like a giant white necklace skimming the tops of the trees.
But as the cyclists counted down the kilometres, the clock did too and the fastest group still had 60km to go at 6pm when night falls, the stragglers twice that.
No matter how much you train for it, this is a real endurance test, physically and psychologically.
So, day three done and dusted. Tally so far at least half a dozen spills - thankfully nothing more than cuts and bruises, although any accident is enough to send a "what if..." chill down your spine.
Oh, and a broken spoke which defied the attempts of several very strong men's attempts to fix - and was eventually replaced by a Yemeni who was on his way out of the third cycle shop we tried, having just given in his notice who heard them speak Maltese and was intrigued enough to stay on and help...
That's the magic of Lifecycle....
Comments powered by

Disqus