Pilot tablet project will involve 22 classes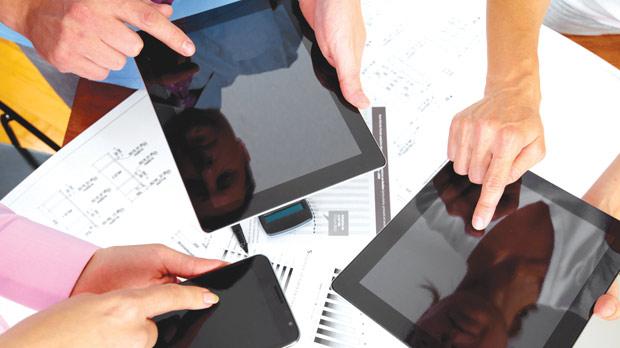 A total of 22 classes will take part in a pilot programme in the run-up to the introduction of electronic tablets in primary schools.
The aim of the project is to learn about the impact of the device before its implementation on a nationwide basis in 2015. The focus will be on improving literacy, numeracy and digital literacy skills.
The first phase will involve 44 teachers who volunteered to review different brands of tablets, and the software bundled with it, for the remainder of this scholastic year. This will pave the way for the introduction of tablets in selected classes for a six-month period from next October.
Addressing a news conference at Gżira Primary School, which is one of 13 State schools participating in the programme, Education Minister Evarist Bartolo yesterday emphasised this was not a technological project but an educational one.
He warned that tablets should not be viewed as something to keep children quiet or simply as a different form of entertainment.
"The children's experience in schools should remain one based on interaction with others both in the classroom and outside," he said.
Mr Bartolo said that feedback was very positive as most suppliers included educational software and content over and above the requirements of the call.
He added that children would not be asked to refund the cost of the tablet if it was damaged. However, he said the major concern was that devices might go missing, possibly being sold.
The classes in State primary schools participating in the project are from Siġġiewi, Msida, Gżira, Marsascala, Cospicua, Pietà, Paola, Mellieħa, Żurrieq, Baħrija as well as Għajnsielem, Sannat and Victoria in Gozo.
In addition, three complementary classes focusing on children with specific learning difficulties and the Dun Manwel Attard School in Wardija for children with special needs will be also taking part.
Three classes in Church schools and two classes in independent schools will also participate.
In total, 13 proposals were submitted from suppliers of tablets and software following an expression of interest issued last January. These include well-known brands like Apple, Google and Samsung.
Project coordinator Martin Debattista told this newspaper one of the major concerns raised by teachers was the fear that they would not be in complete control of the children's devices.
However, this issue has been addressed, as teachers will be given remote access to the children's tablets. Outside school hours, the Education Division would monitor activity on the tablets.
Mr Debattista explained that teachers would also be able to project the on-screen content on the pupils' devices directly onto electronic whiteboards.
Though pupils would be allowed to take the tablets home, they would not be given access to install applications.
To minimise the risk of damaging the rather expensive devices, tablets would come with a protective case.
Though the plan is to introduce tablets from Year 4, a number of Year 3 classes are also taking part to explore whether it would be worthwhile introducing the devices at an earlier stage.
The plan for children with no internet at home would be to give free access either through a cellular connection or by free Wi-Fi at home.
Comments powered by

Disqus