Same-sex marriage and child adoption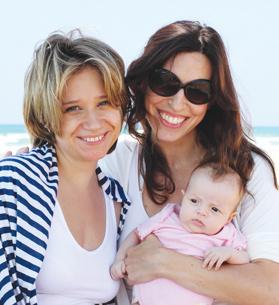 The report says it would be wrong to deprive a child of a loving home with a homosexual couple.
The issue of legalising same-sex marriage has made headline news globally. Same-sex couples are legally recognised in many countries including France, Spain, Sweden, Belgium, Portugal, the Netherlands, Norway, South Africa, New Zealand and Argen­tina, as well as 12 states and the District of Columbia in the US.
According to the report, Same Sex: Same Civil Entitlements, published recently by The Today Public Policy Institute, Maltese society would benefit if same-sex relationships are legally recognised. It says the creation of a new legal relationship for same-sex couples would promote social acceptance of gay men, lesbians, bisexuals and transgenders in Maltese society by removing discrimination and create a more inclusive and fairer society.
The report says civil unions would provide a structure for same-sex couples to acknowledge their responsibilities, manage their financial affairs together and be legally acknowledged as civil partners. While the report says Malta should introduce civil unions for same-sex couples, it argues that gay marriage is "one step too far for Malta at this time".
Other groups, like the Church, say that marriage consists solely of one man and one woman. Last year, Pope Emeritus Benedict XVI said: "The original cell of society is the family, founded on marriage between a man and woman. It is in the family that the children learn the human and Christian values that make possible constructive and peaceful coexistence.
"It is in the family that solidarity between generations, respect for rules, forgiveness and acceptance of the other is learned. It is in their own home that young people, experiencing the affection of their parents, discover what love is and learn to love."
For many centuries, marriage has played a primary role in organising society and was regarded as eminently relevant to social well-being. Marriage was considered as an institution that predated the state, not a creation of the state. Christ sanctified marriage via a sacrament which predates both Church and state.
The report's claim that "sexual orientation should not influence whether a person is allowed to adopt a child or not" is an argument that calls for deeper discernment. While a child's best interests should be promoted, the report outlines that "it would be wrong to deprive a child of a loving home with a homosexual couple". Given that this is "a sensitive area", the report suggests a longtitudinal scientific study to examine this issue before irrevocable long-term legal decisions are taken.
One has to keep in mind that children offered for adoption have usually already lost the positive role model of a married mother and father. So placing them in a household headed by two people of the same sex would still leave them deprived of this model.
George Rekers, professor of neuropsychiatry and behavioural science at the University of South Carolina School of Medicine, the US, says a heterosexual marriage (that is, between a man and a woman) provides a child with four very beneficial models: (1) a hetero-social role model of a stable married male-female relationship; (2) a hetero-social role model of mother and father coordinating co-parenting; (3) a parenting role model of father-child relationship; and (4) a parenting role model of a mother-child relationship.
Another factor when considering the well-being of children placed under their care of adoptive parents is that same-sex partner relationships are considerably less stable and more short-lived on average than marriages between a man and a woman.
The Church, like the report, categorically condemns any transphobic violence, hate crimes and criminal offences perpetrated against Lesbians, gays, bisexuals, trans-gender and inter-sex individuals.
In its catechism, the Church rightly emphasises that people with homosexual tendencies "must be accepted with respect, compassion, and sensitivity. Every sign of unjust discrimination in their regard should be avoided." (§ 2358).
Can the Church discern and develop a caring pastoral plan to help homosexual people grow and deepen their faith?
Fr Attard is a member of the Order of Franciscan Capuchins.
Comments powered by

Disqus