In the footsteps of Francis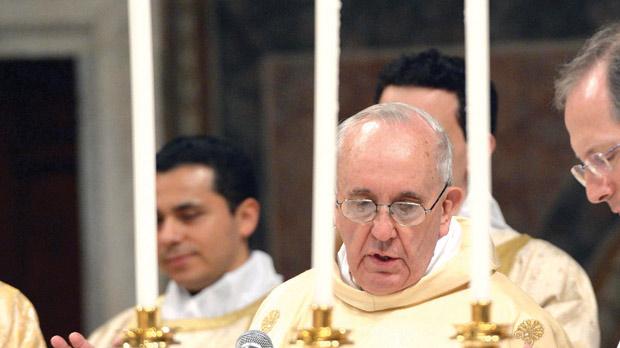 It was 8.15pm on Wednesday when Pope Francis I, the first Jesuit priest chosen to be Pope, emerged from the balcony of Saint Peter's Basilica in Rome to bless the world as the newly-elected Pontiff of the Roman Catholic Church.
Cardinal Jorge Mario Bergoglio was born in Buenos Aires. He was ordained for the Jesuits in December 1969 during his theological studies at the Theological Faculty of San Miguel. Totally impressed with his leadership abilities, the Society of Jesus elected him as provincial for Argentina from 1973 to 1979. A year later, he was transferred to become the rector of the seminary in San Miguel where he had studied. He served there till 1986.
When he finished his doctoral dissertation in Germany, he returned to his homeland to serve as confessor and spiritual director in Córdoba. In May 1992, he was appointed Auxiliary Bishop of Buenos Aires. In June 1997, he was appointed Coadjutor Archbishop of Buenos Aires and succeeded Cardinal Antonio Quarracino in February 1998.
He was also the Ordinary for Eastern-rite faithful in Argentina who lacked an Ordinary of their own rite and was elevated to the College of Cardinals in February 2001.
As cardinal, he assumed different administrative positions within the Roman Curia. In fact, he served on various Vatican congregations, such as the Congregation of Clergy, the Congregation of Divine Worship and Sacraments, the Congregation of Institutes of Consecrated Life and the Congregation of Societies of Apostolic Life. He also became a member of the Commission on Latin American and the Family Council.
He became widely known for his humility, doctrinal conservatism and his extraordinary commitment to social justice. In fact, his simple lifestyle earned him an acclaimed reputation for humility. He lived in a small apartment rather than in the palatial bishop's residence. He gave up his chauffeured limousine and instead used public transportation. Moreover, he even reportedly cooked his own meals.
The above easily leads one to the obvious conclusion of why he chose his pontifical name Francis.
The poverello of Assisi had a particular love for the poor. In his 'Testament', he eloquently wrote that the poor were his decisive spiritual mentors to God. "The Lord granted me, Brother Francis, to begin to do penance in this way: While I was in sin, it seemed very bitter to me to see lepers. And the Lord Himself led me among them and I had mercy upon them. And when I left them that which seemed bitter to me was changed into sweetness of soul and body; and afterward I lingered a little and left the world."
On the same lines, Pope Francis I has been living a life of austerity and in total solidarity with the people he was called to serve as Archbishop.
Another spiritual trait of St Francis was that of his total adhesion and loyalty both to the teachings and the government of the Church of Rome. Likewise, as Cardinal Bergoglio, Pope Francis highlighted the Church's teaching on homosexuality.
While showing great respect to homosexual persons, he vigorously rejected the 2010 Argentinean legislation that permits same-sex marriage.
In a well-known letter to the monasteries of Buenos Aires, he wrote: "Let's not be naive, we're not talking about a simple political battle; it is a destructive pretension against the plan of God. We are not talking about a mere Bill but, rather, a machination of the Father of Lies that seeks to confuse and deceive the children of God."
Furthermore, he stressed that adoption by homosexuals is another way of showing discrimination to the children involved. His brave defence of God's plan for marriage and the family instigated the harsh criticism of Argentina's President, Cristina Fernández de Kirchner. She said that the Church's stance was certainly a reminder of "medieval times and the Inquisition". Pope Francis's remarkable simplicity has already attracted millions to Christ. His decisively humble posture speaks of a Church which, although gravely wounded by scandals and careerism, is ever more receptive of God's saving Word.
Pope Francis represents a Church that wants to evangelise by going back to its simple roots of prayer, charity, community and transmission of the faith.
Comments powered by

Disqus