Tarxien seal top-six mission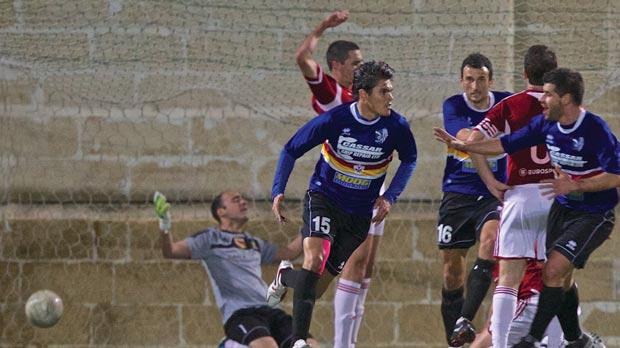 Melita 0
Tarxien Rainbows 3
Bueno 23, 31; Leandro 78;
Tarxien Rainbows sealed their top-six target in style yesterday as they dismissed the challenge of relegation candidates Melita.
Balzan's loss to Hibs on Sunday presented Tarxien with an opportunity to complete their Championship Pool mission with two games to spare and the Rainbows seized it with both hands as they outplayed the Amateurs for long stretches.
Yesterday's win capped a remarkable turnaround for the Rainbows who endured a tough start but coach Clive Mizzi prompted a revival after replacing Danilo Doncic.
Mizzi has found the right balance between the hard-working Maltese players and their Brazilian counterparts who shone again yesterday with Daniel Mariano Bueno taking centre-stage after scoring a first-half brace.
With only two games left before the end of the first phase, Tarxien can't be caught by Balzan and Qormi. Melita, on their part, remained in the relegation mire as the Amateurs spurned the chance to climb above Ħamrun.
Tarxien coach Mizzi was hampered by the absence of three players yesterday as Orosco Anonam and Steve Bonnici were suspended while Roderick Bajada was injured.
Gianluca Calabretta, signed on loan from Ħamrun last week, started on the bench.
The unavailability of goalkeeper Guillermo Gabilondo Garcia opened the way for Spaniard Jorge Veloso to make his first start for Melita.
Karl Zahra replaced Garcia while Veloso got the nod ahead of Luke Bianco. Melita coach Patxi Salinas, forced to watch the game from the stands because of a touchline ban, deployed Daniel Cabanillas as the main striker with Luke Micallef and Veloso offering support from the wings.
In the early stages, David Cassar made a routine save from Michael Martin's long-range shot.
Andrezinho and Mark Tanti played either side of Bueno in Tarxien's attack with fellow Brazilian Marco Tulio Lopes Silva probing for openings from central midfield.
The first 20 minutes produced nothing to enthuse the sparse and muted crowd. That could have changed when Lopes Silva lofted a cross towards Bueno but the latter's header was stopped by Zahra. It was not long before Tarxien drew first blood as, midway into the first half, Bueno was on hand to drive the ball home after Zahra had partially repelled Andrezinho's free-kick.
Tarxien remained the better side. They threatened to double their advantage when Bueno surged into the box but his chipped attempt was pushed away by Zahra.
The Melita goalkeeper saved his side again on the half-hour when turning Justin Grioli's menacing shot around his near post. Melita were let off the hook but their relief soon gave way to despair as, from the ensuing corner, Tarxien extended their lead.
Lopes Silva's set-piece cross soared towards the far post where Ryan Sammut's close-range header came off the bar only for Bueno to rifle home from the rebound.
At the other end, Melita came close to pulling one back. Veloso set up Manuel Sierra Camacho but his thunderbolt shook the bar.
Needing an early goal to revive their hopes, Melita began the second half with greater urgency but their confused efforts were easily warded off by Tarxien.
A solo move by Agius had Melita on the backfoot as the midfielder's brave run took him into the box only to hit wide with only Zahra to beat.
Melita came close on 57 minutes when George Gribbon guided a through-ball to Micallef who was denied by Cassar.
Four minutes later, Tarxien thought they had scored their third when Lopes Silva's corner was met by Timotic whose header looked to have beaten Zahra before the latter managed to claw the ball away.
The Rainbows claimed that the ball had crossed the line but the match officials deemed otherwise.
With 12 minutes left, Tarxien applied the killer blow when Tanti released Leandro and the Brazilian forward sidefooted the ball home.
Melita
K. Zahra-5.5, M. Borg-5 (61 J.P. Attard-4), M.R. Sierra Camacho-5, I. Tufegdzic-4, G. Gribbon-6, M. Martin-5.5, A. Caruana Scicluna-5, M. Valenzia-4 (46 N. Rizzo-4), J. Veloso-6 (79 R. Alhinho), L. Micallef-5, D. Cabanillas-5.
Tarxien Rainbows
D. Cassar-6, C. Mamo-6, M. Caruana-6, M.T. Lopes Silva-6.5 (66 Leandro-6.5), A. Agius-6.5 (83 D. Fenech), J. Grioli-6.5, Andrezinho-7, R. Sammut-6.5, M. Tanti-6.5 (79 G. Calabretta), D.M. Bueno-7.5, B. Timotic-6.5.
Referee: Clayton Pisani.
Yellow cards: Rizzo; Andrezinho; Attard; Micallef.
BOV player of the match: Daniel Mariano Bueno (Tarxien).
Standings
| | | | | | | | |
| --- | --- | --- | --- | --- | --- | --- | --- |
| | P | W | D | L | F | A | Pts |
| Valletta | 20 | 12 | 6 | 2 | 45 | 14 | 42 |
| Hibernians | 20 | 13 | 2 | 5 | 44 | 24 | 41 |
| Birkirkara | 20 | 10 | 7 | 3 | 42 | 18 | 37 |
| Tarxien | 20 | 10 | 4 | 6 | 38 | 32 | 34 |
| Sliema | 20 | 9 | 4 | 7 | 29 | 20 | 31 |
| Mosta | 20 | 10 | 1 | 9 | 34 | 29 | 31 |
| Qormi | 20 | 8 | 3 | 9 | 29 | 31 | 27 |
| Balzan | 20 | 7 | 5 | 8 | 31 | 32 | 26 |
| Floriana | 20 | 5 | 9 | 6 | 26 | 25 | 24 |
| Ħamrun | 20 | 4 | 4 | 12 | 24 | 53 | 16 |
| Melita | 20 | 3 | 5 | 12 | 16 | 50 | 14 |
| Rabat Ajax | 20 | 0 | 8 | 12 | 13 | 42 | 8 |
Comments powered by

Disqus